Three Songs You Won't Hear During My Accompaniment to "Show People" — and Why
One of the bugaboos in film accompaniment that my mentor Lee Erwin (1908-2000) had, and one I share, is the use of "song title puns". In fact, anything that make an audience member's brain say "Hey! She's/he's playing ______!" instead of being involved with the emotion or action onscreen. A song title pun is when you match something onscreen to the name of a popular song, a technique used today by talk show bands when a guest is walking out to chat with the host. So, in the opening sequence of Show People (1928) when there is a barrage of building signs that say "Hollywood", what's the right thing to do?
"Hooray for Hollywood", naturally, comes to mind as an obvious choice. But that  song – music by Richard Whiting and Lyrics by Johnny Mercer – was written in 1937. I like to keep the music within the silent film era, and close to the year of the film's production. Even if I went for song title puns, this would be out of the era.
The Vitaphone track issued with the film has the orchestra playing "California, Here I Come", the 1921 Jolson hit by DeSylva and Meyer. The opening lyric most people know is "California here I come, right back where I started from." Peggy Pepper and her father have already arrived in Hollywood at the opening fade-in, they're not making a homecoming. Even if I went for song title puns, the logic of this doesn't quite work for me.
The 1923 film Hollywood, directed by James Cruze and containing more movie star cameos than Altman's The Player, seems to have had a theme song. Well, it did…according to a piece of sheet music published at the time.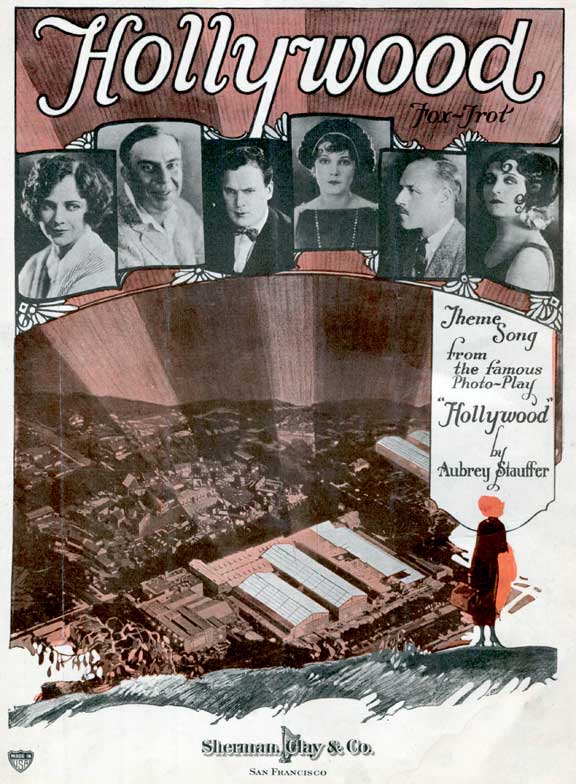 Since the cue sheet for the film does not survive, or isn't terribly accessible if it does, there's no way to know if it really was from the film's score or cue sheet or if it was another "dedicated to the motion picture of the same name" piece of sheet music written and published to capitalize on the film's success. I'm guessing it's the latter, as only two recordings were made, one on Victor and another on Okeh. Both are instrumentals, which is a shame, as the sheet music shows that the lyrics make clever references to Charlie Chaplin and Pola Negri, as well as Thomas Meighan, and both C.B. and William DeMille. Anyway, the song clearly wasn't as big a hit as the film (which is lost, by the way…very lost).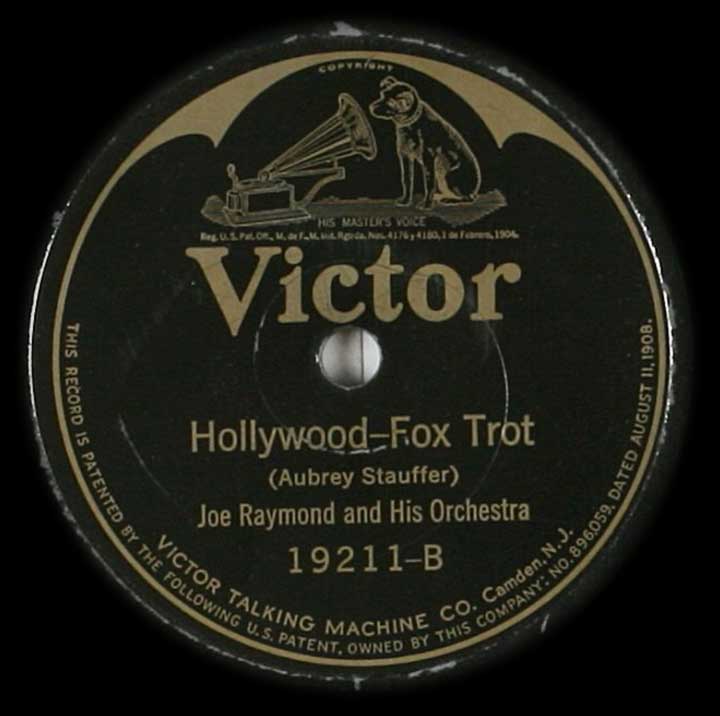 You can give the song a listen on the National Jukebox, though, where'll you'll hear that being something of a fox-trot it's not really a match to the emotion of the opening scene of the film. And that's where my intent leads me.
The opening of the film opens at full speed right out of the gate with lots of excitement and, especially for Peggy Pepper, anticipation of making her big dreams come true. This is the mood I'm going to aim to underscore. Rather than line something up with the external, connect the audience with what's going on inside Peggy's head.
At the top of this post I mentioned the TCM Classic Film Festival. I'll be accompanying Show People at the festival on Saturday, April 28 at 7:00 at Grauman's Egyptian Theater…and I'll be doing it on theatre organ. The Egyptian had a Wurlitzer installed for its opening in 1922, and both the organ and an orchestra were utilized for the film shows throughout the silent era. The organ was removed in 1956.
What I'll be using is a modest-size electronic organ console that has MIDI and virtual theatre organ software running off my MacBook Pro. If you've heard me play organ at MoMA or the Cinema Arts Centre and on DVD releases, you've heard the theatre organ program and samples, made by Hauptwerk and Paramount Organ Works, respectively. What's great about this software/hardware combo is that it allows me to bring that sound to places where it isn't being heard. Connect it to the theatre's sound system…and it sounds like we've installed a movie palace organ in the place!
Best as I can tell from the research I've done, the sound of the mighty Wurlitzer has not been heard for a silent film at the Egyptian in about 60 years. (If you know otherwise, let me know and I'll amend this.)
Did Show People play at the Egyptian during its original release? You bet it did! It ran for a week, December 15-21, 1928 and took in $7900 (about $115,000 in today's money).
To hear more about how I treat the musical underscore for Show People, listen to ep. 24 of The Silent Film Music Podcast with Ben Model, in which I discuss playing for William Haines' scenes in the film and also include a live performance recording as an example.
See you in Hollywood!