We ran a really nice, tinted 35mm print of Nosferatu at the Cinema Arts Centre for this show, and it looked great at 21 fps. What was nice was that the projector technician who'd engineered our ability to have 21 fps as an alternate speed was in the audience to see his handiwork in action (he'd missed our Arbuckle and Orphans of the Storm programs, where we'd used it so far). Believe it or not, I typically do not spend every day of the week leading up to Halloween playing for Nosferatu, Phantom, Caligari and Jekyll and Hyde every year. I'd not played for Schreck in quite a few years, actually, and so this show was fun and my first time doing it on organ.
Once again, a main theme that I'd come up with for Nosferatu's character and which I've never written down, came out of my brain and fingers all by itself without my trying to remember it before the show. And I got to use the Miditzer's snare drum in the scene where one is played at the announcement of the plague. I brought it back for the wide shot of coffins being carried through the street, even though the snare drum is not played onscreen…aiming to make it a "plague" motif (I hope it worked).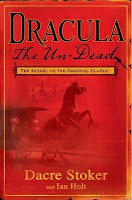 One of the nice things about the show is that it was introduced by Ian Holt, who's co-written a sequel to Stoker's Dracula with Bram's great-grandnephew Dacre. Click on the book image to go to Amazon's page for the book. I didn't have to answer questions about the film, and Ian – who is an expert on vampire folklore – spoke about Bram Stoker's book, the play based on it, Nosferatu, Stoker's widow's legal battle, who the real Dracula was etc etc. Very informative and a great choice for this picture. We've built up an audience of regulars and I think a speaker who was not me, especially for an iconic film like this where the subject matter is of greater interest, was fun. Turns out the show was Holt's first time seeing a silent with live accompaniment. We had a real big crowd for the show and hopefully we've hooked a few more Long Islander's on silent film.