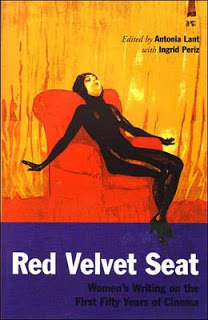 Monday, March 2 – I played for a selection of animated shorts and films made by women at Antonia Lant's film history class at NYU. Antonia came to a
Silent Clowns
show several years ago and introduced herself, and I've played once a year at her class ever since. Antonia's book (co-editor)
Red Velvet Seat: Women's Writings on the First Fifty Years of Cinema
is shown at right. Click on the cover image to buy it online.
When I come to Antonia's class to accompany films, she gives me a bit of time to talk about the history and tradition of silent film music and about my work, and to take questions from the students. This year's group were pretty vocal and had a lot of good questions. I also like playing for Antonia's class because I learn a lot from her lecture. I play for a different session each year, usually because of my availability; prior years have been experimental film, Danish film, early cinema and Biograph shorts, etc.
This time it was a pair of Emile Cohl animations, and then Winsor McKay's How a Mosquito Operates, Gertie the Dinosaur and The Sinking of the Lusitania. I hadn't seen Mosquito since I was in college, at a showing at the old Thalia (Steve Sterner was probably at the piano), and same for Lusitania which I saw as part of John Canemaker's animation history class. All the films in the class were screened from DVD's, and unfortunately the editon of Gertie was incredibly slow…maybe transferred at 16-18fps.
The fact that it was the regular release version, with the wraparound story of fellow cartoonists betting McKay that he couldn't make a drawn dinosaur move, and then the Gertie segment with intertitles cut in, reminded me that I'd been meaning to upload the video of Steve Massa's reenactment of the original vaudeville act to YouTube. I mentioned the difference between the film screened at the class and the "live" version, and how I really got what was such a big deal about the Gertie act when I saw it this way.
I had actually just the other day come across a VHS of this while looking for something else, and have transferred it and uploaded it. I sent the link to Antonia, whose T.A. will post it on the class's "Blackboard" page. Here it is:
The films by or featuring women were Lois Weber's Suspense, an episode of The Hazards of Helen, and Asta Nielsen in Afundgren ("The Abyss"). Again, all three of these had slow transfer speeds (the Nielson was particularly slow, definitely around 16fps). Great for lip-reading, but tough on the accompanist. One of the downsides of DVDs is that one has no control over projection speed. Doesn't matter too much to me, as I've now developed a second manner of accompanying for films run slower than they should be (IMHO).
And as usual the end title for The Abyss got an inadvertent laugh. If you don't know the picture, it's basically a tale of a nice girl running off from her society friends to join a travelling circus, performs a very suggestive gyrating tango, has some awful romantic complications, kills her lover, is taken off to jail, and then the title comes up: "Slut". Which is Danish for "The End" or "Finis", and is pronounced sloot, but to us "Yanks" it still looks like a commentary abour Asta's character.
It was nice to get to play the piano, (see earlier post about the instrument) and it was still in tune from last week's tuning. It needs some regulation work (loss of motion, repetition springs) and could use a polish, but it was nice getting to play an instrument that had a special meaning for my accompaniment work.