---
Two main elements in film programming, I've found, are knowing the films and knowing where prints of them are. The rest, to a certain degree, is setting the table or parking cars in a lot. Sometimes the prints turn up in unlikely places, and one film we scheduled for Silent Comedy International at MoMA (Nov 23 – Dec 2) turned up in the recesses of my brain.
(image above is a production still from Squibs Wins the Calcutta Sweep, sourced from the A Lost Film blog — the site's caption reads "George Pearson, Hugh Wright, Betty Balfour & Fred Grove on the set")
Dave Kehr (MoMA), Steve Massa and I wanted to include the feature film Squibs Wins the Calcutta Sweep in the program in the series that highlighted women comedians. The film stars Betty Balfour, who was a big star in England and made many films but whose popularity didn't quite translate to U.S. box office success. We were in agreement on including one of her silent starring features, and this title was one we knew existed. Print requests were made to the one or two archives that were known to have a print of the film. Unfortunately, there was not a projectable 35mm of the film available for the series, and we were getting closer to the museum's calendar deadline.
That's when I remembered why the film's title was familiar to me. I'd accompanied it, at NYU, about 35 years ago. How do you forget a title like Squibs Wins the Calcutta Sweep? It sounds like something Ernie Kovacs made up.
I began playing the piano for silent films, when I was a film production student at NYU, and played for classes taught by the legendary (Google him) William K. Everson. I'd screen each 16mm print ahead of time and write down story notes to have in front of me during the screening. Usually the prints were from Everson's own collection, and often were very rare. Over the last few decades, while looking for story notes for films I'd be preparing for that were way better known, I'd flip past this in my files: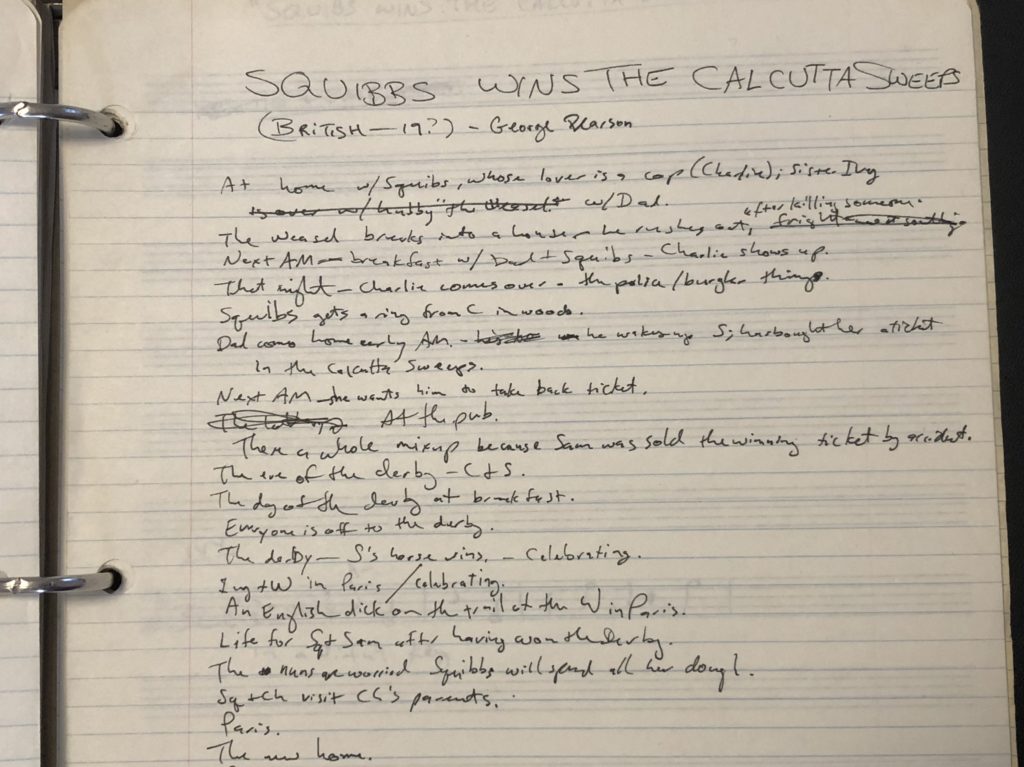 Well, if Bill Everson had a 16mm print of Squibs in the early 80s, it must be with his collection, which is now handled by NYU Cinema Studies, and the 16mm prints are housed at the George Eastman Museum. I contacted the person at NYU Cinema Studies who, among other things, is the contact for this sort of thing and…bingo. My memory was correct. There was a 16mm print of the film in the Everson collection, and the database record showed that it was projectable. NYU, MoMA and GEH connected with one another, and we were set.
One of the things Bill Everson was known for was his generosity in loaning people prints from his collection for showings, and it's nice to know that's continuing here.
When you attend the 'funny ladies' program that screens on Nov 23 at 7pm and Nov 27 at 4pm, along with the archival 35mm prints and DCPs of shorts with Cunegonde, Sarah Duhamel, Florence Turner and Alice Howell, you'll be seeing William K. Everson's 16mm print of Squibs Wins the Calcutta Sweep (1922).
For tickets, visit the MoMA page for the show. You can read Prof. Everson's "Huff Society" film notes here, and can read more about Ms. Balfour on the British Silent Film Festival's site here.