Here's a snapshot of what's what with me. It's going to be a very busy and exciting fall, with 15-20 shows each month. I'll try to be better about posting, and will try to retro-actively post about the shows I did in August bit by bit.
I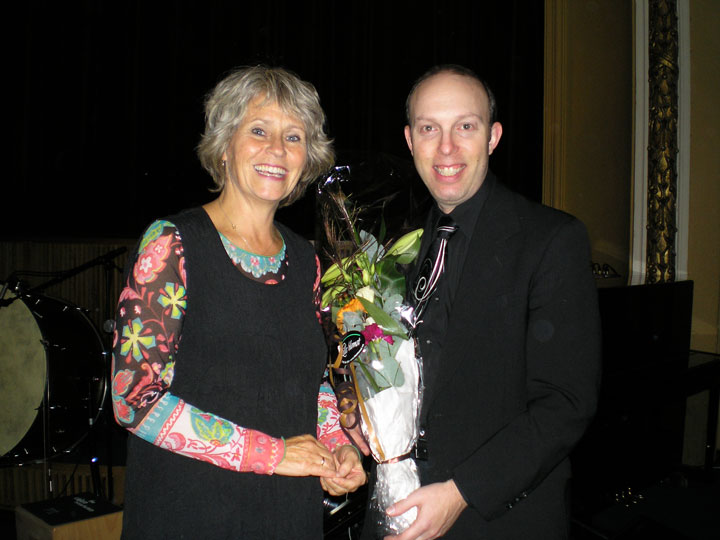 'm back in NYC, after a great week in Tromsø, Norway. At right you see me with Martha Otte, festival director of "Stumfilmdager i Tromsø", on opening night. I accompanied MoMA's new print of The Mark of Zorro on the Miditzer, and the film brought the house down, and everyone was wowed by the sound of the theater organ. Probably the 2nd time the sound of the Wurlitzer has been heard at a silent film in Norway (the first being my accompaniment last year in Tromsø of Nell Shipman's Something New).
In Norway when an audience's applause builds and builds, it morphs into a rhythmic clapping (about 120bpm, quasi march tempo). It just does that. All by itself. I should ask about that one of these days…
Have hit the ground running and am catching up on emails from theaters, orchestras, etc and tidying up travel arrangements for out-of-town shows between now and Xmas. I think we're going to be able to route the Miditzer through a different/better sound system at the Lincoln this year and be able to access the sub-woofers under the stage, so those 16′ bass notes will be felt as well as heard. The Yamaha HO1 Modus piano (left) has arrived at MoMA's Bartos theatre, and will be there for the duration of Charles Silver's An Auteurist History of Film — well, for the 6 months of silents anyway.
Down-to-the-wire…we have now at long last secured a venue for the Silent Clowns Film Series, the Arclight Theatre on W 71st, just off Bway (no link here because the theater has no website). It's a church basement theater, but much nicer than what you're probably picturing. We have to bring in and hang our own screen and I'll come in a couple times this month to rassle with their upright to get it in shape, but at least we've got a place to hang our hats. This space hunt was a real nail-biter, and I've been looking for a venue since February. Having to relocate is an added stress to our usual pre-season prep, and the lack of venues (esp the affordable kind) in the Upper West Side made for a heck of a challenge. We'd hoped to return to the West Side Y's "Little Theater", now that it's all beautifully renovated, but they want $1,000 a show (!). We will present our holiday/Dec show in partnership with the Museum of the City of NY, which works out well since Dec 6 wasn't avilable at the Arclight.
This Sunday I'll accompany The Headless Horseman, starring Will Rogers, at the Hudson River Museum in Yonkers. They'd wanted to do something to tie in with their "Dutch New York" exhibit, and I suggested this film since it was also shot in the Hudson Valley, and since the DVD edition already has my score credit on it. The museum worked out a license with Mark Roth at ReelclassicDVD for the show, and will cover my transportation since I have to bring my Kurzweil (their acoustic grand is unavailable right now). This is my 3rd or 4th show for the Hudson River Museum.
Okay…my time's up. Gotta go! See you at the silents!
Ben