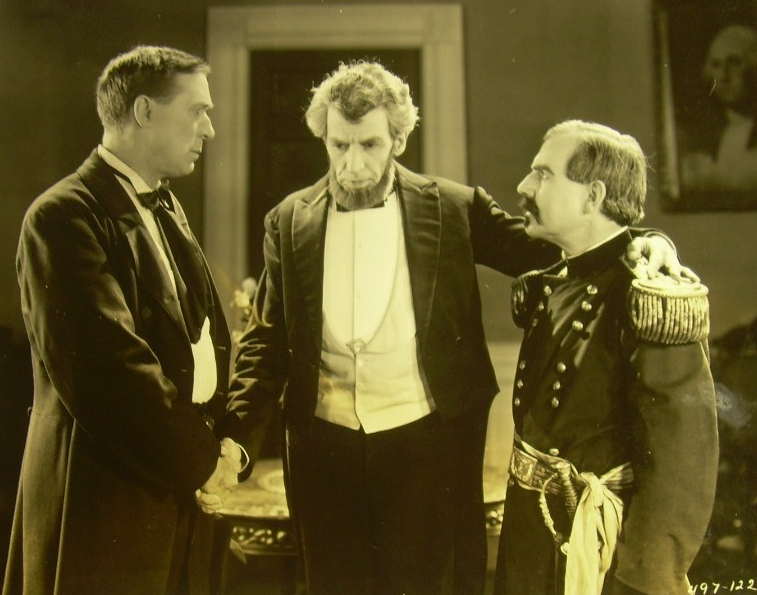 Tuesday morning, after a day off to rest and recover from Cinefest, I was at MoMA for a press screening of
Wild Bill Hickok
(1923) starring William S. Hart. At right is a still I found online of Hart as Hickok, with Abraham Lincoln and General Custer (well, actors
playing
Lincoln and Custer). The running time is 55 mins, but it was released at 7 reels – Anne Morra told me it was released at this length but was edited down soon after it was released.
This was a Hart I'd not seen before, and the press screening was being held as part of a press conference to promote a new photography exhibit at MoMA about the old west. There's a film series to go with it, and this is the silent film in the group. It's a good film, full of what you expect from Hart: gunfights, unrequited love, friendship with his horse, tears from old Bill (of course), and some great Western stuff.
This was a nice chance to preview the film before playing for it next week (April 1, 2 and 3 at 1:30 in the Bartos Theater, on Miditzer). Not that I wouldn't have a problem playing for it "cold" at the first show, but it gave me the chance to find out ahead of time that I need to look up the melody for "Old Dand Tucker". Hart sings it to his horse at the beginning of the film, and is seen later in the film playing the tune on a fife. I may bring it around a 3rd time when he and his horse ride off into the sunset.
Here's a video of the tune found on YouTube, played on a fife, as a demo of rudimentary drumming:
And here's another video, with the lyrics:
After the show, went home, took care of some "agent business" (bookings, etc.) packed up my laptop and Miditzer peripherals and headed out to the LIRR for the evening's show of Dreyer's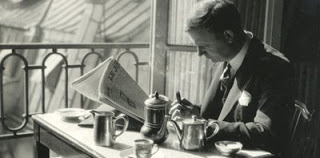 Passion of Joan of Arc at the CAC in Huntington. Image of Dreyer seen at right is from the Carl Dreyer website – click on the image to go to the site, which is hosted by the Danish Film Institute.
Print was the 35mm from the BFI. It's a real nice, sharp print, and has the film's original Danish intertitles with English subtitles supered over them. The film went over extremely well, even for me. I find sometimes that Dreyer's Joan can be like watching paint dry, but I think the combination of our running it at 24fps and accompanying it on (theatre) organ helped me really connect emotionally with the story and Joan's journey, and I really liked the film this time.
Had a chance to use percussion, sparingly, and had a couple nice moments where the chimes were very effective. I'm never sure about using these, but I had a few comments from audience members afterward about what an emotional effect they had. Sometimes the tuned percussion can be shticky, something I'm always concerned about. We had a nice big crowd for the show, and they all really enjoyed the film. I'm looking forward to next month's show of Arbuckle-Keaton shorts.
I'm finding that in accompanying films on the organ in some cases I go on the journey with the characters on a deeper level emotionally than I do with piano. Depends on the film. Some pictures, like Old Ironsides and Underworld, where I'm not getting as much from the performers, I don't necessarily notice it. But a couple months ago I played for The Last Command a couple times at MoMA and found myself spent at the end of the film, moreso than usual. I hope audiences are having the same reaction.
Still managing to book or confirm something nearly every day, and am still playing catch-up a little after being out of town for Cinefest. Sunday is Foolish Wives at the Silent Clowns series; Bruce always programs a drama in each season as a nice change of pace. I watched the DVD of it the other day. I don't think I've seen the film since I played for it in Everson's class back in the early '80s. Bruce is picking a comedy short with Mae Busch in it to open for the feature.
See you at the silents!