I get asked "are you going to release that on Blu-ray?" every time I do a Kickstarter. For the fan and consumer, the difference between DVD and Blu-ray is very simple: a few dollars more at the pump (if that) and the image quality is better. For the independent producer-distributor like me, however, there's a lot more involved. A lot. This blog post is the first in a series I've been meaning to write for years explaining the nuts and bolts of why for me the answer about releasing on Blu-ray is usually, easily, "no".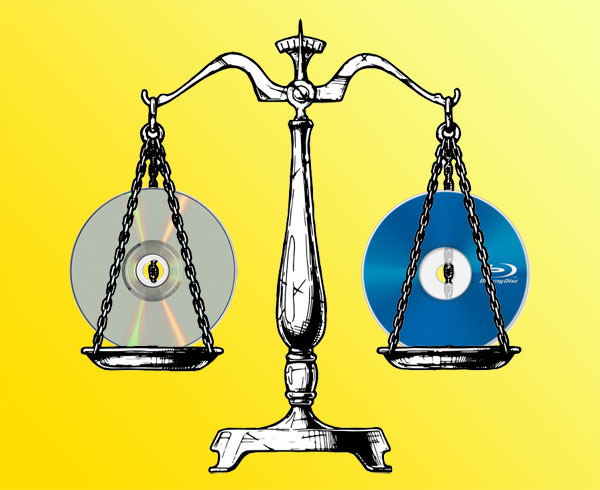 Up and Down the Amazon
I've had a sellers account with Amazon for six years. I used it to release and sell copies of my Blu-ray/DVD release of my restoration of "When Knighthood Was in Flower" (1922) and my release of the Library of Congress' restoration of "The Family Secret" (1924) before that. I'll be closing the account this week. Don't worry, those two titles will still be available.
I'm not doing this to take a dogmatic stand on Amazon — it's just hat I've come to the end of the line with the pressed product on these two titles. And quite possibly with pressed product in general.
I'll explain the difference between pressed and burned, and the additional challenges and baked-in additional costs of doing Blu-ray, in another post in this series. So stay tuned.
I'm definitely pro-physical media. I'm slowly acquiescing to the streaming, cord-cutting portion of the classic film fan universe, but I am all for continuing to release product you can hold in your hand. Pressed DVDs and Blu-rays however, especially Blu-rays, are an extreme case.
It's taken a little more than 3 years, but I've finally sold off the last of the 1,500 copies of the When Knighthood DVD/Blu-ray combo that I'd made for the July 2017 release. I'd been releasing my Undercrank Productions DVDs as manufacture-on-demand (MOD) via Amazon's CreateSpace platform since 2013, but took a flier on this one. Also, at the time, MOD Blu-ray was not possible and that's just beginning to change (but more about that later).
CreateSpace, being a part of Amazon, meant that my releases were automatically on Amazon and Amazon took care of the manufacturing-on-demand, shipping and everything else.
In order to sell pre-made non-MOD product I had to open a Sellers Account. This comes with a monthly charge. I had to wade through the labyrinth of setting up the product on Amazon in order to releasing. Here's something I learned: you can set up an item for pre-ordering for most kinds of items — but not for DVDs or Blu unless you are a big label.
After the initial July 2017 release and initial burst of sales in the first few months, I had to have the remaining product shipped back to me in order to avoid Amazon long-term storage fees. I had to put those boxes of discs somewhere.
And then I had to ship product to Amazon every once in a while as the copies slowly sold off, going to my storage facility.
In August, I discovered I was down to the last 100 copies on such a trip. I set a deep discount sale price and was able to sell off 50 that I sent to Amazon very quickly. I kept the other 50, just in case.
Blu-ray is a great format, don't get me wrong. And this particular release was worthy of the extra mile gone. But the steps above are just a portion of the reasons I don't put my other titles out on Blu.
You can read the next post in this series here.
If you subscribed to my blog between March and September 2020 as a way to get info and emails about The Silent Comedy Watch Party and are not interested in reading my blog posts, feel free to unsubscribe and/or sign up for my email list. I send an email out every week on Thursday or Friday with info about the SCWP and other shows or projects.