Episode #25 of The Silent Comedy Watch Party will stream live on Sunday September 13, 2020 at 3pm EDT. Co-hosts Steve Massa will introduce and Ben Model will live-accompany shorts starring Will Rogers and Charley Chase.
The Silent Comedy Watch Party is presented for free, on YouTube.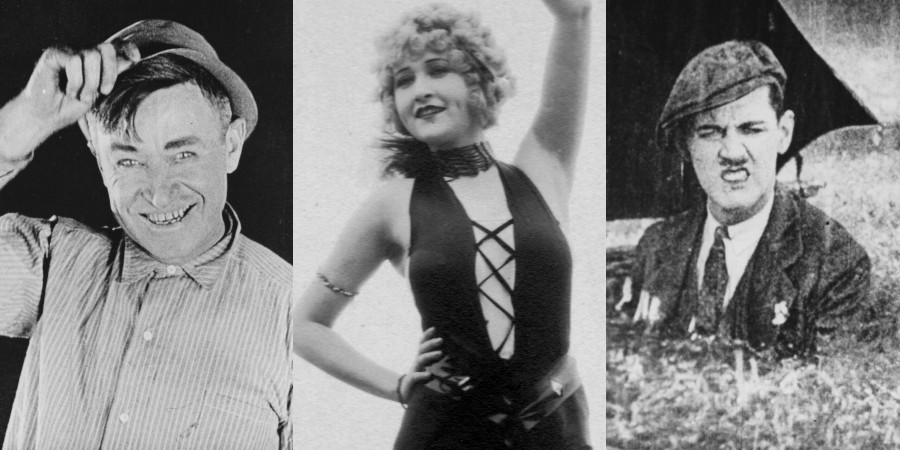 Films scheduled for this episode:
JUS' PASSIN' THROUGH  (1923) starring Will Rogers, with Marie Mosquini, Noah Young, Earl Mohan, Billy Engle, Wallace Howe, Leo Willis, James Finlayson, Richard Daniels, Ford West, Vera White, Helen Gilmore, Jackie Condon; dir. Charles Parrott; rel. October 4, 1923 by Hal Roach Comedies; dist. Pathé Exchange; 2 reels; presented courtesy of David Kalat/ All Day Entertainment in a digital scan from a 35mm print at Library of Congress, issued on the DVD set Becoming Charley Chase; out of print but available on Amazon. 
INNOCENT HUSBANDS (1925) starring Charley Chase, with Katherine Grant, Lucien Littlefield, Martha Sleeper, James Finlayson, Kay Deslys, Jane Sherman, William Gillespie, Patsy O'Bryne, Jack Gavin; dir. Leo McCarey; super. F. Richard Jones; rel. August 2, 1925 by Hal Roach Comedies; dist. Pathé Exchange; 2 reels; courtesy of Serge Bromberg and Lobster Films; sourced from the 2005 Kino DVD The Charley Chase Collection, Vol. 2; available on Amazon.
Time Zone info:
Pacific Time – 12 noon
Mountain Time – 1 pm
Central Time – 2 pm
Eastern Time – 3 pm
Argentina/Nova Scotia – 4 pm
UK/England – 8 pm
Europe/Scandinavia/Netherlands et al. – 9 pm (21:00)
Eastern Australia – 3 am Monday
Western Australia – 6 am Monday
Japan (Tokyo) – 4am Monday
Where to watch the show:
The stream will go live on YouTube about 5-10 minutes before the show's start time at 3:00 pm EDT on Sunday, September 13, 2020. Click the image below to go to Ben Model's YouTube channel where you can subscribe and get an email notification about the stream link.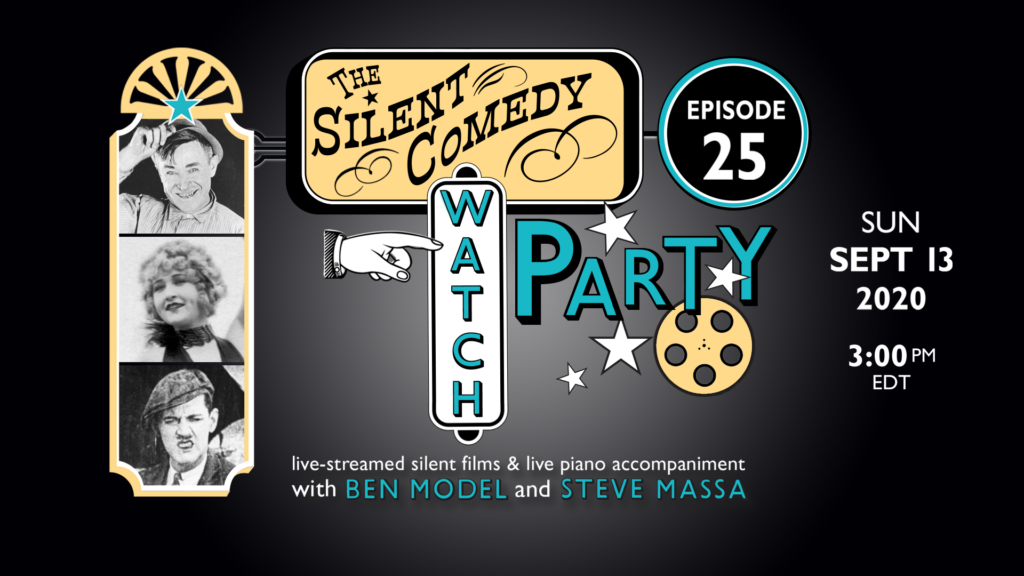 Make a donation to support the show:
The Silent Comedy Watch Party is presented free of charge. If you'd like to make a contribution to support the show, you may do so securely online:
one-time donation on Square – or, if you do not have or do not wish to use a credit card, you can use PayPal. For Venmo, search for "@undercrank"
donate automatically each time we do a live-stream – sign up on Patreon.
if you prefer to mail a check, please contact us for the address
Mentioned on episode 25:
Steve Massa and Ben Model's "cabin fever" recommendations:
The Reginald Denny Collection (Kino, 2020); available on Amazon.
Music by Max Steiner: The Epic Life of Hollywood's Most Influential Composer, by Steven C. Smith  (Oxford University Press, 2020); available on Amazon.

Stay informed about the shows:
Sign up for emails to get reminders about The Silent Comedy Watch Party shows and film listings.
click here for The Silent Comedy Watch Party main web page for show info and links to previous episodes' pages.
Follow Ben Model on Twitter at @silentfilmmusic
---