Episode #23 of The Silent Comedy Watch Party will stream live on Sunday August 23, 2020 at 3 pm EDT. Co-hosts Steve Massa will introduce and Ben Model will live-accompany shorts starring Lloyd Hamilton and Roscoe "Fatty" Arbuckle.
The Silent Comedy Watch Party is presented for free, on YouTube.
Films scheduled for this episode:
THE SIMP (1920) starring Lloyd Hamilton, with Marvel Rea, Otto Fries; dir. Owen Davis & Arthur Roche; rel. October 24, 1920 by Hamilton White Comedies; dist. Educational Pictures; 2 reels; restored by and presented courtesy of Dave Glass and David Wyatt; released on their DVD set Lloyd Hamilton: Silent Comedian, available on Amazon. 

THE WAITER'S BALL (1916) starring Roscoe "Fatty" Arbuckle, with Al St John, Corinne Parquet, Kate Price, Robert Maximillan, Joe Bordeaux, Alice Lake, Horace Haine, Edward Earle, James Bryant; dir. Roscoe Arbuckle & Ferris Hartman; assist. dir. Dave Anderson; rel. June 25, 1916 by Mack Sennett for the Keystone Film Company; dist. Triangle Film Corporation; 2 reels; restoration by and presented courtesy of Dave Glass.
Time Zone info:
Pacific Time – 12 noon
Mountain Time – 1 pm
Central Time – 2 pm
Eastern Time – 3 pm
Argentina/Nova Scotia – 4 pm
UK/England – 8 pm
Europe/Scandinavia/Netherlands et al. – 9 pm (21:00)
Eastern Australia – 3 am Monday
Western Australia – 6 am Monday
Japan (Tokyo) – 4am Monday
Where to watch the show:
The stream will go live on YouTube about 5-10 minutes before the show's start time at 3:00 pm EDT on Sunday, August 23, 2020. Click the image below to go to Ben Model's YouTube channel where you can subscribe and get an email notification about the stream link.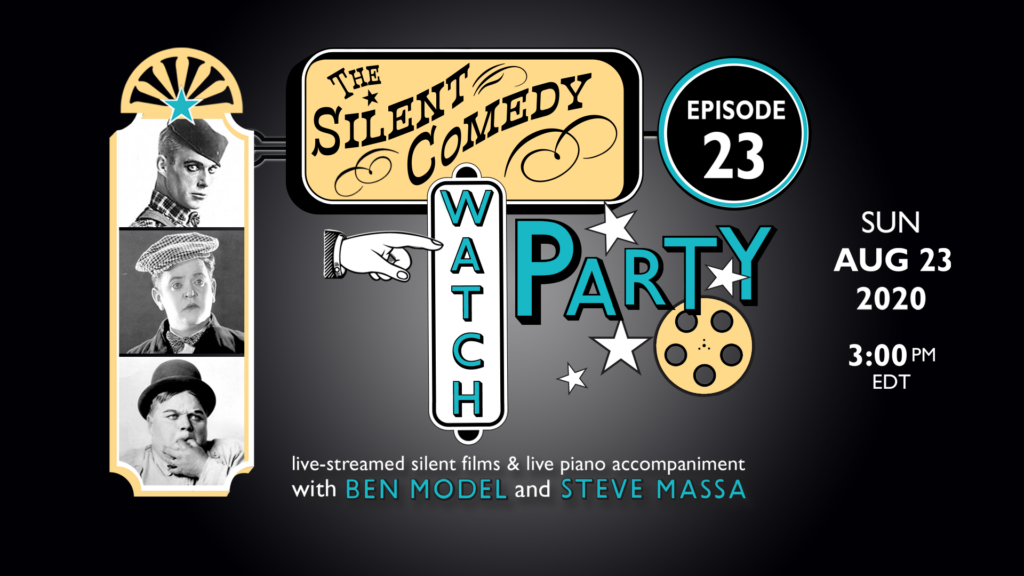 Make a donation to support the show:
The Silent Comedy Watch Party is presented free of charge. If you'd like to make a contribution to support the show, you may do so securely online:
one-time donation on Square – or, if you do not have or do not wish to use a credit card, you can use PayPal. For Venmo, search for "@undercrank"
donate automatically each time we do a live-stream – sign up on Patreon.
if you prefer to mail a check, please contact us for the address

Mentioned on episode 23:
Ben Model & Steve Massa's "cabin fever" recommendations:
It (1927) (The Milestone Collection, 2019); available on Amazon. 
American Silent Film by William K. Everson (Oxford University Press, 1978 – updated 1998); available on Amazon.
Links to shows and resources:
The Rockefeller Center Flag Project – Aug 1 to 23 (extended for an additional week!) – NYC, at Rockefeller Center – look for Marlene Weisman's flag "New York Tough" at the corner of W. 49th St and 6th Ave (at Radio City Music Hal).
Stay informed about the shows:
Sign up for emails to get reminders about The Silent Comedy Watch Party shows and film listings.
click here for The Silent Comedy Watch Party main web page for show info and links to previous episodes' pages.
Follow Ben Model on Twitter at @silentfilmmusic
---