Episode #22 of The Silent Comedy Watch Party will stream live on Sunday August 16, 2020 at 3 pm EDT. Co-hosts Steve Massa will introduce and Ben Model will live-accompany shorts starring Snub Pollard, Eddie Lyons & Lee Moran, and Charlie Chaplin.
The Silent Comedy Watch Party is presented for free, on YouTube.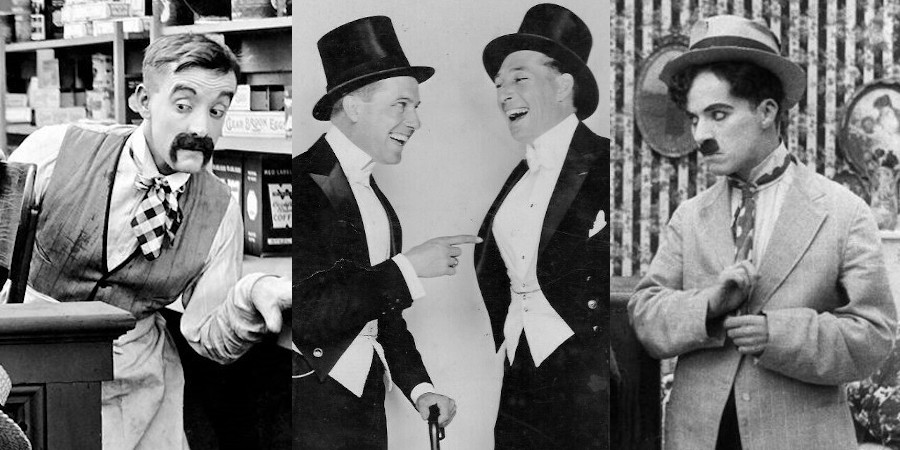 Films scheduled for this episode:
PUNCH THE CLOCK (1922) starring Snub Pollard, with Eddie Baker, Marie Mosquini, George Rowe, William Gillespie, Mark Jones; dir. William Beaudine; superv. Charles Parrott; released June 4, 1922 by the Rolin Film Co.; dis. Pathé Exchange; 1 reel; presented from a 16mm print; courtesy of Robert Arkus.
WAITING AT THE CHURCH (1919) starring Eddie Lyons & Lee Moran, with Mildred Moore, Grace Marvin; dir. & writ. Eddie Lyons & Lee Moran; rel. August 4, 1919 by the Universal Film Co.; 1 reel; presented in an 2K scan of a 35mm print from the Library of Congress, courtesy of Michael Aus; released on the DVD Early Universal Films of Eddie Lyons & Lee Moran: Vol. 2; available on Ebay. 

THE CURE (1917) starring Charlie Chaplin, with Edna Purviance, Eric Campbell, John Rand, Albert Austin, James T. Kelly, Frank J. Coleman, Henry Bergman, William Gillespie; dir. & writ. Charles Chaplin; photo. Roland Totheroh & George C. Zalibra; rel. April 16, 1917 by the Lone Star Film Corporation; dis. Mutual Film Corp.; presented courtesy of Serge Bromberg and the Blackhawk Films Collection; available on many DVD collections, including the 2013 "Chaplin Project" digital restorations, available through Amazon.

SPECIAL GUEST: Film Historian Michael J. Hayde – author of Chaplin's Vintage Year: The History of the the Mutual Chaplin Specials, Little Elf: A celebration of Harry Langdon, and more – will join us to talk about THE CURE and Chaplin's days making his 12 famous Mutual Comedies.
Time Zone info:
Pacific Time – 12 noon
Mountain Time – 1 pm
Central Time – 2 pm
Eastern Time – 3 pm
Argentina/Nova Scotia – 4 pm
UK/England – 8 pm
Europe/Scandinavia/Netherlands et al. – 9 pm (21:00)
Eastern Australia – 3 am Monday
Western Australia – 6 am Monday
Japan (Tokyo) – 4am Monday
Where to watch the show:
The stream will go live on YouTube about 5-10 minutes before the show's start time at 3:00 pm EDT on Sunday, August 16, 2020. Click the image below to go to Ben Model's YouTube channel where you can subscribe and get an email notification about the stream link.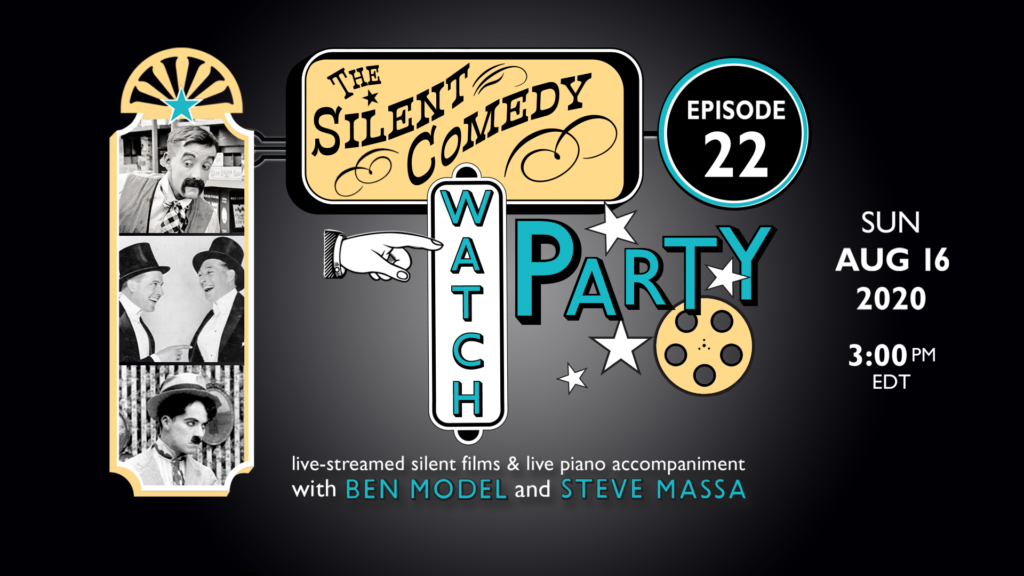 Make a donation to support the show:
The Silent Comedy Watch Party is presented free of charge. If you'd like to make a contribution to support the show, you may do so securely online:
one-time donation on Square – or, if you do not have or do not wish to use a credit card, you can use PayPal. For Venmo, search for "@undercrank"
donate automatically each time we do a live-stream – sign up on Patreon.
if you prefer to mail a check, please contact us for the address
Links to shows and resources:
Stay informed about the shows:
Sign up for emails to get reminders about The Silent Comedy Watch Party shows and film listings.
click here for The Silent Comedy Watch Party main web page for show info and links to previous episodes' pages.
Follow Ben Model on Twitter at @silentfilmmusic
Subscribe to Ben Model's blog (below):
---