Episode #21 of The Silent Comedy Watch Party will stream live on Sunday August 9, 2020 at 3 pm EDT. Co-hosts Steve Massa will introduce and Ben Model will live-accompany shorts starring Ethel Teare, Slim Summerville and Buster Keaton.
The Silent Comedy Watch Party is presented for free, on YouTube.
Films scheduled for this episode:
HER FIRST KISS (1919) starring Ethel Teare and Slim Summerville, with Laura La Varnie, Harry Booker, Bobby Dunn, Marvel Rae, Gus Pixley, Roscoe "Tiny" Ward, Alice Davenport, Harry McCoy, Tom Kennedy, Bynunsky Hymen, Fox Sunshine Beauties, Bartine Burkett; dir. Frank Griffin; rel. August 24, 1919 by Fox Sunshine Comedies; 2 reels; presented in a 2K digital scan from a 35mm print courtesy of the Academy of Motion Picture Arts and Sciences and the National Film Preservation Foundation; available online at the National Film Preservation Foundation's screening room.

THE GOAT (1921) starring Buster Keaton, with Virginia Fox, Joe Roberts, Kitty Bradbury, Garry O'Dell, Eddie Cline, Mal St. Clair, Jean Havez, Steve Murphy; dir & writ. Buster Keaton & Mal St. Clair; photo. Elgin Lessley; rel. July 14, 1921 by the Comique Film Corporation; dist. Metro Pictures; 2 reels; the film is currently available in a new restoration by Lobster Films on the DVD/Blu-ray set from Kino Lorber, Buster Keaton: The Shorts Collection: 1917–1923 (2016); available on Amazon.
Time Zone info:
Pacific Time – 12 noon
Mountain Time – 1 pm
Central Time – 2 pm
Eastern Time – 3 pm
Argentina/Nova Scotia – 4 pm
UK/England – 8 pm
Europe/Scandinavia/Netherlands et al. – 9 pm (21:00)
Eastern Australia – 3 am Monday
Western Australia – 6 am Monday
Japan (Tokyo) – 4am Monday
Where to watch the show:
The stream will go live on YouTube about 5-10 minutes before the show's start time at 3:00 pm EDT on Sunday, August 9, 2020. Click the image below to go to Ben Model's YouTube channel where you can subscribe and get an email notification about the stream link.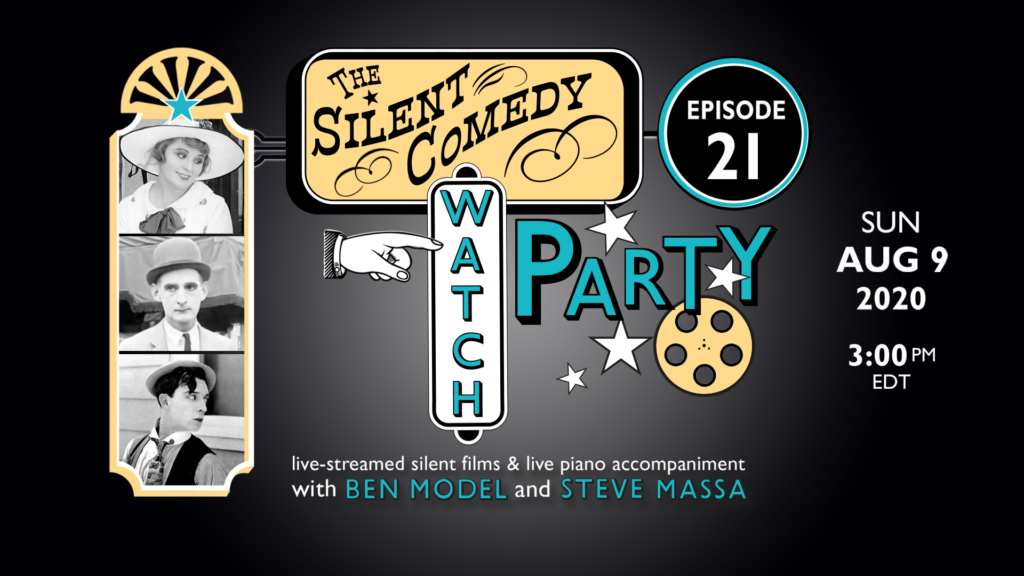 Make a donation to support the show:
The Silent Comedy Watch Party is presented free of charge. If you'd like to make a contribution to support the show, you may do so securely online:
one-time donation on Square – or, if you do not have or do not wish to use a credit card, you can use PayPal. For Venmo, search for "@undercrank"
donate automatically each time we do a live-stream – sign up on Patreon.
if you prefer to mail a check, please contact us for the address
Mentioned on episode 21:
Ben Model & Steve Massa's "cabin fever" recommendations:
The Miracle of Morgan's Creek (1943); dir. Preston Sturges. (Paramount DVD); available on Amazon.
The Silent Clowns by Walter Kerr (Knopf, 1975); available on Amazon and on OpenLibrary
Links to shows and resources:
Stay informed about the shows:
click here for The Silent Comedy Watch Party main web page for show info and links to previous episodes' pages.
Sign up for emails to get informatíon and reminders about the show
Follow Ben Model on Twitter at @silentfilmmusic
Subscribe to Ben Model's blog (below):
---