Episode #20 of The Silent Comedy Watch Party will stream live on Sunday August 2, 2020 at 3 pm EDT. Co-hosts Steve Massa will introduce and Ben Model will live-accompany shorts starring Cliff Bowes, Jack Duffy and Charley Chase.
The Silent Comedy Watch Party is presented for free, on YouTube.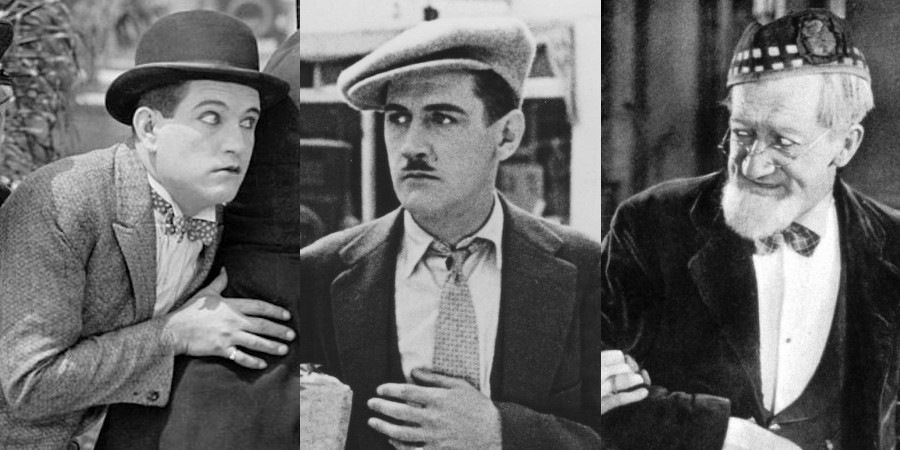 Films scheduled for this episode:
PEP UP (1929) – starring Cliff Bowes, with Adrienne Dore, Marshall Ruth, Billy Dale, Emily Gerdes; dir. Francis J. Martin; photo. William Hyer; rel. February 24, 1929 by Jack White Comedies; dist. Educational Pictures; one reel; presented from a tinted 16mm Kodascope print; special thanks to Robert Arkus.
LOVE'S YOUNG SCREAM (1928) – starring Jack Duffy, with Anne Cornwall, Jimmie Harrison, William Blaisdell, Glen Cavender, James Donnelly, Billy Engle; dir. William Watson; st. Sig Herzig; rel. May 12, 1928 by Christie Comedies; dist. Paramount Pictures; originally two reels; presented in a digital reconstruction from HD scans of two slightly abridged 16mm prints; released on DVD by Undercrank Productions on Accidentally Preserved Vol. 3 (2018); available on Amazon.
FLUTTERING HEARTS (1927) -starring Charley Chase, with Martha Sleeper, Oliver Hardy, William Burress, Eugene Pallette, Charlie Hall, Dick Gilbert, Kay Delys, May Wallace, Jack Gavin; dir. James Parrott; rel. June 19, 1927 by the Hal Roach Studio; dist. Pathé Exchange; two reels.
Time Zone info:
Pacific Time – 12 noon
Mountain Time – 1 pm
Central Time – 2 pm
Eastern Time – 3 pm
Argentina/Nova Scotia – 4 pm
UK/England – 8 pm
Europe/Scandinavia/Netherlands et al. – 9 pm (21:00)
Eastern Australia – 3 am Monday
Western Australia – 6 am Monday
Japan (Tokyo) – 4am Monday
Where to watch the show:
The stream will go live on YouTube about 5-10 minutes before the show's start time at 3:00 pm EDT on Sunday, August 2, 2020. Click the image below to go to Ben Model's YouTube channel where you can subscribe and get an email notification about the stream link.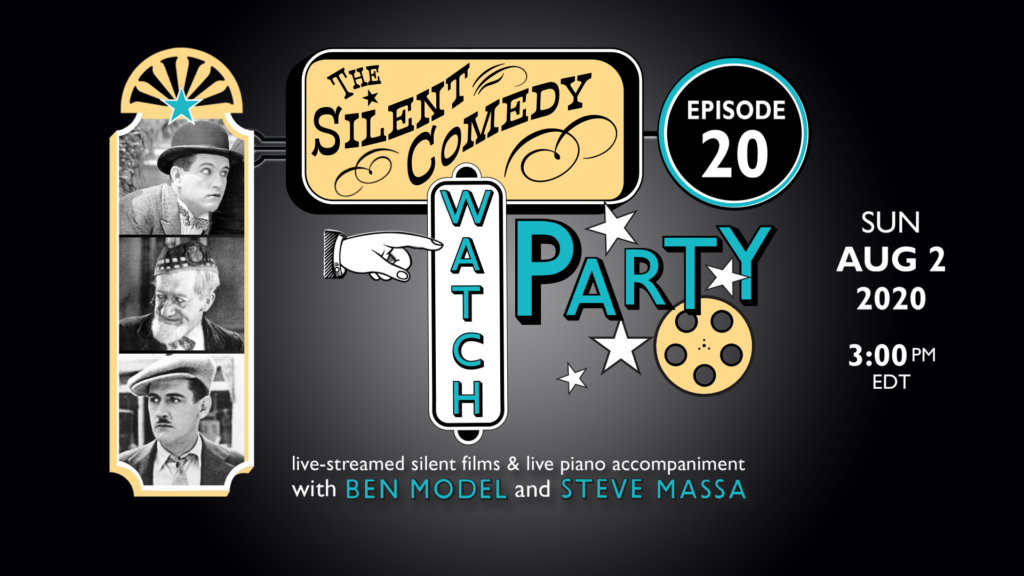 Make a donation to support the show:
The Silent Comedy Watch Party is presented free of charge. If you'd like to make a contribution to support the show, you may do so securely online:
one-time donation on Square – or, if you do not have or do not wish to use a credit card, you can use PayPal. For Venmo, search for "@undercrank"
donate automatically each time we do a live-stream – sign up on Patreon.
if you prefer to mail a check, please contact us for the address
Mentioned on episode 20:
Ben Model & Steve Massa's "cabin fever" recommendations:
Laurel and Hardy: The Definitive Restorations (Kit Parker Films, 2020); available on Amazon.
Krazy: George Herriman, A Life in Black and White by Michael Tisserand (Harper, 2016; available on Amazon and at other booksellers.
Chaplin: His Life and Art by David Robinson (Penguin, 1985): available on Amazon.
Links to shows and resources:
The Edward Everett Horton DVD Kickstarter – ends on Aug 17th.
The Rockefeller Center Flag Project – Aug 1-16 – NYC, at Rockefeller Center – look for Marlene Weisman's flag "New York Tough" at the corner of W. 49th St and 6th Ave (at Radio City Music Hal).
Aug 8 at 7:30 EDT – Buster Keaton in Three Ages (1923) – live-streamed & live-accompanied – presented by the Cleveland Institute of Arts's Cinematheque, as a 34th anniversary online event – click here to purchase tickets ($10 gen. admission, $7 for CIA members and anyone under 25)
Aug 12 at 7:00 EDT – Ernst Lubitsch's Lady Windermere's Fan (1925) live-streamed & live-accompanied – presented by the Cinema Arts Centre.
Stay informed about the shows:
click here for The Silent Comedy Watch Party main web page for show info and links to previous episodes' pages.
Sign up for emails to get informatíon and reminders about the show
Follow Ben Model on Twitter at @silentfilmmusic
Subscribe to Ben Model's blog (below):
---