Episode #15 of The Silent Comedy Watch Party will stream live on Sunday June 28, 2020 at 3pm EDT. Co-hosts Steve Massa will introduce and Ben Model will live-accompany shorts starring Snub Pollard, Mabel Normand, and Mr. & Mrs. Carter DeHaven.
The Silent Comedy Watch Party is presented for free, on YouTube.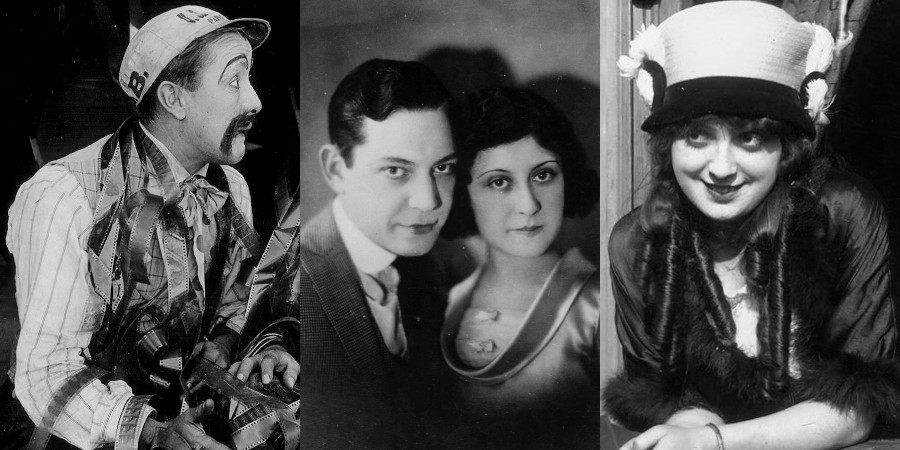 Films scheduled for this episode:
IT'S A GIFT (1923) – starring Snub Pollard, with William Gillespie, Wallace Howe, Marie Mosquini, Noah Young, Charley Young, Mark Jones; dir. Hugh Fay; rel. October 14, 1923 by Hal Roach Comedies; dist. Pathé Exchanges; 1 reel; presented courtesy of the Blackhawk Films Collection and Serge Bromberg; sourced from the Slapstick Encyclopedia (2012) DVD box set; available on Amazon.
WON IN A CLOSET (1914 – British release title WON IN A CUPBOARD) – starring Mabel Normand, with Charles Avery, Alice Davenport, Charles Inslee, Rube Miller, Hank Mann, Bill Hauber, Al St John; dir. Mabel Normand; prod. Mack Sennett; rel. January 22, 1914 by the Keystone Film Co.; dist. Mutual Film Corp.; 1 reel; presented in a 2K digital scan from a 35mm print courtesy of the Library of Congress; available online at the National Film Preservation Foundation's screening room; also available on the DVD Lost and Found: American Treasures from the New Zealand Film Archive (2013) from Amazon. 

A WAGGIN' TALE (1923) – starring Carter DeHaven and Flora Parker DeHaven, with Charles Force, Pal, Max Asher, May Wallace, Jiggs; dir. Carter DeHaven; scen. Monty Brice; prod. P. A.  Powers; rel. February 13, 1923 by Robertson-Cole Pictures Corp.; dist. FBO; 2 reels; presented in a 2K digital scan from an archival 16mm print courtesy of Dino Everett and the USC School of Cinematic Arts Hugh M. Hefner Moving Image Archive.
Time Zone info:
Pacific Time – 12 noon
Mountain Time – 1pm
Central Time – 2pm
Eastern Time – 3pm
Argentina Time – 4pm
UK/England – 8pm
Europe/Scandinavia/Netherlands et al. – 9pm (21:00)
Eastern Australia – 3am Monday
Western Australia – 6am Monday
Japan (Tokyo) – 4am Monday
Where to watch the show:
The stream will go live on YouTube about 5-10 minutes before the show's start time at 3:00pm EDT on Sunday, June 28, 2020. Click the image below to go to Ben Model's YouTube channel where you can subscribe and get an email notification about the stream link.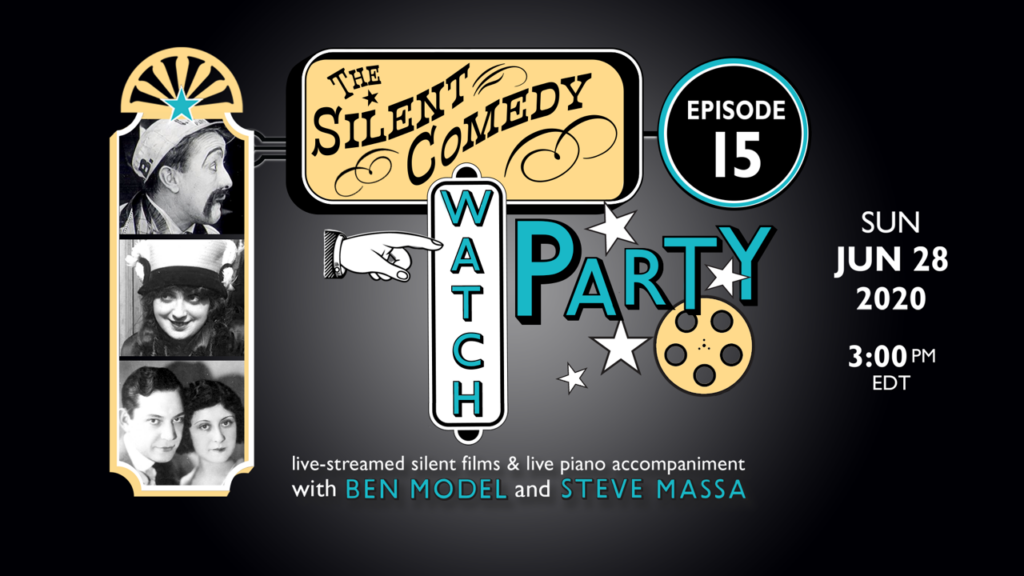 Make a donation to support the show:
The Silent Comedy Watch Party is presented free of charge. If you'd like to make a contribution to support the show, you may do so securely online:
one-time donation on Square – or, if you do not have or do not wish to use a credit card, you can use PayPal. For Venmo, search for "@undercrank"
donate automatically each time we do a live-stream – sign up on Patreon.
if you prefer to mail a check, please contact us for the address
Stay informed about the shows:
click here for The Silent Comedy Watch Party main web page for show info and links to previous episodes' pages.
Sign up for emails to get informatíon and reminders about the show
Follow Ben Model on Twitter at @silentfilmmusic
Subscribe to Ben Model's blog (below):
---
Mentioned on episode 15:
Ben Model & Steve Massa's "cabin fever" recommendations:
The Cameraman (1928). The Criterion Collection Blu-ray (2020); available on Amazon.
Syd Chaplin: A Biography by Lisa K. Stein (McFarland, 2011); available on Amazon.