Episode #12 of The Silent Comedy Watch Party will stream live on Sunday June 7, 2020 at 3pm EDT. Co-hosts Steve Massa will introduce and Ben Model will live-accompany shorts starring Charley Chase, Sarah Duhamel, and Carole Lombard.
The Silent Comedy Watch Party is presented for free, on YouTube.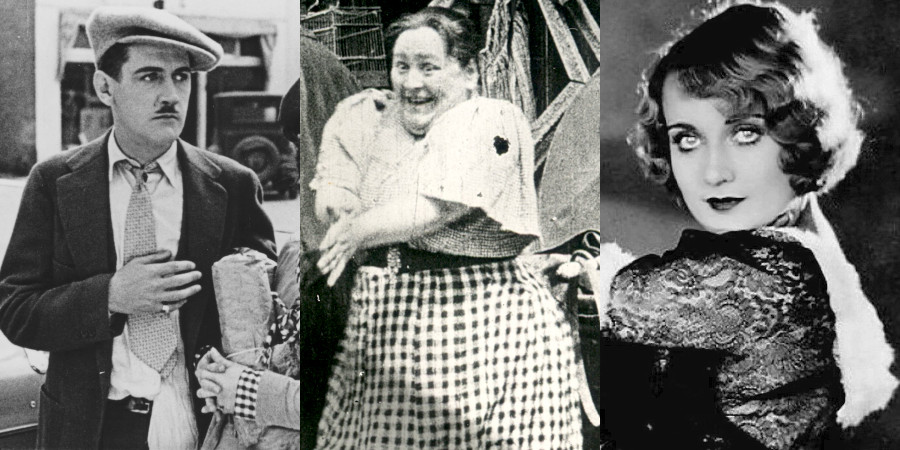 Films scheduled for this episode:
ALL WET (1924) – starring Charley Chase, with Helen Gilmore, William Gillespie, Jack Gavin, Martin "Tonnage" Wolfkeil, Martha Sleeper, Dick Gilbert; dir. Leo McCarey; photo. Len Powers; rel. November 12, 1924 by Hal Roach Comedies; dist. Pathé Exchange; 1 reel; this edition is a special preservation by Lobster Films for the 2004 DVD release Slapstick Symposium: Charley Chase Vol. 1; presented here courtesy of Serge Bromberg and Lobster Films; available on Amazon.
LE SINGE DE PÉTRONILLE (Pétronille and her Monkey, 1913) – starring Sarah Duhamel; dir. Romeo Bosetti & George Remond; rel. 1913 by Éclair ; 1 reel; this edition preserved by the EYE Filmmuseum (Netherlands), from a 35mm original print in the Jean Desmet Collection; presented here courtesy of the EYE Filmmuseum; film is also viewable on the archive's YouTube channel.
MATCHMAKING MAMMA (1929) – starring Carole Lombard, with Sally Eilers, Johnny Burke, Daphne Pollard, Matty Kemp, Irving Bacon, Madalynne Field, The Sennett Girls; dir. Harry Edwards; st. Carl Harbaugh & Jefferson Moffit; titles. John A. Waldron; photo. Ray Rennahan & Fred Dawson; rel. March 31, 1929 by Mack Sennett Comedies; dist. Pathé Exchange; presented from out-of-print ca. 1990s Lumivision home-video release produced by Tom Toth, which sourced a vintage 16mm print.
Time Zone info:
Pacific Time – 12 noon
Mountain Time – 1pm
Central Time – 2pm
Eastern Time – 3pm
Argentina Time – 4pm
UK/England – 8pm
Europe/Scandinavia/Netherlands et al. – 9pm (21:00)
Eastern Australia – 3am Monday
Western Australia – 6am Monday
Japan (Tokyo) – 4am Monday
Where to watch the show:
The stream will go live on YouTube about 5-10 minutes before the show's start time at 3:00pm EDT on Sunday, June 7, 2020. Click the image below to go to Ben Model's YouTube channel where you can subscribe and get an email notification about the stream link.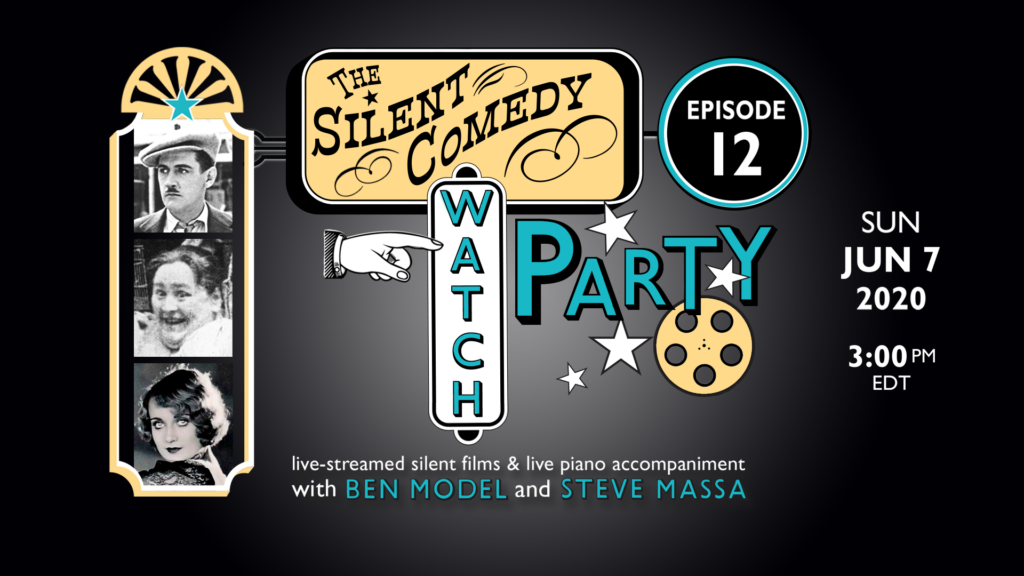 Make a donation to support the show:
The Silent Comedy Watch Party is presented free of charge. If you'd like to make a contribution to support the show, you may do so securely online:
one-time donation on Square – or, if you do not have or do not wish to use a credit card, you can use PayPal. For Venmo, search for "@undercrank"
donate automatically each time we do a live-stream – sign up on Patreon.
if you prefer to mail a check, please contact us for the address
Stay informed about the shows:
click here for The Silent Comedy Watch Party main web page for show info and links to previous episodes' pages.
Sign up for emails to get informatíon and reminders about the show
Follow Ben Model on Twitter at @silentfilmmusic
Subscribe to Ben Model's blog (below):
---
Mentioned on episode 12:
Ben Model & Steve Massa's "cabin fever" recommendations:
Screwball! The Cartoonists Who Made The Funnies Funny by Paul C. Tumey. (The Library of American Comics, 2019); available on Amazon. 
Early Universal Films of Eddie Lyons & Lee Moran, Vols. 1 & 2 (prod for DVD by Rare Silent Films); available on ebay.
Princess April Morning Glory by Letitia Fairbanks (originally published 1941; Sandramantos Publishing, 2013); available on at the Hollywood Heritage Museum Store and Amazon.