Episode #10 of The Silent Comedy Watch Party will stream live on Sunday May 24, 2020 at 3pm EDT. Co-hosts Steve Massa will introduce and Ben Model will live-accompany shorts starring Harold Lloyd, Little Chrysia and Charley Bowers.
The Silent Comedy Watch Party is presented for free, on YouTube.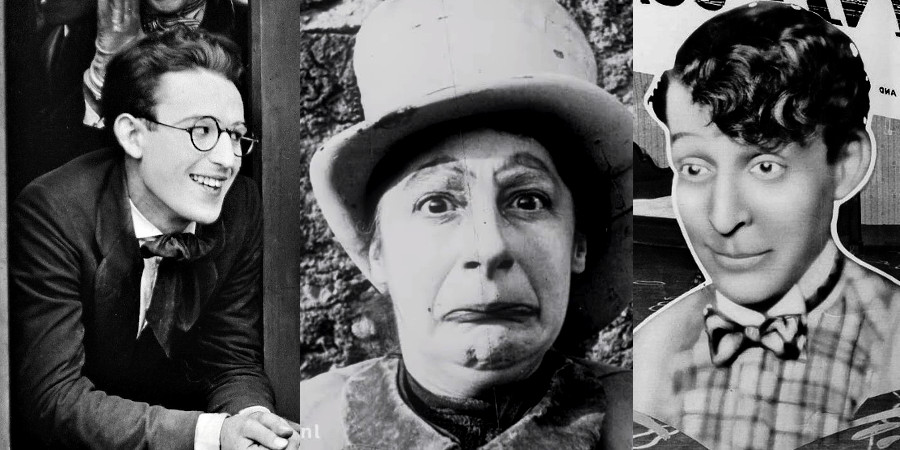 Films scheduled for this episode:
ASK FATHER (1919) – starring Harold Lloyd, with Bebe Daniels, Snub Pollard, Wallace Howe, Marie Mosquini, Noah Young, Bud Jamison, Sammy Brooks, James Parrott, William Gillespie, Margaret Joslin, Slim Fitzgerald, Dee Lampton; dir. Hal Roach; titles. H.M. Walker; photo. Walter Lundin; rel. February 9, 1919 by the Rolin Film Co.; dist. Pathé Exchage; 1 reel; presented courtesy of Harold Lloyd Entertainment and Suzanne Lloyd; released on the DVD The Harold Lloyd Comedy Collection Vols. 1-3 (2005), available on Amazon.
CUNÉGONDE FEMME-CRAMPON (1912, CUNEGONDE DOESN'T WANT HER HUSBAND TO GO OUT) – starring Little Chrysia; rel. 1912 by Lux Compagnie Cinematographique de France; 1 reel; this edition preserved by the EYE Filmmuseum (Netherlands), from a 35mm original print in the Jean Desmet Collection; presented here courtesy of the EYE Filmmuseum; film is also viewable on the archive's YouTube channel.
EGGED ON (1926) – starring Charley Bowers, with Winifred Leighton, Fred Conklin, Dorothy Lewis; dir. Charles R. Bowers & H. L. Muller; scen. Ted Sears; rel. September 6, 1926 by R-C Pictures; dist: FBO; 2 reels; presented courtesy of Serge Bromberg and Lobster Films, and sourced from the 2004 DVD set Charley Bowers: The Rediscovery of an American Comic Genius. The film is available in a new digital restoration on the Blu-ray set The Charley Bowers Collection, available from Flicker Alley on Amazon.
NOTE: this film is being shown with special limited-time permission, and will only be included in the episode through Sunday May 31, and will be removed from the archived show on June 1, 2020.
Time Zone info:
Pacific Time – 12 noon
Mountain Time – 1pm
Central Time – 2pm
Eastern Time – 3pm
Argentina Time – 4pm
UK/England – 8pm
Europe/Scandinavia/Netherlands et al. – 9pm (21:00)
Eastern Australia – 3am Monday
Western Australia – 6am Monday
Japan (Tokyo) – 4am Monday
Where to watch the show:
The stream will go live on YouTube about 5-10 minutes before the show's start time at 3:00pm EDT on Sunday, May 24, 2020. Click the image below to go to Ben Model's YouTube channel where you can subscribe and get an email notification about the stream link.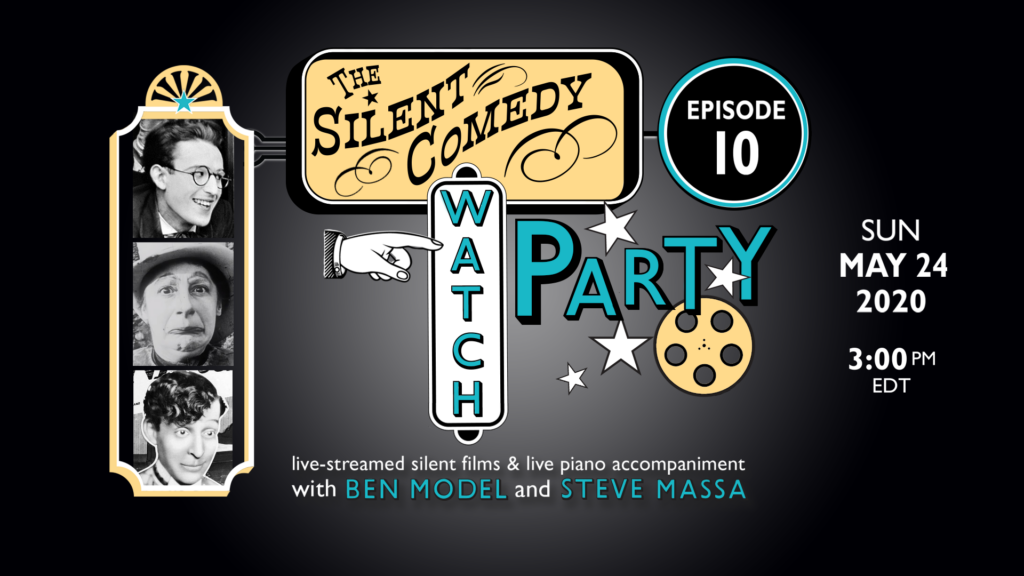 Make a donation to support the show:
The Silent Comedy Watch Party is presented free of charge. If you'd like to make a contribution to support the show, you may do so securely online:
one-time donation on Square – or, if you do not have or do not wish to use a credit card, you can use PayPal. For Venmo, search for "@undercrank"
donate automatically each time we do a live-stream – sign up on Patreon.
if you prefer to mail a check, please contact us for the address
Stay informed about the shows:
click here for The Silent Comedy Watch Party main web page for show info and links to previous episodes' pages.
Sign up for emails to get informatíon and reminders about the show
Follow Ben Model on Twitter at @silentfilmmusic
Subscribe to Ben Model's blog (below):
---
Mentioned on episode 10:
Ben Model & Steve Massa's "cabin fever" recommendations:
Monty Banks: A Filmography 1920-1924. Edited and published by Robert S. Birchard, with Robert Farr, Sam Gill, Robert James Kiss, Karl Thiede and Steve Massa. (CreateSpace Independent Publishing Platform 2015). Available on Amazon. 
The Gold Rush (1925). The Criterion Collection Blu-ray and DVD (2012). Available on Amazon.