Episode #08 of The Silent Comedy Watch Party will stream live on Sunday May 10, 2020 at 3pm EDT. Co-hosts Steve Massa will introduce and Ben Model will live-accompany shorts starring Paul Parrott, Marcel Perez and Charlie Chaplin.
The Silent Comedy Watch Party is presented for free, on YouTube.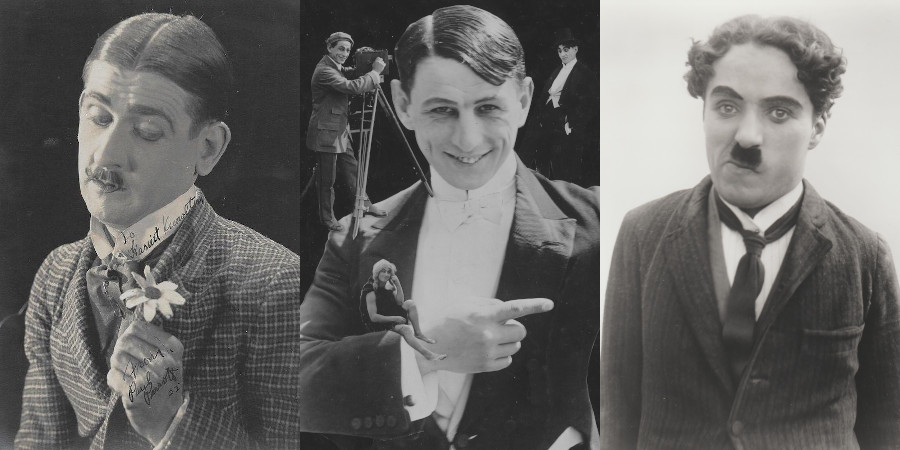 Films scheduled for this episode:
POST NO BILLS (1923) – starring Paul Parrott, with Marie Mosquini, Noah Young, George Rowe, Ford West, Helen Gilmore, Eddie Baker, Jack Ackroyd, Sammy Brooks, Charley Young, Bobby Ray; dir. Ralph Cedar; rel. August 5, 1923 by Hal Roach; 1 reel; presented courtesy of All Day Entertainment; released by All Day on the DVD American Slapstick 2; available on Amazon.
A BUSY NIGHT (1916) – starring Marcel Perez, with Tom Murray, Billy Slade; dir. Marcel Perez; rel. June 26, 1916 by the Eagle Film Co.; dis. Unity Film Sales; 1 reel; presented in an HD digital scan from a 16mm print preserved by the Library of Congress; released on video by Undercrank Productions on The Marcel Perez Collection; available on Amazon.
THE ADVENTURER (1917) – starring Charlie Chaplin, with Edna Purviance, Eric Campbell, Henry Bergman, Janet Miller Sully, Frank J. Coleman, Torachi Kono, Albert Austin, Loyal Underwood, May White, John Rand; dir. Charles Chaplin; rel. October 22, 1917 by the Mutual Film Corporation; 2 reels; presented courtesy of Serge Bromberg and the Blackhawk Films Collection; the edition presented on our show is sourced from the "90th Anniversary" DVD set (Image, 2006); currently available in new digital restoration on the Chaplin Mutual Comedies Blu-ray/DVD set from Flicker Alley, available on Amazon.
Time Zone info:
Pacific Time – 12 noon
Mountain Time – 1pm
Central Time – 2pm
Eastern Time – 3pm
Argentina Time – 4pm
UK/England – 8pm
Europe/Scandinavia et al. – 9pm (21:00)
Eastern Australia – 3am Monday
Western Australia – 6am Monday
Japan (Tokyo) – 4am Monday
Where to watch the show:
The stream will go live on YouTube about 5-10 minutes before the show's start time at 3:00pm EDT on Sunday, May 10, 2020. Click the image below to go to Ben Model's YouTube channel where you can subscribe and get an email notification about the stream link.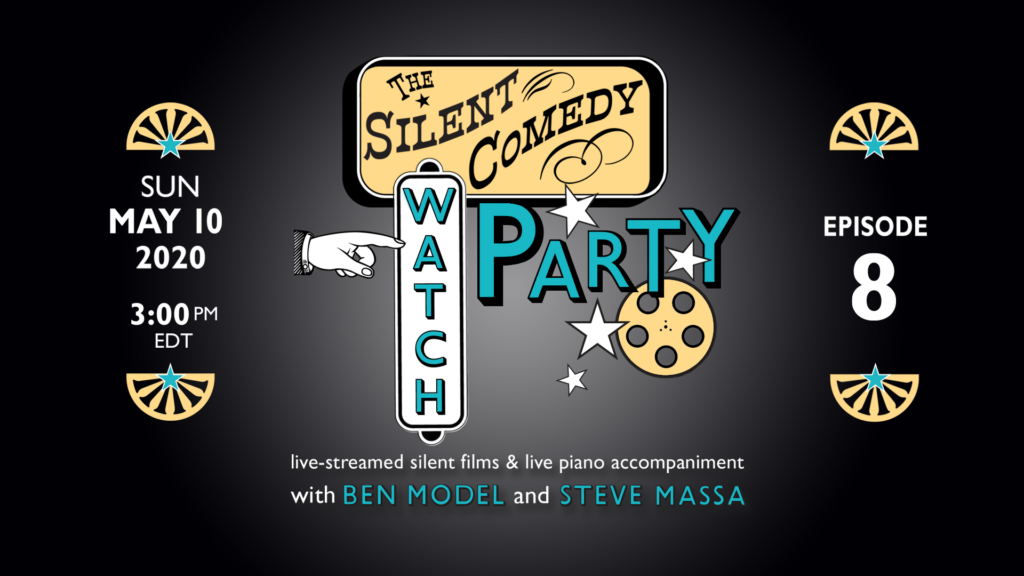 Make a donation to support the show:
The Silent Comedy Watch Party is presented free of charge. If you'd like to make a contribution to support the show, you may do so securely online:
one-time donation on Square – or, if you do not have or do not wish to use a credit card, you can use PayPal. For Venmo, search for "@undercrank"
donate automatically each time we do a live-stream – sign up on Patreon.
if you prefer to mail a check, please contact us for the address
Stay informed about the shows:
click here for The Silent Comedy Watch Party main web page for show info and links to previous episodes' pages.
Sign up for emails to get informatíon and reminders about the show
Follow Ben Model on Twitter at @silentfilmmusic
Subscribe to Ben Model's blog (below):
---
Mentioned on episode 8:
Ben Model & Steve Massa's "cabin fever" recommendations:
The Little Rascals: The Life and Times of Our Gang by Leonard Maltin and Richard W. Bann. (Three Rivers Press, 1992); available on Amazon.
The Keystone Kid: Tales of Early Hollywood by Coy Watson Jr. (Santa Monica Press, 2001); available on Amazon.
The Champion: A Story of America's First Film Town (Milestone Film & Video, 2017); available on Amazon.