Episode #07 of The Silent Comedy Watch Party will stream live on Sunday May 3, 2020 at 3pm EDT. Co-hosts Steve Massa will introduce and Ben Model will live-accompany shorts starring Billie Ritchie, Bobby Vernon and Buster Keaton.
The Silent Comedy Watch Party is presented for free, on YouTube.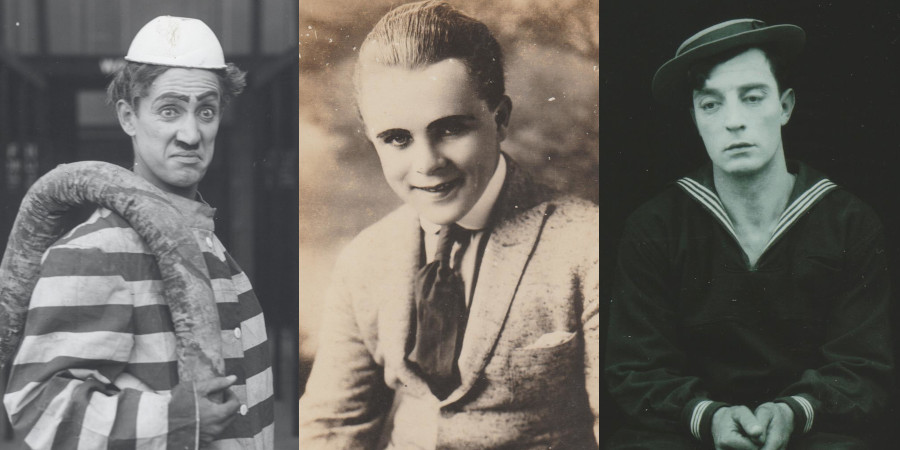 Films scheduled for this episode:
FATHER WAS A LOAFER (1915) – starring Billie Ritchie, with Gertrude Selby, Alice Howell, Louise Orth, Hank Mann, Eva Nelson, Harry Russell; dir. Henry Lehrman; rel. February 10, 1915 by L-Ko Comedies; dist. Universal Pictures; 1 reel; presented from a 2K digital scan from a 35mm print at the Library of Congress; released on the DVD The Alice Howell Collection by Undercrank Productions, available on Amazon.
WHY WILD MEN GO WILD (1919) – starring Bobby Vernon, with Vera Steadman, Jimmie Harrison, George B. French, Gus Leonard; prod. Al Christie; dir. William Beaudine; scen. W. Scott Darling; rel. 1919 by the Christie Film Company; 1 reel; presented from an HD digital scan of the only surviving 16mm print, courtesy of Ben Model/Undercrank Prods.; released on the DVD Accidentally Preserved Vol. 2, available on Amazon.
THE BALLOONATIC (1923) – starring Buster Keaton, with Phyllis Haver, Babe London, Joseph Mitchell, Eddie Cline, Natalie Talmadge, John Brown (bear); prod. Joseph M. Schenck; dir. Buster Keaton & Eddie Cline; rel. January 22, 1923 by Buster Keaton Prods.; dist: First National; 2 reels; this edition, sourced from the Art of Buster Keaton DVD series, is presented courtesy of Kino Lorber and the Blackhawk Films Collection; the film is currently available in a new restoration by Lobster Films on DVD/Blu-ray from Kino Lorber, available on Amazon.
Time Zone info:
Pacific Time – 12 noon
Mountain Time – 1pm
Central Time – 2pm
Eastern Time – 3pm
Argentina Time – 4pm
UK/England – 8pm
Europe/Scandinavia et al – 9pm (21:00)
Eastern Australia – 3am Monday
Western Australia – 6am Monday
Japan (Tokyo) – 4am Monday
Where to watch the show:
The stream will go live on YouTube about 5-10 minutes before the show's start time at 3:00pm EDT on Sunday, May 3, 2020. Click the image below to go to Ben Model's YouTube channel where you can subscribe and get an email notification about the stream link.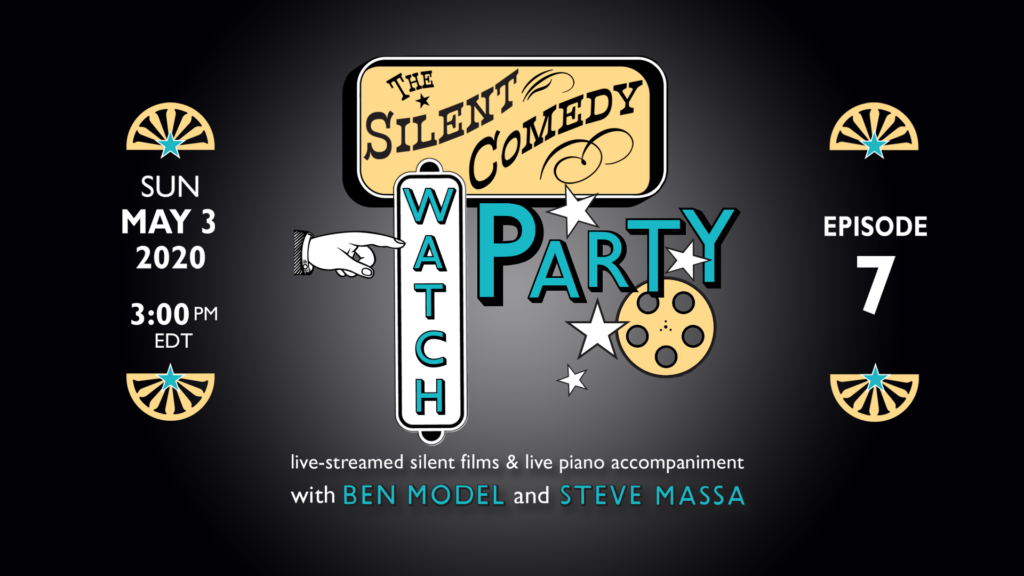 Make a donation to support the show:
The Silent Comedy Watch Party is presented free of charge. If you'd like to make a contribution to support the show, you may do so securely online:
one-time donation on Square – or, if you do not have or do not wish to use a credit card, you can use PayPal. For Venmo, search for "@undercrank"
donate automatically each time we do a live-stream – sign up on Patreon.
if you prefer to mail a check, please contact us for the address
Stay informed about the shows:
The Silent Comedy Watch Party main web page with links to previous shows' pages is here.
Sign up for emails to get informatíon and reminders about the show
Follow Ben Model on Twitter at @silentfilmmusic
Subscribe to Ben Model's blog (below):
---
Mentioned on episode 7:
Ben Model & Steve Massa's "cabin fever" recommendations: