Episode #06 of The Silent Comedy Watch Party will stream live on Sunday April 26, 2020 at 3pm EDT. Co-hosts Steve Massa will introduce and Ben Model will live-accompany shorts starring Monty Collins, Florence Turner and Charley Chase.
The Silent Comedy Watch Party is presented for free, on YouTube.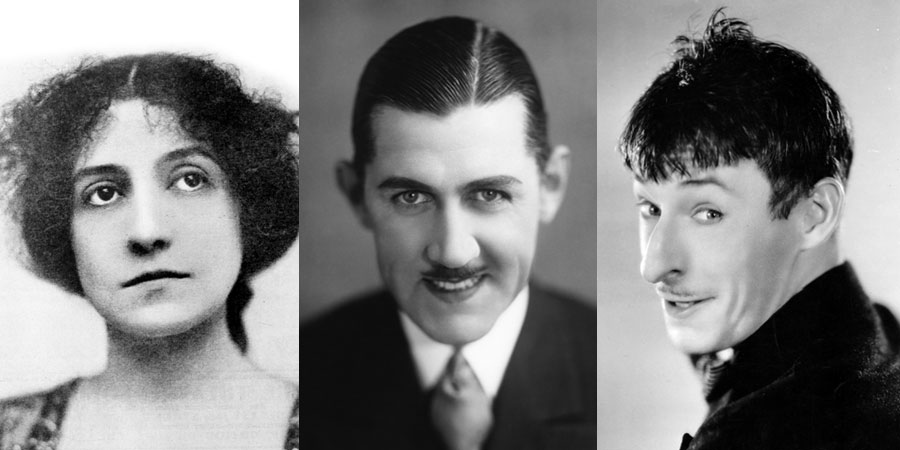 Films scheduled for this episode:
IT'S ME (1918) – starring Monty Collins, with Lucille Hutton, Phil Dunham; dir. Harry Sweet; rel. December 4, 1927 by Educational Pictures; 1 reel; presented in a video transfer from the only surviving copy, a 16mm Kodascope print courtesy of Kim Deitch; unavailable on DVD.
SHE CRIED (1912) – starring Florence Turner, with Harry T. Morey, Charles Eldridge; scen. Florence Turner, dir. Albert W. Hale; rel. October 3, 1912 Vitagraph Company of America; 1 reel. This edition preserved by the EYE Filmmuseum (Netherlands), from a 35mm original print in the Jean Desmet Collection. Presented here courtesy of the EYE Filmmuseum; film is also viewable on the archive's YouTube channel.
HIS WOODEN WEDDING (1925) – starring Charley Chase; with Katherine Grant, Gale Henry, Fred DeSylva; dir. Leo McCarey; prod. by Hal Roach; rel. December 20, 1925 by Pathé; 2 reels. Presented here courtesy of Lobster Films and The Blackhawk Films Collection; released on DVD by Kino Lorber, available on Amazon.
Time Zone info:
Pacific Time – 12 noon
Mountain Time – 1pm
Central Time – 2pm
Eastern Time – 3pm
Argentina Time – 4pm
UK/England – 8pm
Europe/Scandinavia et al – 9pm (21:00)
Eastern Australia – 3am Monday
Western Australia – 6am Monday
Japan (Tokyo) – 4am Monday
Where to watch the show:
The stream will go live on YouTube about 5-10 minutes before the show's start time at 3:00pm EDT on Sunday, April 26, 2020. Click the image below to go to Ben Model's YouTube channel where you can subscribe and get an email notification about the stream link.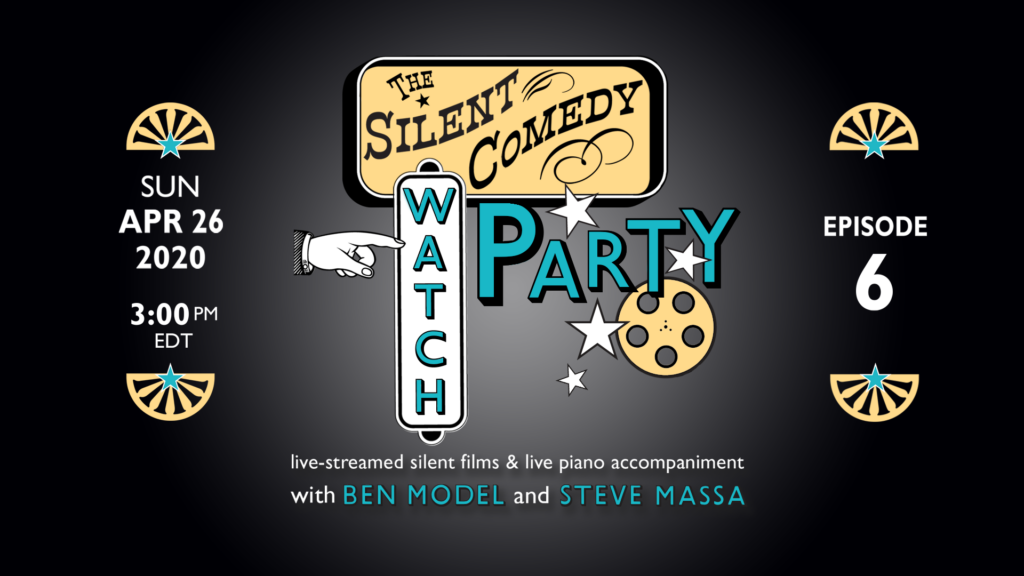 Make a donation to support the show:
The Silent Comedy Watch Party is presented free of charge. If you'd like to make a contribution to support the show, you may do so securely online:
one-time donation on Square – or, if you do not have or do not wish to use a credit card, you can use PayPal. For Venmo, search for "@undercrank"
donate automatically each time we do a live-stream – sign up on Patreon.
Stay informed about the shows:
The Silent Comedy Watch Party main web page with links to previous shows' pages is here.
Sign up for emails to get informatíon and reminders about the show
Follow Ben Model on Twitter at @silentfilmmusic
Subscribe to Ben Model's blog (below):
---
Mentioned on episode 6:
Steve Massa's "cabin fever" recommendations:
Laurel & Hardy: The Magic Behind the Movies, by Randy Skretvedt (Bonaventure Press, 2019); available on Amazon.
Little Elf: A Celebration of Harry Langdon by Michael J. Hayde and Chuck Harter (BearManor Media, 2010); available from BearManor Media and on Amazon.
Buster Keaton: The Shorts Collection 1917-1923, restored and produced by Lobster Films and released on Blu-ray/DVD by Kino Lorber; available on Amazon.
---