The second episode of "The Silent Comedy Watch Party" streamed live on Sunday March 29 at 3:00pm EDT (New York, east coast USA). Hosted by silent film accompanist Ben Model and film historian Steve Massa, the one-hour program will present three rare slapstick comedy shorts. The films will be streamed live — Ben Model will accompany them live on piano, and Steve Massa will introduce the films. The show will live-stream on YouTube (scroll down for link and embed).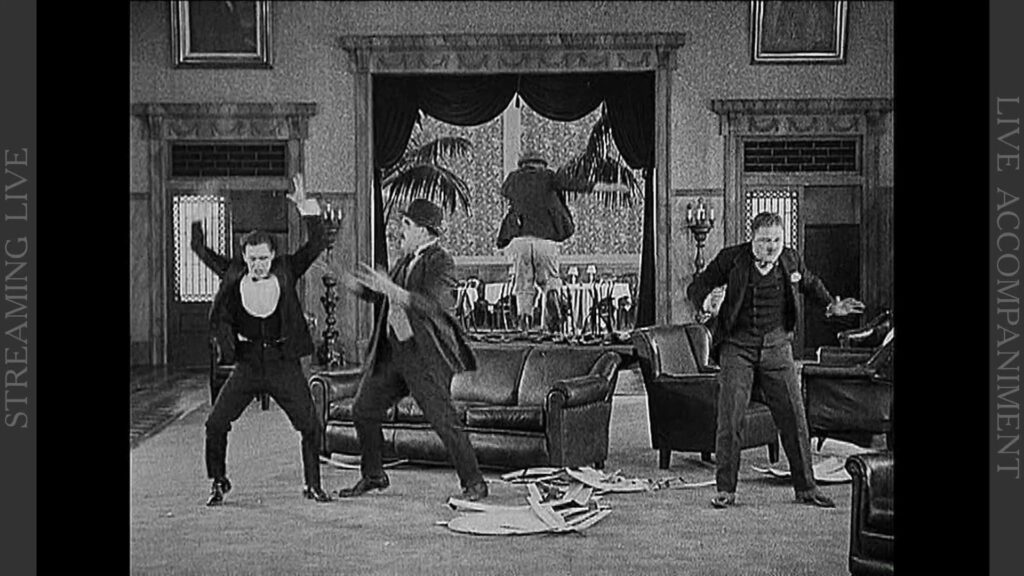 Steve Massa and Ben Model had a swell line-up for this week's stream, a trio of one-reel comedies that are as funny and clever as they are rare. All three have been released on DVD by Ben's Undercrank Productions label; two are sourced from archival 35mm prints preserved by the Library of Congress, and one is a rare original 16mm Kodascope from the 1920s. What was shown in episode #02 was:
The Fade Away (1925) – Inkwell Studios, Max & Dave Fleischer
Fifteen Minutes (1921 – Hal Roach studios, starring Snub Pollard, directed by Charles Parrott; available on the Undercrank Productions DVD Found at Mostly Lost
The Two Johns (1923) – Fox Sunshine Comedy, starring Harry Sweet; reel two only
The Whirlwind (1922) – Federated comedy, starring Joe Rock; available on the Undercrank Productions DVD Accidentally Preserved: Volume 3.
The Silent Comedy Watch Party is streamed out from Ben Model's living room, with Steve Massa piped in via Facetime from his place (a safe 11,800 feet away).
Time zone info:
Pacific Time – 12 noon
Mountain Time – 1pm
Central Time – 2pm
Eastern Time – 3pm
Argentina Time – 4pm
UK/England – 8pm – please double-check my math
Europe/Scandinavia et al – 9pm (21:00) – please double-check my math
Eastern Australia – 3am Monday; Western Australia – 6am Monday
Japan (Tokyo) – 4am Monday
Watch episode #02 of "The Silent Comedy Watch Party":
Click on the image below to go to YouTube to watch the show.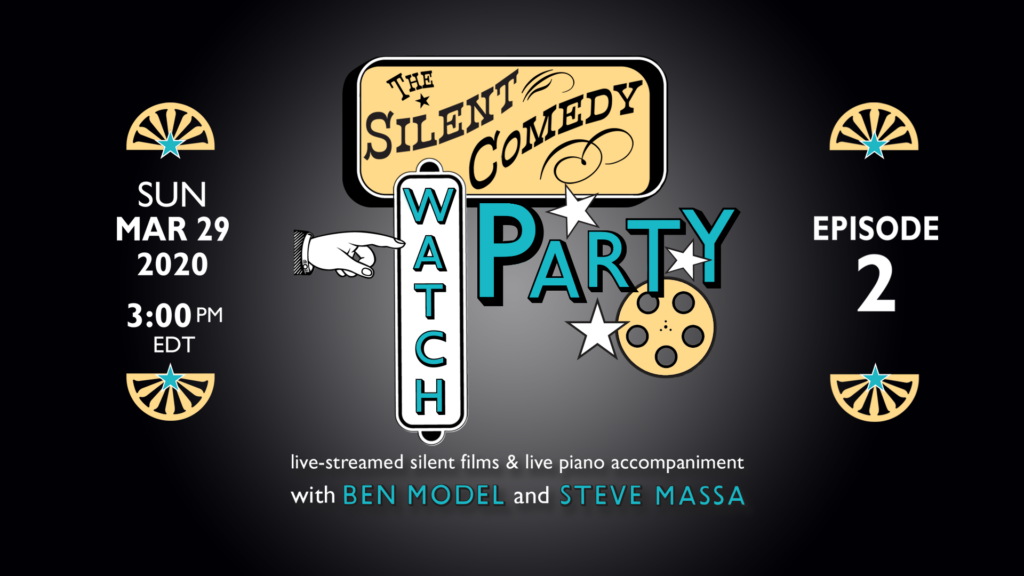 Support the stream (optional)
After the pilot aired on March 15, I got some inquiries about making a donation to the show. If you are able to support me and Steve and the work and craft we put in to be able to visit with you and bring these films to you wherever you're watching them:
Stay connected and informed about the Watch Party:
Show notes and links:
Brent Walker's book Mack Sennett's Fun Factory is available on Amazon.
Tom Stathes' DVDs of silent era animation, and other info, are available on his website, and his Cartoon Roots Blu-ray/DVD's are also on Amazon.
Steve Massa's book Lame Brains and Lunatics: The Good, The Bad and the Forgotten of Silent Comedy is available on Amazon.
Paul E. Gierucki's DVD box set The Forgotten Films of Roscoe "Fatty" Arbuckle is slightly out of print but copies are still available on Amazon.
Walter Kerr's landmark silent comedy book The Silent Clowns (Knopf, 1975) is out of print but copies are available on ebay. Chapters 1-5 discuss the basic aesthetic of silent film, in an accessible and relatable way.
Undercrank Productions has released 23 DVDs of rare silent comedy films – browse and order here
Ben was interviewed about The Silent Comedy Watch Party on the Nitrateville Radio podcast, available on the usual platforms, but here's the link for Stitcher.
Read "Your Quarantine Blues Antidote: Steve Massa and Ben Model's Silent Comedy Watch Party" on the website for DOMITOR, the international society for the study of early cinema, here.
Read "How to Use Silent Films to Lift Spirits and Find Solace" on the website for ALL-ARTS, the NY-based public television arts & culture hub (cable/online) here.