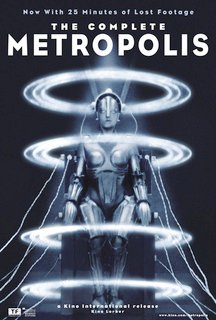 Have just gotten the "OK" to announce my performance on Fri May 7 accompanying "The Complete 'Metropolis'" at the Cinema Arts Centre in Huntingotn, NY (that's on Long Island, folks). This is the new restoration with 25 minutes of lost footage restored.
The C.A.C. is doing a one-week run of the picture, and I'll be accompanying the film with a new score of my own on opening night; all other performances will have the recorded track (the 1927 original Gottfried Huppertz orchestral score, as I understand…I'll re-post or revise if I hear different). I'll be accompanying the film on the mighty Miditzer virtual theatre organ.


I had a great time at Cinefest last weekend, got to meet in person a whole lotta fans, many of whom are also now FB fns/friends. Will post again with details, but I'd have to say one of the highlights was getting to play the Möller 3/10 theatre pipe organ at the Capitol Theatre in Rome NY for the 35mm show.
There's plenty of other news percolating, and I'll post when any of these items are set and solid.
See you at the silents!