The Silent Comedy Watch Party is a weekly live-streamed silent film show with live piano accompaniment. The show is co-hosted by film historian Steve Massa and silent film accompanist Ben Model. The shows streams live on Sunday afternoons at 3pm EDT on YouTube, free of charge.
Each episode presents three slapstick comedy shorts from the silent film era, accompanied live on piano by Ben Model during the stream. The films are around 10-14 minutes apiece, and each is given a brief introduction with points of interest related to the performers and the copy of the film itself.
The show is streamed live from Ben Model's living room, with Steve Massa piped in digitally from his apartment for his introduction. The films are primarily culled from DVDs released by Model's Undercrank Productions label, many of which are sourced from rare archival prints preserved by the Library of Congress or the USC Hugh M. Hefner Moving Image Archive; selected shorts are presented courtesy of Kino Lorber, Lobster Films, The Blackhawk Films Collection, Milestone Films, and the EYE Filmmuseum.
Each episode of The Silent Comedy Watch Party is archived on YouTube for viewing after the livestream ends. Subscribe to Ben's emails or blog for information and announcements about the show. You can also subscribe to Ben's YouTube channel, where you'll also find many silent films with his scores.
The title and logo graphic design for the show is by Marlene Weisman.
episode #16 – July 5, 2020 – *new*
We've got a great show lined up for Sunday! For information and links to watch the livestream, click here for the episode 16 show page.
press coverage:
San Diego public radio affiliate KPBS posted the article "Silent Comedy Watch Party Offers Live-Streaming Comic Relief", and its Cinema Junkie podcast's episode 193 also covers the Silent Comedy Watch Party.

ALL-ARTS, the web/cable arts and culture hub created by WNET, New York's PBS affiliate, posted the article: "How to Use Silent Films to Lift Spirits and Find Solace"

Domitor, the International Society for the Study of Early Cinema, posted the article "Your Quarantine Blues Antidote"

Atlas Obscura wrote about the show in their recommendation round-up "Silent Films, Flower Festivals, and Cooking Classes to Enjoy at Home"

Ink19, "the Glass Bottom Boat of the Cultural Press" posted this article about the Silent Comedy Watch Party

The Nitrateville Radio podcast had Ben Model on its episode 53 to talk about the Silent Comedy Watch Party.

The Lost Laugh website published Lockdown Laughter: an Interview with The Silent Comedy Watch Party's Ben Model

The Oregon University faculty round-up of pandemic-era diversions includes a recommendation of The Silent Comedy Watch Party.

The New York Public Library's blog posted the article Screen Saver: Educational Films at Home which recommends the Silent Comedy Watch Party among streaming sources for films to watch with your kids.
Make a donation:
The Silent Comedy Watch Party is presented online on YouTube for free.

Fans who have watched the shows have written and asked about making a contribution to support the show, and we are grateful for any support you may be able to make.

A one-time donation can be made securely online on Square or on PayPal, and a recurring contribution can be made on Patreon.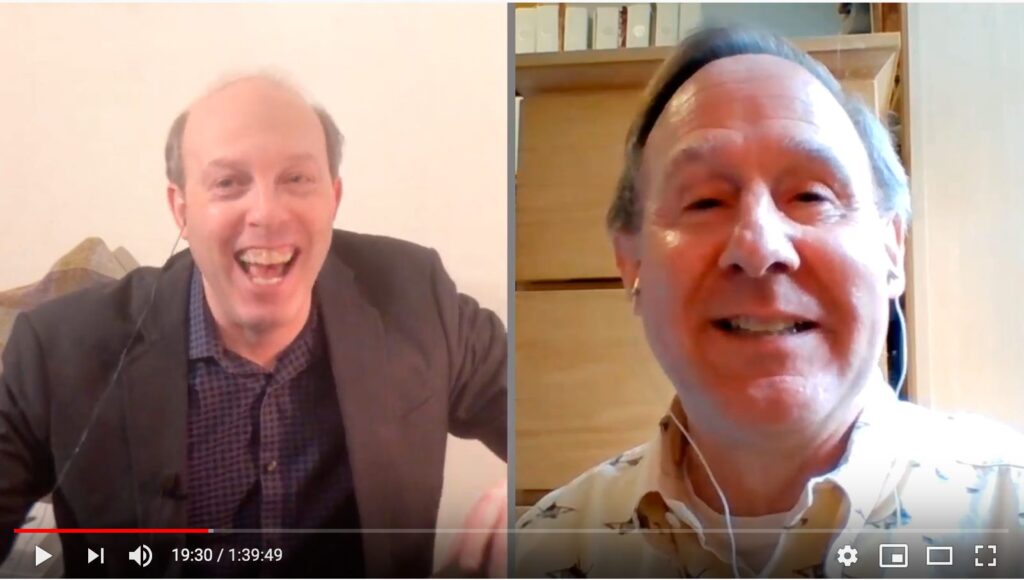 ---
Previous episodes:
You can view all previous episodes of the Silent Comedy Watch Party on YouTube.
Episode #15–June 28, 2020 featuring Snub Pollard, Mabel Normand, and Mr. & Mrs. Carter DeHaven.

Episode #14– June 21, 2020 featuring Hank Mann, Bobby Bumps and Billy Bletcher.

Episode #13– June 14, 2020 featuring Monty Banks, Jimmie Adams and Charley Chase.
Episode #12– June 7, 2020 featuring Charley Chase, Sarah Duhamel, Sally Eilers and Carole Lombard.
Episode #11– May 31, 2020 featuring Slim Summerville & Bobby Dunn, Harry Watson Jr., and Harold Lloyd.
Episode #10– May 24, 2020 featuring Harold Lloyd, Little Chrysia and Charley Bowers.
Episode #09 – May 17, 2020 featuring Glenn Tryon, Mr. & Mrs. Sidney Drew and Roscoe "Fatty" Arbuckle.
Episode #08 – May 10, 2020 featuring Paul Parrott, Marcel Perez and Charlie Chaplin.
Episode #07 – May 3, 2020 featuring Billie Ritchie, Bobby Vernon and Buster Keaton.
Episode #06 – April 26, 2020 featuring Monty Collins, Florence Turner and Charley Chase.
Episode #05 – April 19, 2020 featuring Harold Lloyd, Alice Howell and Marcel Perez.
Episode #04 – April 12, 2020 featuring Arthur Lake, John Bunny and Charley Chase.
Episode #03 – April 5, 2020 featuring Cliff Bowes, Harry Watson Jr. ("Musty Suffer") and Buster Keaton.
Episode #02 – March 29, 2020 featuring Max & Dave Fleischer, Snub Pollard, Harry Sweet and Joe Rock.
Episode #01 – March 22, 2020 featuring Al. St. John, Bobby Ray and Hank Mann.