The Silent Comedy Watch Party: Episode Page
Episode #93 – May 7, 2023
Episode #92 of The Silent Comedy Watch Party will stream live on Sunday May 7, 2023 at 3pm ET. Co-hosts Steve Massa will introduce and Ben Model will live-accompany shorts starring Little Chrysia, Leontine, Sarah Duhamel, Florence Turner, and more of cinema's first "nasty women.""

SPECIAL GUESTS: Elif Rongen-Kaynakçi, Curator of Silent Film at EYE Filmmuseum and Co-Curator of Cinema's First Nasty Women. Maggie Hennefeld, Associate Professor of Cultural Studies & Comparative Literature at University of Minnesota, author of Specters of Slapstick and Silent Film Comediennes and Co-Curator of Cinema's First Nasty Women.

The Silent Comedy Watch Party is presented for free, on YouTube.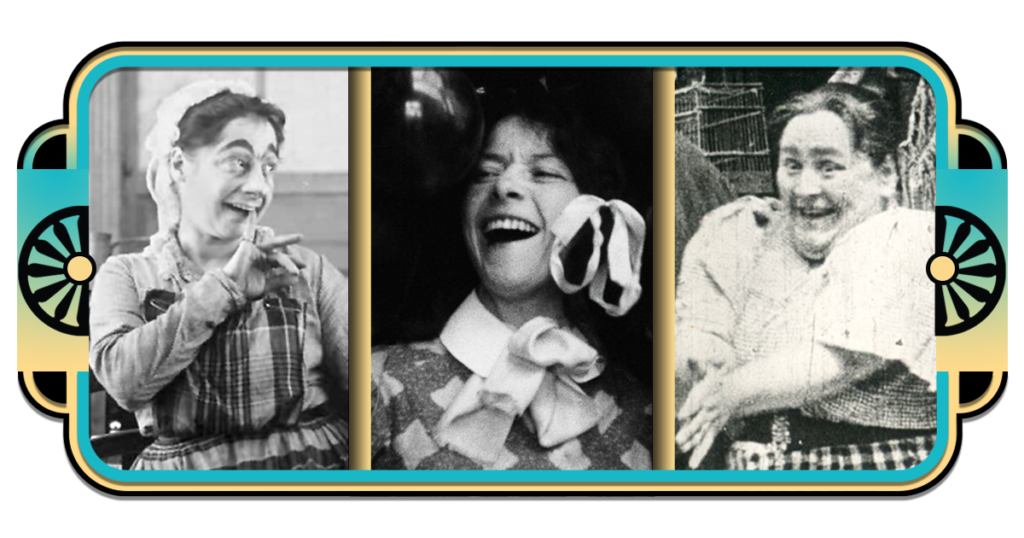 A Nervous Kitchen Maid (1907) rel. June 29, 1907 by Pathé Frères.
Zoe and the Miraculous Umbrella (1913) starring Little Chrysia; dir. Romeo Bosetti; rel. November 7, 1913 by Pathé Comica.
Leotine, The Troublemaker (1911) starring Leontine, with Sarah Duhamel; dir. Romeo Bosetti; rel. September 6, 1911 by Pathé Freres.
The Dairymaid's Revenge (1899) dir & photo. Frank S. Armitage; rel. 1899 by the American Mutoscope and Biograph Company.
Patoulliard Has a Jealous Wife (1912) starring Sarah Duhamel and Paul Bertho; dir. Romeo Bosetti; rel. May 24, 1912 by Lux Films.
Daisy Doodad's Dial (1914) starring Florence Turner and Laurence Trimble; dir. Laurence Trimble; rel. April 1914 by Turner Films, LTD: dist. Hepworth Manufacturing Company.
All films courtesy of Kino Video's 2022 Cinema's First Nasty Women Blu-Ray/DVD set 
Women Film Pioneers Project website: https://wfpp.columbia.edu/cinemas-first-nasty-women/
PDF of Cinema's First Nasty Women: https://www.dropbox.com/s/0cwexgqmo52bhhz/NastyWomen_Booklet_Integrated_v1.pdf
Il Cinema Ritrovato on Tour in Minneapolis: https://mspfilm.org/2023-ritrovato-on-tour/
Nasty Women theme month on Movies Silently: https://moviessilently.com/2023/05/06/theme-month-may-2023-nasty-women/
Time Zone Info:
Pacific Time – 12 noon
Mountain Time – 1 pm
Central Time – 2 pm
Eastern Time – 3 pm
Argentina/Nova Scotia – 5/4 pm
UK/England – 8 pm
Europe/Scandinavia/Netherlands et al. – 9 pm (21:00)
Eastern Australia – 7 am Monday
Western Australia – 4 am Monday
Japan (Tokyo) – 5 am Monday
Where to watch the show:
The stream will go live on YouTube about 5-10 minutes before the show's start time at 3:00 pm ET on Sunday, May 7, 2023. Click the image below to go to Ben Model's YouTube channel where you can subscribe and get an email notification about the stream link.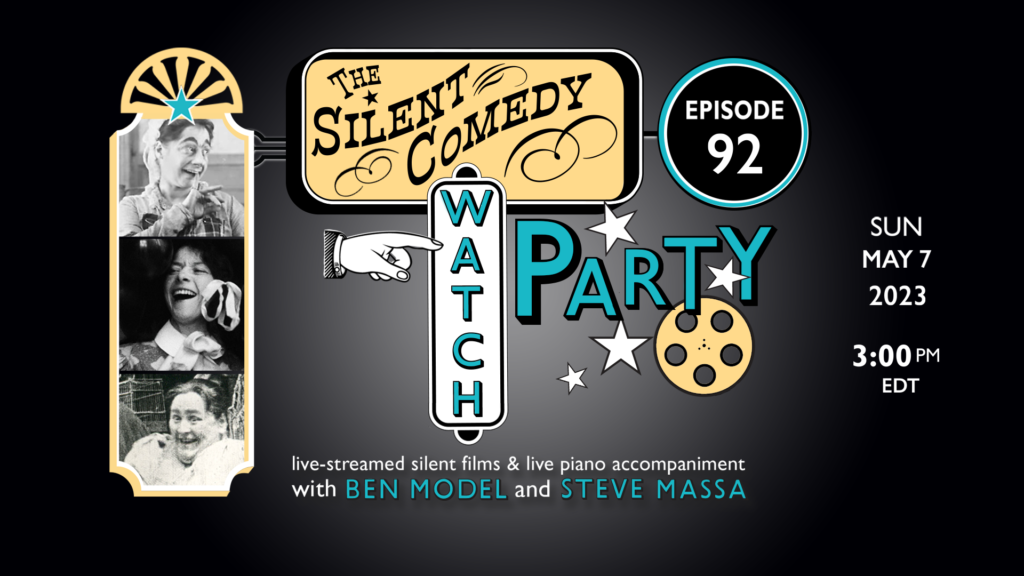 Mentioned on episode:
Steve Massa and Ben Model's "cabin fever" recommendations:
Make a donation to support the show:
The Silent Comedy Watch Party is presented free of charge. If you'd like to make a contribution to support the show, you may do so securely online:
weekly donation – sign up with us on Patreon.
For Venmo, search for @undercrank
To mail a check, please contact us for the address
Silent Comedy Watch Party "merch":
Now available: mugs, t-shirts, hoodies, totes and more with the Silent Comedy Watch Party logo! Visit the online shop to browse (scroll) and purchase now at bit.ly/scwp-merch.
Stay informed about the shows:
Sign up for emails to get reminders about The Silent Comedy Watch Party shows and film listings.
click here for The Silent Comedy Watch Party main web page for show info and links to previous episodes' pages.
Follow Ben Model on Twitter at @silentfilmmusic

This program is supported, in part, by public funds from the New York City Department of Cultural Affairs in partnership with the City Council.