Episode #68 – September 19, 2021
Episode #68 of The Silent Comedy Watch Party will stream live on Sunday September 19, 2021 at 3pm ET. Co-hosts Steve Massa will introduce and Ben Model will live-accompany shorts starring Billy West, Madeline Hurlock and Harry Langdon.

The Silent Comedy Watch Party is presented for free, on YouTube.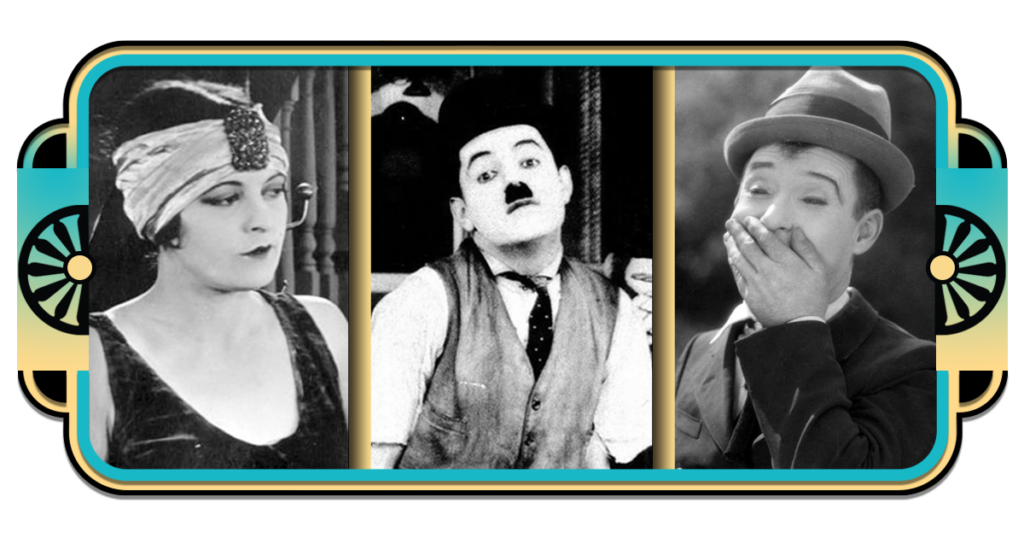 HE'S IN AGAIN (1918) starring Billy West, with Oliver Hardy, Florence Gilbert, Leo White, Budd Ross, Charles Inslee, Blanche Payson, Fay Holderness, Steve Murphy, Charles Parrott; prod. Milton Cohen; dir. Charles Parrott; rel. December 15, 1918 by the Bulls Eye Film Corporation; 2 reels; presented courtesy of Serge Bromberg and Blackhawk Films.
HIS NEW MAMA (1924) starring Harry Langdon, with Madeline Hurlock, Andy Clyde, Alice Day, Jack Cooper, Roscoe "Tiny" Ward, Thelma Hill, Cecile Evans, Elsie Tarron, Mary Akin, Natalie Kingston, Margaret Cloud, Dorothy Dore, Evelyn Francisco, Eugenia Gilbert, Barney Hellum; prod. Mack Sennett; super. F. Richard Jones; dir. Roy Del Ruth; titles. John A. Waldron; photo. William "Billy" Williams; special photo. Ernie Crockett; rel. June 22, 1924 by Mack Sennett Comedies; dist. Pathé Exchange; presented courtesy of David Kalat/All Day Entertainment and Lobster Films.
Time Zone info:
Pacific Time – 12 noon
Mountain Time – 1 pm
Central Time – 2 pm
Eastern Time – 3 pm
Argentina/Nova Scotia – 4 pm
UK/England – 8 pm
Europe/Scandinavia/Netherlands et al. – 9 pm (21:00)
Eastern Australia – 5 am Monday
Western Australia – 3 am Monday
Japan (Tokyo) – 4 am Monday
Where to watch the show:
The stream will go live on YouTube about 5-10 minutes before the show's start time at 3:00 pm ET on Sunday, September 19, 2021. Click the image below to go to Ben Model's YouTube channel where you can subscribe and get an email notification about the stream link.

Mentioned on episode:
Steve Massa and Ben Model's "cabin fever" recommendations:
Make a donation to support the show:
The Silent Comedy Watch Party is presented free of charge. If you'd like to make a contribution to support the show, you may do so securely online:
weekly donation – sign up with us on Patreon.
For Venmo, search for @undercrank
To mail a check, please contact us for the address
Silent Comedy Watch Party "merch":
Now available: mugs, t-shirts, hoodies, totes and more with the Silent Comedy Watch Party logo! Visit the online shop to browse (scroll) and purchase now at bit.ly/scwp-merch.
Stay informed about the shows:
Sign up for emails to get reminders about The Silent Comedy Watch Party shows and film listings.
click here for The Silent Comedy Watch Party main web page for show info and links to previous episodes' pages.
Follow Ben Model on Twitter at @silentfilmmusic
This program is supported, in part, by public funds from the New York City Department of Cultural Affairs in partnership with the City Council.