The Silent Comedy Watch Party: Episode Page
Episode #90 – March 19, 2023
Episode #90 of The Silent Comedy Watch Party will stream live on Sunday March 19, 2023 at 3pm ET. Co-hosts Steve Massa will introduce and Ben Model will live-accompany shorts starring Laurel & Hardy and Koko the Clown.

The Silent Comedy Watch Party is presented for free, on YouTube.
Upcoming Schedule
Episode 91: April 2
Episode 92: May 7
IT'S THE CATS (1926) starring Koko the Clown, with Fitz; prod. Max Fleischer; dir. Dave Fleischer; rel. June 1926 by Out of the Inkwell Films; dist. Red Seal Pictures; digital scan courtesy of Mauricio Alvarado and Fabulous Fleischer Cartoons Restored.

THE SECOND HUNDRED YEARS (1927) starring Stan Laurel and Oliver Hardy, with Tiny Sandford, James Finlayson, Frank Brownlee, Charlie Hall, Budd Fine, Jack Herrick, Hayes Robertson, Dorothy Coburn, Robert O'Connor, Otto Fries, F.F. Guenste, Chester Bachman, Eleanor Vanderveer, Eugene Pallette, Evelyn Burns; prod. Hal Roach; super. Leo McCarey; dir. Fred Guiol; titles. H.M. Walker; photo. George Stevens; rel. October 8, 1927 by the Hal Roach Studios; dist. Metro-Goldwyn-Mayer.
Time Zone Info:
Pacific Time – 12 noon
Mountain Time – 1 pm
Central Time – 2 pm
Eastern Time – 3 pm
Argentina/Nova Scotia – 5/4 pm
UK/England – 8 pm
Europe/Scandinavia/Netherlands et al. – 9 pm (21:00)
Eastern Australia – 7 am Monday
Western Australia – 4 am Monday
Japan (Tokyo) – 5 am Monday
Where to watch the show:
The stream will go live on YouTube about 5-10 minutes before the show's start time at 3:00 pm ET on Sunday, March 19, 2023. Click the image below to go to Ben Model's YouTube channel where you can subscribe and get an email notification about the stream link.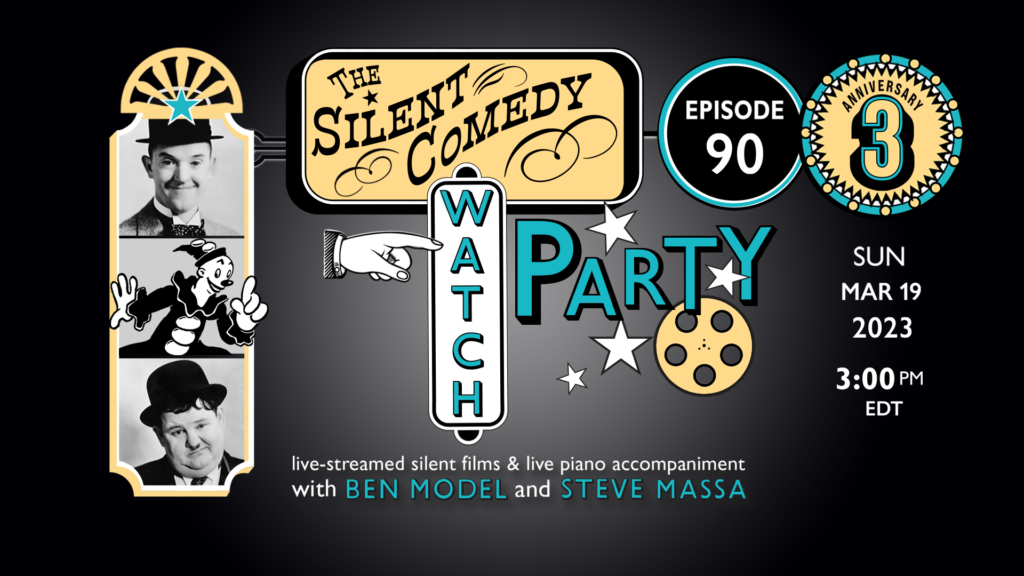 Mentioned on episode:
Steve Massa and Ben Model's "cabin fever" recommendations:
HippFest at Home: Gone to the Dogs presentation by Steve Massa, George Willeman and Lyanne Schweighofer on YouTube.
Make a donation to support the show:
The Silent Comedy Watch Party is presented free of charge. If you'd like to make a contribution to support the show, you may do so securely online:
weekly donation – sign up with us on Patreon.
For Venmo, search for @undercrank
To mail a check, please contact us for the address
Silent Comedy Watch Party "merch":
Now available: mugs, t-shirts, hoodies, totes and more with the Silent Comedy Watch Party logo! Visit the online shop to browse (scroll) and purchase now at bit.ly/scwp-merch.
Stay informed about the shows:
Sign up for emails to get reminders about The Silent Comedy Watch Party shows and film listings.
click here for The Silent Comedy Watch Party main web page for show info and links to previous episodes' pages.
Follow Ben Model on Twitter at @silentfilmmusic

This program is supported, in part, by public funds from the New York City Department of Cultural Affairs in partnership with the City Council.