Episode #75 – January 23, 2022
Episode #75 of The Silent Comedy Watch Party will stream live on Sunday January 23, 2022 at 3pm ET. Co-hosts Steve Massa will introduce and Ben Model will live-accompany shorts starring Our Gang and Clyde Cook.

The Silent Comedy Watch Party is presented for free, on YouTube.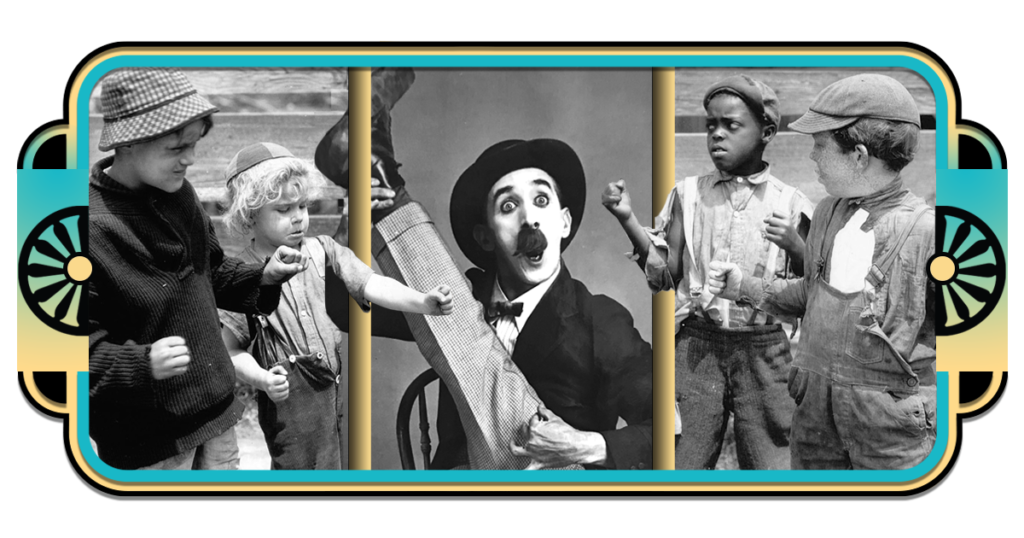 BACK STAGE (1923) starring Mickey Daniels, Ernie Morrison, Allen Hoskins, Jackie Condon, Jack Davis, Joe Cobb, with William Gillespie, Wallace Howe, Roy Brooks, Richard Daniels, Beth Darlington, Chris Lynton, Robert McGowan, Josephine, Dinah; dir. Robert McGowan; st. Hal Roach; titles. H.M. Walker; photo. Len Powers; rel. June 3, 1923 by Hal Roach Comedies; dist. Pathé Exchange; two reels; courtesy of ReelclassicDVD; available on Deep Discount in their The Our Gang Collection – Volume Three.
SHOULD SAILORS MARRY? (1925) starring Clyde Cook, with Fay Holderness, Noah Young, Martha Sleeper, Johnny Downs, Oliver Hardy, William Gillespie, Jack Ackroyd, Jules Mendel; prod. Hal Roach; dir. James Parrott (& uncredited Jess Robbins); photo. R. H. Weller; titles. H.M. Walker; super. F. Richard Jones; rel. November 8, 1925 by Hal Roach Comedies; dist. Pathé Exchange; two reels; presented courtesy of Serge Bromberg and Lobster Films, and sourced from the 2005 DVD release Slapstick Symposium: The Oliver Hardy Collection: available on Amazon.
Time Zone info:
Pacific Time – 12 noon
Mountain Time – 1 pm
Central Time – 2 pm
Eastern Time – 3 pm
Argentina/Nova Scotia – 5 pm/4 pm
UK/England – 8 pm
Europe/Scandinavia/Netherlands et al. – 9 pm (21:00)
Eastern Australia – 7 am Monday
Western Australia – 4 am Monday
Japan (Tokyo) – 5 am Monday
Where to watch the show:
The stream will go live on YouTube about 5-10 minutes before the show's start time at 3:00 pm ET on Sunday, January 23, 2022. Click the image below to go to Ben Model's YouTube channel where you can subscribe and get an email notification about the stream link.

Mentioned on episode:
Steve Massa and Ben Model's "cabin fever" recommendations:
Star Struck: My Unlikely Road to Hollywood by Leonard Maltin (GoodKnight Books, 2021); available from Amazon.
Zander the Great directed by George W. Hill (Cosmopolitan Productions, 1925); available from Undercrank Productions.
Make a donation to support the show:
The Silent Comedy Watch Party is presented free of charge. If you'd like to make a contribution to support the show, you may do so securely online:
weekly donation – sign up with us on Patreon.
For Venmo, search for @undercrank
To mail a check, please contact us for the address
Silent Comedy Watch Party "merch":
Now available: mugs, t-shirts, hoodies, totes and more with the Silent Comedy Watch Party logo! Visit the online shop to browse (scroll) and purchase now at bit.ly/scwp-merch.
Stay informed about the shows:
Sign up for emails to get reminders about The Silent Comedy Watch Party shows and film listings.
click here for The Silent Comedy Watch Party main web page for show info and links to previous episodes' pages.
Follow Ben Model on Twitter at @silentfilmmusic
This program is supported, in part, by public funds from the New York City Department of Cultural Affairs in partnership with the City Council.