A lot of one-reel comedy shorts from the late 1920s seem to only survive in 16mm home use prints from the 1930s. Wedding Slips (1928) with Monte Collins now only exists as a digital file. Luckily I snagged this one in its final throes of vinegar syndrome decomposition, and managed to get two passes at it.
I'd almost forgotten about this rare-lost Cameo Comedy released by Educational. After Kelly Robinson gave her excellent presentation at "Mostly Lost 8" (June 2019) on the depiction of gorillas in movies this past June, the Monty Collins short bubbled up into my brain. Because there was a sequence where someone trying to scare Monty off puts on a gorilla suit and chases him around a bit.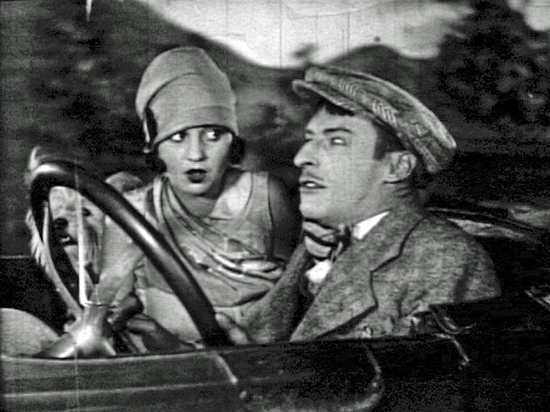 Kelly Robinson hails from Tennessee and one of the things she does is put on the annual "Knoxferatu" silent film event in Knoxville TN at Halloween time. She's also done gobs of research on early horror films and the things that inspired them. I hope you get to see her talk on gorilla movies next time she gives it somewhere
The gorilla suit in Wedding Slips is terrible but, as Kelly pointed out in her talk, a big part of the fascination with gorillas in the 1920s was that no one had actually seen one at that point in our cultural history. So you weren't going to see anything all that accurate in a silent film, let alone a one-reel comedy made by Educational Pictures.
I'd won the 16mm print in eBay in February of 2012, even though the description on eBay clearly stated "vinegar smell". Some of us aren't bothered by this, and have gotten some good results resuscitating V.S. prints with pure camphor. The film arrived, and aside from some warping in the first and last several feet of the film it ran fine through my Elmo 16-CL projector. 
This was during the time I was doing my YouTube trial balloon for what became my Accidentally Preserved series of DVDs. I wanted to include this film on my channel, and I knew I needed to get this transferred to video toot suite. I handed the print off to my friend and film archivist-preservationist Eric Grayson at "Mostly Lost 3", and got the print and a hard drive back from him a few months later at the Fall Cinesation in Massillon OH. Eric was able to get a really good standard-def transfer done with his equipment, in spite of the slight warping and a few spots where the emulsion was beginning to bubble up away from the film's base, and I was able to score and upload the film to YouTube.
It was probably the first time anyone had gotten to see and enjoy this delightful little short in decades. I was thrilled and grateful, and wasn't sure how much longer the print would last, given the bubbling, and the fact that a white powder was now noticeable on the film base.
These little states-rights 1920s comedy films are sort of a sub-category of "orphan films", movies that time and fans have forgotten and which rarely if ever catch the attention of major preservation efforts. But they deserve to be seen again.
When I did the first Accidentally Preserved DVD project, I wanted to include Wedding Slips. Luckily, Dino Everett of the USC Hugh M. Hefner Moving Image Archive, who was doing the digital film scans for the DVD, was able to get the print through his equipment for one last pass, this time in HD. Thanks goodness…several months later, the 16mm turned into an unusable hexagonal brick, despite my doing what I could to keep the print on life support. But maybe there's another ca. 1930s home-use 16mm of this or any other Monte Collins silents out there somewhere…
---
Accidentally Preserved: Volume 1 is available on DVD from Undercrank Productions on several online retailers, like Amazon, the TCM Shop, DeepDiscount and more.
There's way more detail about the print and this odyssey on this Kickstarter update from January 2013 from the Accidentally Preserved project.
Here's Wedding Slips (1928), seen in the HD scan (done by Dino at USC on a Retro8 scanner) and with the score I did that's on the DVD.