Okay, this is a photo of the beautiful 200-seat auditorium at the Hewlett-Woodmere library
before
everybody showed up for today's show of
Safety Last
. If I'd remembered to charge my camera battery there'd be a photo or two of me and Philip Harwood to post here as well.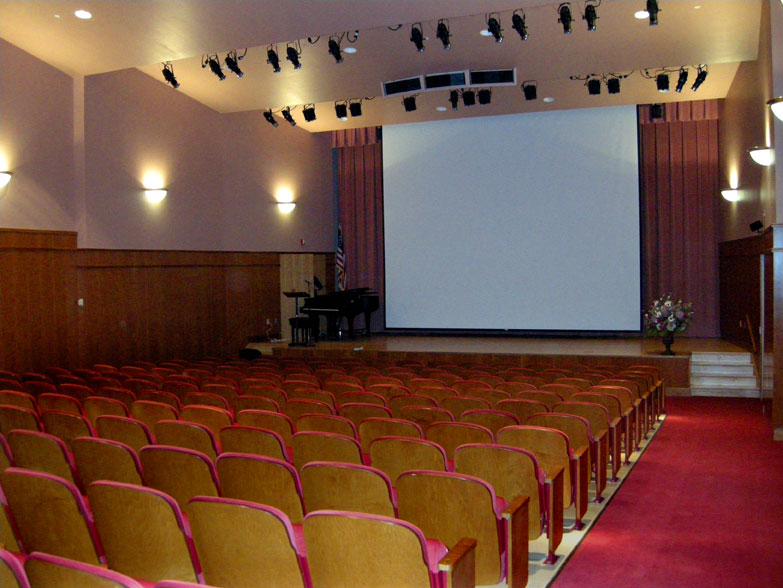 Piano was a beautiful Steinway B which, as luck would have it, was just worked over by a local technician who had worked for Steinway for a few decades. The instrument was a delight to play, and the artist bench (padded, adjustable height piano bench) went high enough to be right for me, even though the piano was on casters.
Philip's talk went very well. He had notes to read from but never used them…could've fooled me, with all the dates and details he had mentally at his fingertips. Did a great job of setting the film up and giving some interesting background on Lloyd and the other players. We had around 100 people, primarily seniors, and everyone had a great time.
We ran Ask Father – which my wife and daughter call "the one with the pillow" (I have a real nice 16mm of this one), and From Hand To Mouth, both of which are on the same disc that SL is on. I'd done this same pair of shorts as openers – for the same reason, no disc juggling necessary – at the Bay Street Theater in Sag Harbor in October 2007. Ask Father is one of the better one-reelers, plus there's a moment when Lloyd climbs up the side of a building (just one story), and H2M is Mildred's first with Harold…and SL is her last.
Scores went fine, but this feature kinda takes care of itself, and once Lloyd heads up the building I'm playing to the audience as much as I'm playing to the film.
Tomorrow finds me at my old stomping grounds…NYU film school, playing for Antonia Lant's film history class. For the last two years the piano has been unavailable because of renovations to the screening room, and I have brought my keyboard. This year everything is done and I'll be able to use the piano. It's a Baldwin Acrosonic, one which I picked out back in '82 or '83 when I was playing for classes at NYU while going to film school. Everson had gotten the department to buy a piano and I was told to go to a piano dealer in the village and try out a bunch and pick one. I really liked the Acrosonic; it's got a richer sound than most consoles and, as I've learned from my tuning/tech teacher, it really holds a tuning. The instrument was tuned last week for Stephen Horne's talk/performance at NYU, so it'll sound good too.