October 8, 7:30pm — after playing for the Melies/Zecca matinee program (second time, on Thurs), I headed out to QTIP, or Queens Theatre in the Park for this screening of Metropolis that was part of a weekly series that AMMI was doing in a partnership with the theater.
The theater is located inside Flushing Meadows park, and QTIP provided a car service to and from, making the commute much easier for me…plus the return trip was in an Escalade. The show was scheduled to be introduced by David Schwartz, but he'd called me a couple days beforehand asking me to do the intro. This was no problem; I'm used to introducing my shows anyway.
The theater is a very nice space, with an extensive backstage and green room and dressing room area. Actually, I was met by the company manager's assistant, who took me through the staff entrance directly to a dressing room. I'm sure this is what most performers like, but I just wanted to see the theater. I rarely hang out in the dressing room before a show; I like hanging in the wings or back of the theater. Helps me get a handle on the vibe in the room. When I did stand-up back in the late 80s I always stayed in the room to see the comics going up before me and how the crowd was reacting; guess that's where I picked up that habit.
The show was DVD projection, but the image was on a huge, curved screen projected with a high-end 4K projector…very sharp, very bright.
The instrument du jour was a Steinway baby grand that, unfortunately needed some work. Being a tuner/tech I knew exactly what I was dealing with (sluggish center pins, repetition springs in need of regulation), plus there were a few bass notes that wouldn't dampen. However, it was a Steinway and had that nice oomph in the bottom which would be useful for Metropolis, and it was in decent tune and worked out just fine. We set light levels (lowered all until there was just enough so I could see the keys and my story notes), and de-miked the piano; there was a stage mgr, lighting person and projectionist/tech.
Since a lot of background on the film can be found online, I chose to speak briefly in my intro about the various versions of the film, about its original score and why I wasn't using it, and a little about Fritz Lang. We had a modest crowd of 40-50 people, and the film went over really, reaaly well. I brought my Zoom recorder and placed it on the piano to get a reference recording. Below are two "needle-drops" (Daddy, what's a needle?) from my recording of the score.
Clip #1 (2:13) is from, gee, actually I'm not sure:
http://www.odeo.com/flash/audio_player_standard_black.swf
Clip #2 (5:04) starts during that bourgeous party in the beginng and then there's a shift in tone when Maria and the children enter the room.
http://www.odeo.com/flash/audio_player_standard_black.swf
I have the whole score on an MP3 and, if I can find the time (and a split point in the middle), maybe I'll release it on altscore.com since it was performed in accompaniment to the DVD and will therefore synch with it.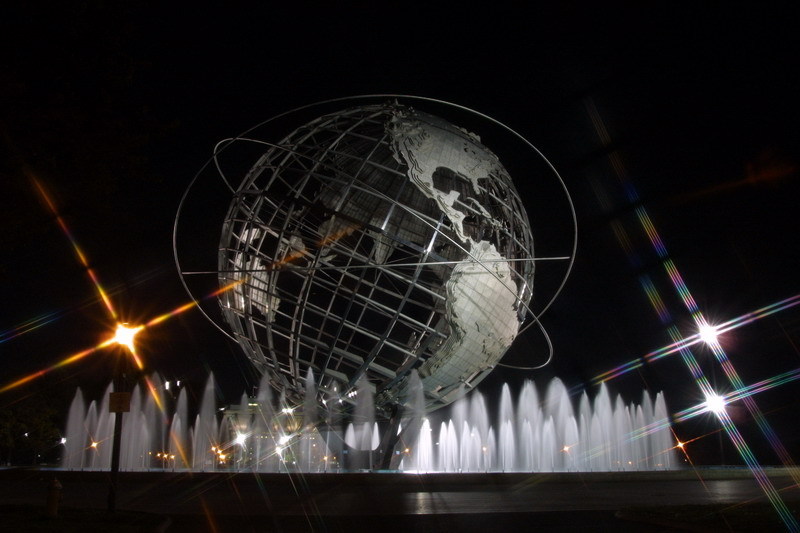 After the show, a reporter from the Queens Gazette interviewed me about the film, the performance and my work. This article will appear in the next week or so, and I'll post a link once it comes out. When I left the theater, the sun had now set and it was night and there, all lit up in its chromium glory was the Unisphere, which was quite a sight after watching Metropolis.