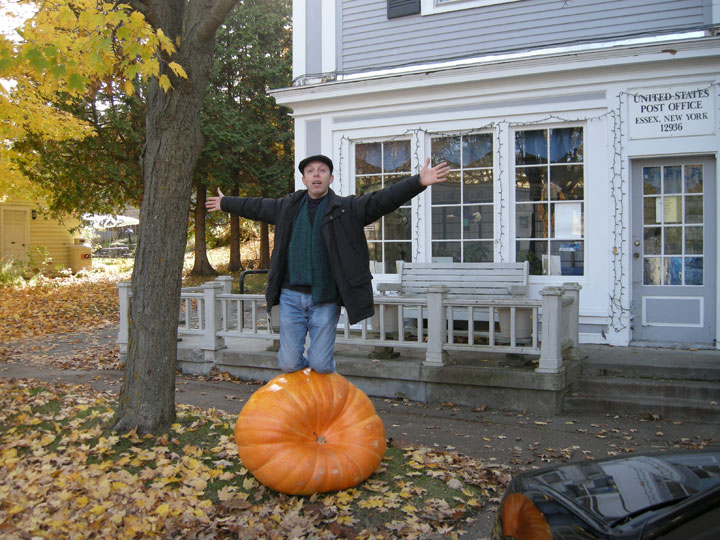 Oct 16 – Traveled to Essex, NY for a show (on 10/17) of "The General" (DVD projection of the new Kino disc). Could've flown to Burlington VT on JetBlue and taken a ferry across Lake Champlain but, let me tell ya folks, Amtrak is the only way to fly. Both the trip up and the one back on Sunday found Amtrak a pleasant experience and right on time (actually a few minutes early). A beautiful ride up the Hudson and into the Adirondacks.
The program was co-sponsored by Piano By Nature and by the Champlain Valley Film Society. My General show was preceded by a talk on silent film accompaniment and piano improvisation. The talk (late afternoon) and show (evening) were held in the auditorium of the local school, a K-12 in Willsboro. The talk went really well. I'd been interviewed a number of times by the press that week — actually, every day that week — and so I'd had the arc of the history of silent film accompaniment as well as an organized explanation of my own journey and philosophies on the subject fresh in my head. Being interviewed is a great opportunity to better articulate things, and often analogies and statements etc will come up during the chat to supplement the premeditated ones. Here are links to two articles that appeared in local papers about the show:
The talk went on for an hour and a half, with some Q&A and a written outline to help me with the flow etc. One of the things I demonstrated is the freedom and flexibility improvisation allows an accompanist, talking and playing at the same time (something that does not come easily to me) to explain. I also played a couple examples of mood music (my own) and of different comedians' musical rhythms, i.e. the statement-response-reaction of a typical L&H interaction. This talk needs to go on my website as an added possible program. Even without clips, it went over really well.
The evening show was extremely well-attended, with the largest number of kids the film society had seen at one of their events and the second standing ovation at the end of a film program they'd ever had. Most of the people in the audience had not seen a silent film before and were absolutely wowed by Keaton's masterpiece. The score went well; the General can be a challenge sometimes since it's mostly a long chase that — because it's conducted (pardon the pun) entirely on trains — is almost entirely at the same pace. The piano was a Story & Clark grand that played well and had a nice tone.