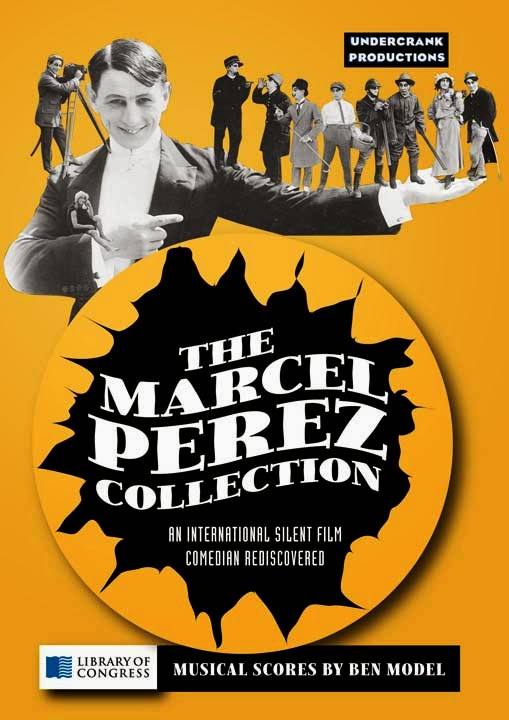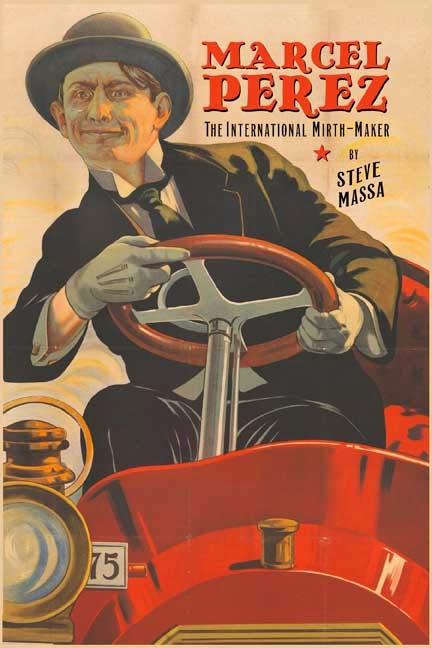 THE MARCEL PEREZ COLLECTION SHOWCASING
FORGOTTEN SILENT FILM COMEDIAN CONFIRMED FOR
RELEASE ON FEBRUARY 3 IN NEW DVD FEATURING
NEW DIGITAL TRANSFERS OF RARE ARCHIVAL PRINTS
Undercrank Productions Collaborates with Library of Congress
and EYE Filmmuseum (Netherlands) to Shine Spotlight on
Overlooked Silent Clown & Director; New Book on Perez by
Steve Massa Also to be Published.
FOR IMMEDIATE RELEASE
NEW YORK, N.Y. (MONDAY January 12, 2015)
–
Undercrank Productions
and noted silent film accompanist/historian
Ben Model
announced today the DVD release of THE MARCEL PEREZ COLLECTION, a disc of 10 rare short silent film comedies starring and directed by the largely forgotten star Marcel Perez will be released February 3, 2015. The five Italian and five US shorts in this collection prominently feature the silent-era comedian whose work has been completely unknown…until now.
The DVD features new digital transfers of the films, which were preserved by the Library of Congress (www.loc.gov/avconservation/packard) and by EYE Filmmuseum (Netherlands) (www.eyefilm.nl), with new musical scores by Ben Model. Undercrank is also publishing Marcel Perez: the International Mirth-Maker, written by noted film historian Steve Massa, a 100-page bio with over 50 rare photos from Perez's films. Both the DVD and book will be released on February 3 and will be available exclusively through Amazon.com.
Following a 10-year career in movies in France, Marcel Perez directed and starred as the character "Robinet" in approximately 160 short comedies in Italy before coming to the US in 1915, where he made another 60 comedy shorts as the character Tweedledum or "Tweedy" for a number of independent studios in Florida, New York and New Jersey. Perez is the only silent screen comedian besides Max Linder to have had this kind of long-reaching career on both continents. More than just another slapstick comedian, Perez had a unique character and a directorial persona, which he developed throughout his career and adapted seamlessly to American slapstick filmmaking.  Sadly, only a fraction of Perez' output, which spanned 1900-1928, survives.
"Perez was literally one of the founders of film comedy," says film historian Steve Massa, author of Lame Brains and Lunatics: the Good, the Bad and the Forgotten of Silent Comedy, and librarian in the Billy Rose TheatreCollection at the New York Public Library for the Performing Arts at Lincoln
Center.  "He was right there at the dawn of cinema, making movies in France starting in 1900. By 1910 he was headlining in his own series in Italy, writing and directing them too and he was known around the world. So when he came to the U.S. in 1915 his popularity continued and while prolific, most of the American films have been lost. THE MARCEL PEREZ COLLECTION DVD rounds up his best surviving films and gives Perez the opportunity to take his rightful place as one of the innovators of the whole silent film genre."
"What impressed me in discovering Marcel Perez and his films is how clever the humor and filmmaking is and how engaging a persona he has," said DVD Producer Ben Model. "It's been a thrill, working with Library of Congress, EYE Film and being supported by fan crowdfunding, to give this forgotten silent clown his day in the sun. THE MARCEL PEREZ COLLECTION not only means that classic film fans can now discover this forgotten comedy star, but his two surviving grand-children will finally be able to see his films."
This is the third DVD project that Ben Model has funded by reaching out to silent film fans via Kickstarter, and is the second that he has produced as part of a co-branding association with the Library of Congress. The first DVD project was THE MISHAPS OF MUSTY SUFFER released April 2014. The DVD of The Marcel Perez Collection will be available for $19.95; 120 mins, B&W. The DVD contains new digital transfers of archival master prints held the Library of Congress and the EYE Filmmuseum (Netherlands).
The book Marcel Perez: the International Mirth-Maker, will be priced at $11.95 and is written by Steve Massa; 100 pp..
THE MARCEL PEREZ COLLECTION is set for release on February 3, 2015 via Amazon and serves as a great introduction to his 'lost' work in the US and Europe.
For review copies, interest in talking to Ben Model directly about the collection and more, please contact: ben@silentclowns.com
ABOUT BEN MODEL
Ben Model is one of the nation's leading silent film accompanists, and has been a resident film pianist at the Museum of Modern Art (MoMA) since 1984.  He accompanies silent films on piano and theatre organ regularly at MoMA, the Library of Congress, the Silent Clowns Film Series (in NYC), and at many theatres and schools around the country.  His recorded scores can be heard on numerous releases from Kino Lorber and on Turner Classic Movies (TCM).  He is also co-curator of MoMA's annual "Cruel and Unusual Comedy" silent film series, and this month will be performing in the off-Broadway show "Everyone Gets Cake" at 59E59 Theatres. Model is also the archivist for the Ernie Kovacs/Edie Adams collections and has programmed two "Ernie Kovacs Collection" DVD box sets for Shout Factory as well as MVD's "Here's Edie: The Edie Adams Television Shows". He is based in New York City.  His website is www.silentfilmmusic.com.
THE FILMS on "THE MARCEL PEREZ COLLECTION" DVD:
Italian films:
"Robinet's White Suit" (1911)
"Robinet in Love with a Singer" (1911)
"Mademoiselle Robinet" (1912)
"Robinet is Too Much Loved By His Wife" (1912)
"Robinet is Jealous" (1914)
American films:
"A Bathtub Elopement" (1916)
"A Busy Night" (1916)
"Camouflage" (1918)
"You're Next" (1919)
"Sweet Daddy" (1921)