I've long been a fan of Ben Ohmart's "BearManor Media" book publishing outfit, and when I heard about what he had up his sleeve for the imprint about a year ago, I was re-impressed.  After self-publishing a book on The Great Gildersleeve in 2001 he established BearManor, doing for other authors of books on classic cinema/radio/TV what he'd done for himself — put out a quality niche-market book that had an appreciative audience by using 21st century micro-publishing production techniques.
Lon and Debra Davis, authors of "King of the Movies: Francis X. Bushman"(BearManor, 2009), contacted me a year ago telling me my score for the DVD of "The Extra Girl" was one of their favorite scores of mine, and letting me know BearManor was putting out their tome as an audio CD. I thought to myself, "Wow!  That's amazing! Did I score "The Extra Girl"? Lon reminded me it was a score I'd done for the now-OOP (out of production) DVD-R label "Unknown Video".  (If you've got one or two of their quality releases, you've got the fridge magnets to prove it.)
Apparently, Ohmart's new scheme was to gradually release some of BearManor's titles as audio books, which is another move that I think is a great way to stay ahead of the digital curve in providing access to new content and information.  Lon wanted me to do musical underscoring for their book which, as it turned out, was to be more than just having Lon or Debra read their manuscript.  They had recordings of Bushman himself telling his stories, which were a major resource for their book.  So, this new edition would segments from these tapes, bridged by narration…and piano music.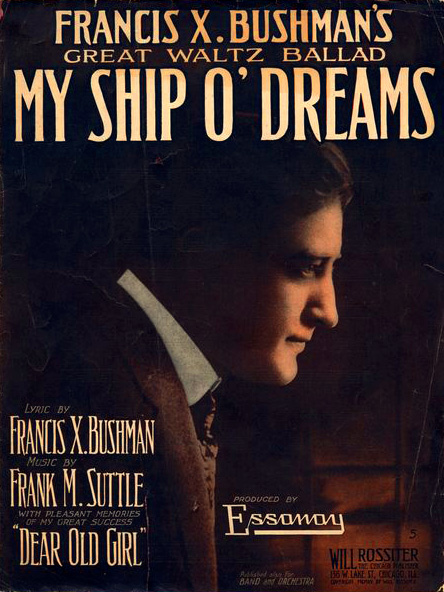 And so, nearly a year later, the new "audio documentary" has just been released. Even if you already have the book (a book…you know, two covers with pages), you'll want to order this new version to hear Francis X. in his own voice and inflections regaling you with the stories of his amazing screen career that spans the nickelodeon era through television.
Lon sent me sheet music to "My Ship O' Dreams", a piece of popular sheet music first published in 1915 which had lyrics by Bushman and became his theme song when he made personal appearances.  I recorded the tune for the project, and you'll hear this as well as interstitial music culled from my score for "The Extra Girl" on the release.  "Ship O' Dreams" is also heard on the trailer for the "audio documentary", seen below.
You can order "Francis X. Bushman – In His Own Words" on the GotMyAudio website for $19.99.