This is the Verdensteatret Kino ("kino" means cinema), with banners hung for the festival. I love their logo of a dialog balloon with an "X" where dialog would be. This is the oldest kino in Norway.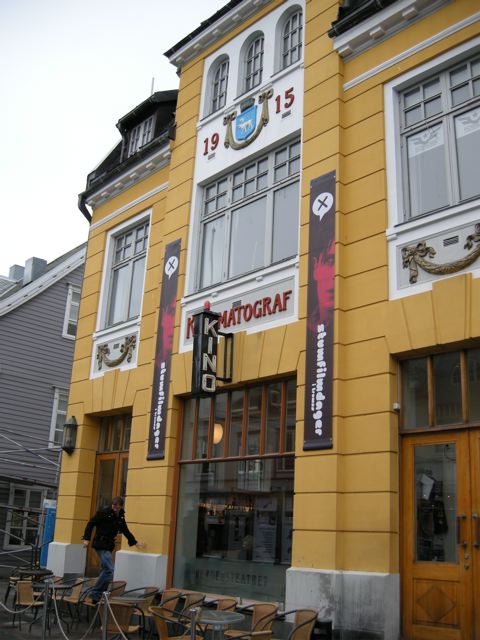 Here is a photo of one of the murals that line the walls of the Verdensteatret (translated: "World Theater"). These were painted in 1921 and were restored in 1997. Each mural depicts a well-known Norwegian folk song and there are 6 of thes on either side of the theater. Visible also is one of the theater's older RCA projectors.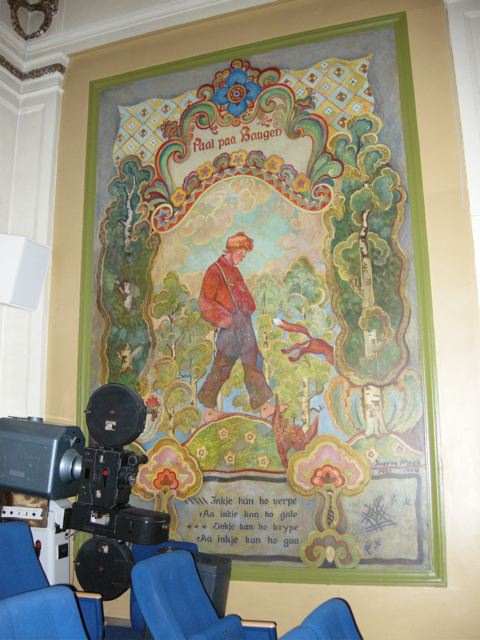 Here you see my Miditzer set up for my performances on the last day of the festival. I brought the MIDI organ pedals (Roland PK5) and converter boxes plus my laptop (and touchscreen overlay from Magic Touch), and the festival rented the keyboard and stand. The sound system was excellent – you really
felt
the 32′ bass – and the sound of the mighty Wurlitzer really blew everyone away. (The speakers you see were monitors set up for me.) Nell Shipman made a nice impression on everyone as well; we showed
Something New
in a nice 35mm tinted print from the National Library of Canada.