Putting Humpty Together Again, Thanks to the Museum of Modern Art and the Library of Congress
It isn't often that a two-reel comedy can be reassembled by accessing a reel from one archive and a reel from another, but we were fortunate in the case of this film. Oh! What a Day (1918) is a real gem, and what's now available for viewing is the result of the cooperation of two major American film archives. The Library of Congress had recently acquired a print of one reel of the film. Steve Massa remembered that MoMA also had a reel of the film, and when we were able to work out access to the other Perez titles MoMA had preserved — Some Hero, Lend Me Your Wife, and The Near-Sighted Cyclist — we asked for the reel of Oh! What a Day as well.
The Library of Congress print turned out to be reel 2. Which is always good, because often if only reel 1 of a 2-reeler survives, it'll have a lot of set-up and all the fun's usually in reel 2. MoMA's reel of the film, was fragmentary in spots because of nitrate decomposition, but it turned out to be pieces of reel 1, plus a little bit of the start of reel 2. Both prints had original intertitles.  We hit pay-dirt again, in that the Library of Congress had a copyright deposit script for this film, giving a shot-by-shot breakdown of the action as well as the intertitles.
In spending a good deal of time creating new intertitles that would look exactly like the originals to bridge gaps in missing footage, as well as in watching both prints repeatedly to A/B different shots for completeness where the two prints overlap, my "Mostly Lost" brain kicked in on one detail in the film.
At the annual "Mostly Lost" film identification workshop, during the screenings one of the things we try to spot as a way of identifying a film's year and what state or country it was made in is to look at the automobiles and their license plates. I'm not an antique car expert, but I'm starting to learn things about them.
In the dream sequence that is the bulk of the film, Tweedy is set to pick up Babette for a day at Coney, and it's established that in his fantasy he is quite well-to-do. In his waking life, though, he is a meager office worker, crunching numbers at his desk. In the dream, Tweedy is driving as fast as he can to pick up Babette in his sporty car, but he is delayed. Someone else starts flirting with her, and it seemed to me that the fact that the fellow trying to pick her up is driving a Ford was made clear in the shots. Tweedy eventually gets to Babette and literally sweeps her off her feet, and off they go. There then follows a number of gag sequences with Tweedy having difficulty with his car.
But…what kind of car was it?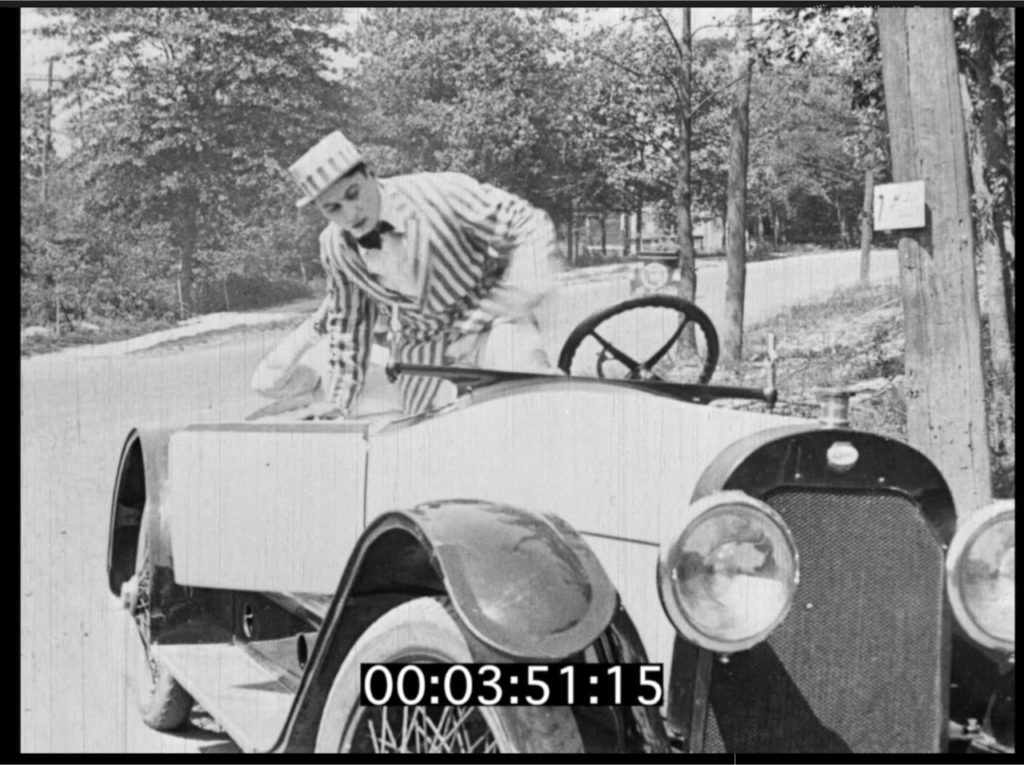 I couldn't make out the brand on it, but would imagine with the detail of the rival driving a lowly Ford, this would have to be some special automobile. I sent a few frame grabs to my friend and fellow film accompanist Philip Carli. Among the many things he is well-versed in is knowledge of vintage autos, and there have been a number of instances during "Mostly Lost" where Philip's ability to identify a car and its year (and in some cases it's nationality) have helped narrow the search for what film we're looking at.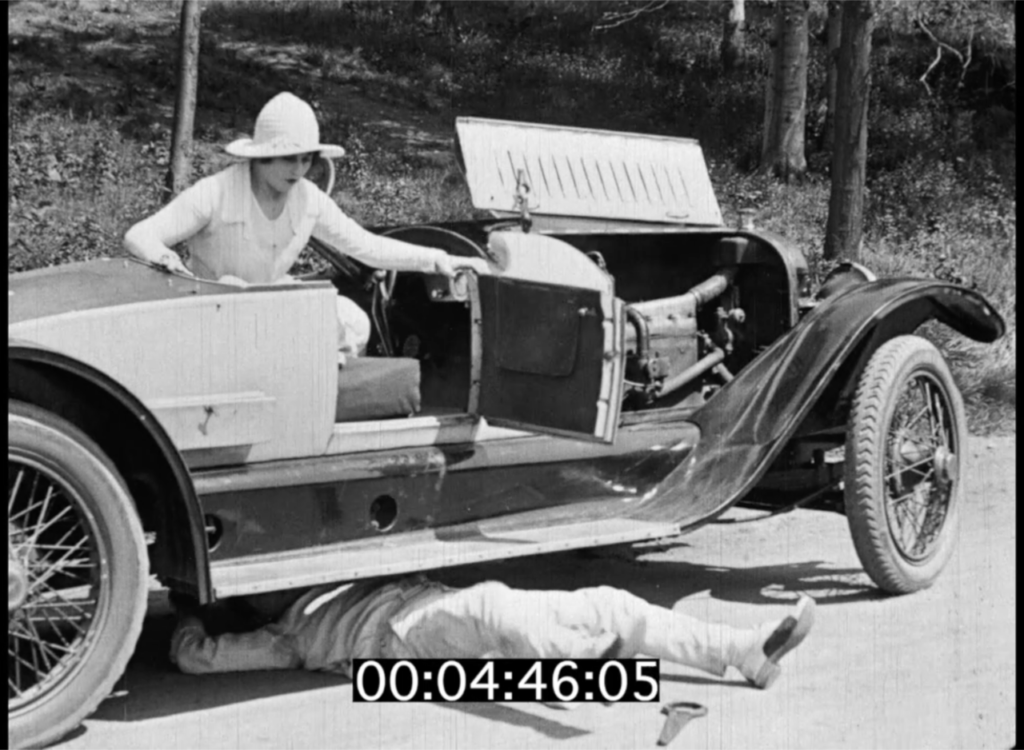 I got an answer right away.
"I am pretty sure the car is a Mercer L-head 22-72 Raceabout, made in Trenton NJ, 1917 model, with a strange upper radiator guard. Fairly expensive car for a two-seater, around $3000…"
This series of shorts was independently produced by the Jester Film Company for states rights distribution, and was shot in studios in Englewood NJ and on the streets of Englewood. Jester was not Sennett or Roach or Christie, and the Jester Tweedy shorts that Steve and I have seen look like budgets were pretty modest. And yet, here was Marcel Perez spending about a third of the film doing gag sequences involving this car, an automobile which would have cost the equivalent of around $53,000 today.
Where did this car come from? Did a producer at Jester know someone at Mercer and got it as a favor? (Trenton is about 70 miles from Englewood.) That's a very pricey car to agree to allow a comedian to drive around somewhat recklessly in a slapstick short. Especially if they were going to paint "Babette" on the side of it near the rear tire (not visiable in these screen caps but is in other shots of the film).
Or was it Perez' car? We know so little about Marcel Perez's personal life — where he lived while making films in the NY/NJ area in 1918-1922, what his finances were like, etc. — there's no way to know this.
The film's second half takes place at Coney Island, in similar beach and bathhouse locations to those seen in Camouflage (1918), as well as an inventive gag at the Steeplechase pool with Perez diving into one end and immediately popping out at the other. Oh! What a Day is a lot of fun and hopefully another print of reel one is out there somewhere. The scene that's completely missing is one where he wakes up for the big day and a series of machines bath, dress and feed him then hurtle him down a chute into his car. Oddly enough, a full-page photo spread about the short turned up in a trade magazine and includes two images from the sequence.
The film can now be seen, its two pieces digitally joined, and is a delight. So is another of Marcel Perez's late 'teen shorts, You're Next (1919) in which he meets Dorothy Earle and gets a job in a movie studio, as well as the aforementioned Camouflage in which he does a brilliant tour-de-force turning himself into a pile of garbage and back over and over. Makes you wish real hard that more of the Twede-Dan comedies Perez made for Jester turn up.
---
The films You're Next and Camouflage are on the first Marcel Perez Collection DVD, available on Amazon. Oh! What a Day is on the new Volume 2 DVD.
Oh! What a Day (1918) was scanned at 2K from a 35mm preservation negative of reel one from the Museum of Modern Art, and from a 35mm print in the collection at the Library of Congress. The film was rendered out at 20 fps. Intertitles bridging missing footage and replacing a couple of the film's titles, as well as a letter insert, were created for this edition, following a copyright deposit script. Images illustrating the missing sequence, were sourced from the trade ad seen below, and from a lobby card in the collection of Mark Johnson. New main titles were created in an authentic style, although no main titles exist for any of the extant Jester comedies.
---