Mar 4 – I can't put my finger on why, but Valentino's
Monsieur Beaucaire
and Barrymore's
Beau Brummel
are two of my least favorite mid-20's silent dramas. Perhaps there's something about putting either of these two dynamic personas in a European powdered-wig melodrama.
Beau Brummel
also ends a few times. Don't get me wrong – I'd never turn down a chance to play for either of these pictures…a gig is a gig, after all.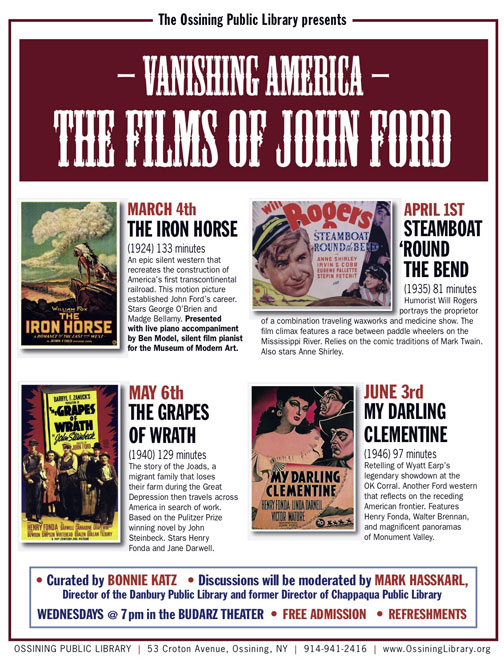 My day started with a matinee of Beau Brummel at MoMA, part of the series connected with the Madalena poster exhibit. Accomp was on Miditzer, as these 1:30 W-Th-Fr matinees are held in Bartos, where there is no piano (yet). Barrymore has a number of nice moments, though and at 12 reels you really appreciate these charm moments when they happen.
Next, I was off to Grand Central to head off to Ossining to play for John Ford's The Iron Horse at the Ossining Public Library. The film was being shown as part of a Ford series, with lecture & discussions by Mark Hasskarl, director of the Danbury Public Library. I'd done a Sherlock Jr. show with Mark a few years ago for a series he'd done at the now-defunct Northern Westchester Center for the Arts, back when he was at the Chappaqua library. Ironically, it was not this connection that led to this show…rather, Ossining's programming person Bonnie Katz had met me at the Burns Film Center last September when I played for Lang's Destiny and when Mark wanted to include The Iron Horse she contacted me for live piano, rather than just run the film with the score that's on the disc.
The new "Ford at Fox" DVD of The Iron Horse looks great, and a lot of digital clean-up and image stabilization was done. Unfortunately the film looks like it was transferred at around 20 fps, a bit slow for a 1924 release, and you can lip-read everthing, plus the comedy bits with J. Warren Kerrigan don't play right and didn't get laughs during the show.
The Ossining Library is a beautiful new building and the auditorium boasts brand new DVD player, a/v, projection, a nice big screen and a well-maintained Steinway D grand. The show went well, and the people who came really enjoyed it. I shifted into my "playing-for-a-film-being-run-a-bit-too-slow" mode, and the score went fine. Unfortunately, I had to scoot to catch my train back to NYC and had to miss Mark's talk. He's very knowledgeable and his intro to the film was quite good. The nice thing about the commute to and from Ossining is that it's about an hour, and I got in two much-needed naps courtesy of Metro North.
I'll be playing for The Iron Horse again in November at the Cinema Arts Centre, with a 35mm print from Fox.