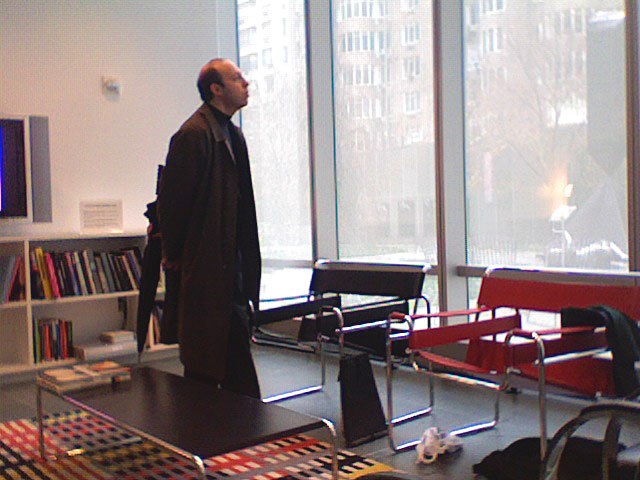 Looks like a deleted scene from Playtime, doesn't it? I'm sitting in the Bauhaus lounge at MoMA. I'm early for my show today, and enjoying the free wifi at MoMA.
Have been too danged busy to reflect and post here, but I know people read this blog, so I'll jot something down, just to stay in touch.
Sunday's Silent Clowns show was our last of the season, and we did a program of L&H silents that people voted for online. The finalists that were screened were Putting Pants on Phillip, The Battle of the Century, From Soup to Nuts, and (of course) Big Business. Show was at the Museum of the City of New York, where we partner for a show once a year or so, and it's a beautiful auditorium. I had an idea a few weeks ago to have Bob Greenberg and Jonathan Smith who — among many other talents they possess — are L&H impersonators, show up as a surprise to announce the films. They've made appearances at our shows twice before and are always a big hit, and this time was no exception. Here's a shot of Bruce, me, Steve, Jonathan and Bob after the show.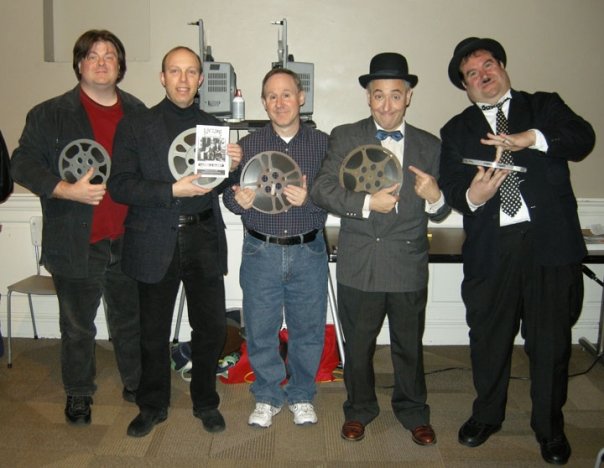 Had some fun with main title music for the shorts. For Phillip I played the March of the Cuckoos theme with a scottish left-hand underneath, for Battle I played the opening of Lecuona's "La Virgen de Macarena", and for Business I played a version of "Jingle Bells" where the first two bars were the first two bars of the "Cuckoo" theme.
Last night I brought my 16mm print of Lloyd Hamilton in Papa's Boy to the show of Steamboat Bill, Jr. at the Cinema Arts Centre. SBJr came from LOC in 35mm, and it's nice to see a 35mm print of that film that hasn't been beat to death. I brought the Ham short because of the hat-trying-on sequence in SBJr. The hats are all iconic toppers of movie stars, and the checkered cap Keaton takes a liking to was Ham's trademark hat. Besides, when do you get to show or see Lloyd Hamilton? I'd shot new, authentic main titles for the print, which had been made in the '50s with a remade main title in simple helvetica of "Who's Kidding Who?". I'd won it on eBay because someone listed it as a Glen Cavender short, but the screen grabs tipped me off that this was a Hamilton (with Cavender, Blanche Payson and others) in supporting roles. I created the lookalike titles in Photoshop, printed them on transparency film and shot them with a lightbox I built with Plus-X reversal in 16mm.
My dance card for the first 4 or 5 months of 2010 is slowly filling up. The MoMA series will run through May, it turns out. We're running Napoleon in April, and in the big theater (Titus 1) on a Sunday afternoon, instead of Wed/Thur/Fri (*whew*). Now I just need to find time to post the bookings on my website…
Gotta go grab lunch and get ready for today's double-bill.
See you at the silents!