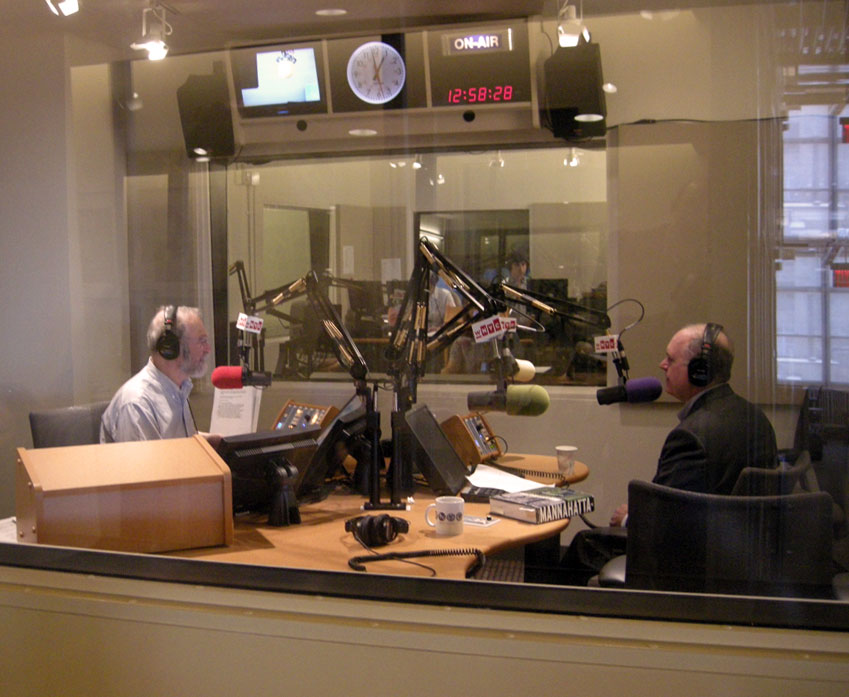 May 19 – Steve and I were on the
Leonard Lopate Show
this afternoon. This was my third time on the show; I'd been on (solo) in 2006 for the MoMA Arbuckle series, and in 2007 as sidekick to Jessica Rosner plugging Kino's
Reel Baseball
DVD (which she produced). I had a great time, and it was great to see (show producer)
Melissa Eagan
again. I snapped this photo (above) before we went in. That's Lopate on the left, and guest Eric Sanderson (author of
Mannahatta: A Natural History of New York City
on the right. Just pretend Steve and I are sitting where Sanderson is.
The segment went well and we covered most of the main points of the series. Managed another plug for MoMA's education programming while mentioning our course version of C&U offered last Nov/Dec, and tipped my hat to Eileen Bowser while we were discussing the "Ford vs. Sennett" program. Although Steve and I were kicking ourselves for not talking about Ron's and Charles's involvement when the topic of grouping the films by social issue came up – which was, basically, Ron's concept and was key to getting the series both organized and successfully pitched to the dept – overall, Steve and I thought the segment went well.
I arrived home, and the phone rang. My wife answered it and handed it to me…it was Stuart Oderman, who had just heard me on the radio. Hadn't talked with him in a while and we chatted at length. He's playing on Friday at the Neversink Valley Area Museum for a progam of Gish films – the museum is near Cuddebackville, where DWG shot a lot of pictures – and I'll be there on June 26 for a similar program of Biograph shorts.
See you at MoMA!