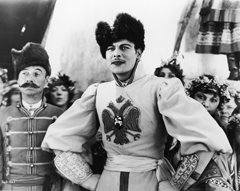 Today's show at MoMA went well. Both prints were in 35mm.
Two Tars
looked okay…I'd be curious to A/B it against a good Blackhawk 16mm.
The Cossacks
looked fantastic, and while the audience really enjoyed it I found its 10 reels felt like 15. It's a big Hollywood star vehicle for John Gilbert and Renee Adoree, who reprise their parting-as-rides-off-to-war sequence (quite literally) from
Big Parade
. There's a big fight sequence toward the end with Cossacks vs. Turks that looks like it's from a Western because of the Monument Valley-ish location. I'm glad I saw it, but don't envy Philip Carli, who will be playing for its repeat showing on Dec 26 or 27. Most notable about the show was that a fellow introduced himself to me after the show, quite excited, and let me know he was John Gilbert's grandson. He'd happened to be at MoMA that day and at th last minute found out about the show and got a ticket. Lucky for him, since this film almost never gets shown and isn't on video or slated for TCM (it
is
an MGM picture). Also notable was Ernest Torrence's excellent performance as Gilbert's dad.
I brought my new Zoom H4 digital recorder and recorded the score, which I performed on the Miditzer. Here is a 2-minute clip from Two Tars.
http://www.silentclowns.com/podcast-audio/TwoTars-miditzer-120408.mp3
Tomorrow it's The Lost World with Wallace Beery, Bull Montana and the artistry of Willis O'Brien. Next week I've got The Adventures of Prince Achmed at the Cinema Arts Center. This is the (tinted) restoration from a few years ago, in a nice 35mm print from Milestone.
See you at the silents!
Ben