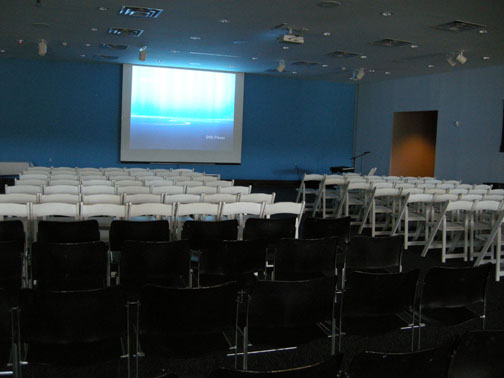 The newly revamped Hudson room at the Hudson River Museum does not have its grand piano available just yet, so I brought up my Kurweil PC2, OnStage keyboard stand and a few audio cable and adapters for this show. Being able to bring a keyboard is occasionally a factor in some shows, and being audio-tech-savvy comes in handy as well. This show was teched by someone deployed by Sound Associates in Yonkers (they're also in NYC), so I arrived to find everything all set, with a 1/4″ cable plugged into a D.I. box all set and ready. Sometimes my knowledge of operating a Mackie mixer and owning a variety of attenuating audio adapters has been useful at certain venues, but wasn't needed this time. I picked up a few tips on assembling a 9×12 fast-fold screen from the tech while we were waiting for the show to start, so that was another plus for me.
It was a glorious day outside, and so we had about 25 people, mostly seniors and a couple families. The film went over quite well, and my brief intro talk was on Will Rogers' career in silent pictures. The film was shown as part of the "Dutch New York" exhibit.
I have to say Mark Roth's DVD (available from his label ReelclassicDVD) looked really good projected. No noticeable artifacts, and image quality was pretty good considering it was a transfer from a good 16mm print. I noticed a lot of artifacts in the Kino DVD of "The Ring of the Nibelungen" which I played for at Bard in August…surprising considering that release is on dual-layer discs.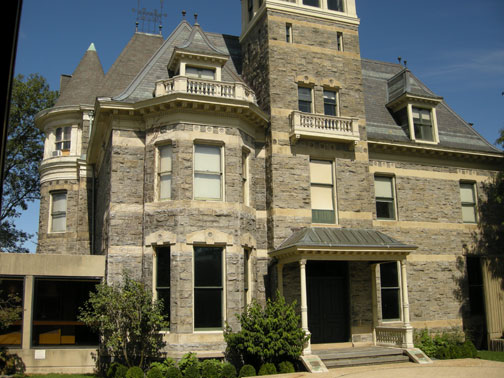 This historic 1800's house is part of the original museum; the show was held
in the newer building, very modern-looking (like something out of "Sleeper")
A view out the window/terrace at the back of the meeting room the show was in,
giving you a pretty good idea where most Yonkers-ites were instead of at the show.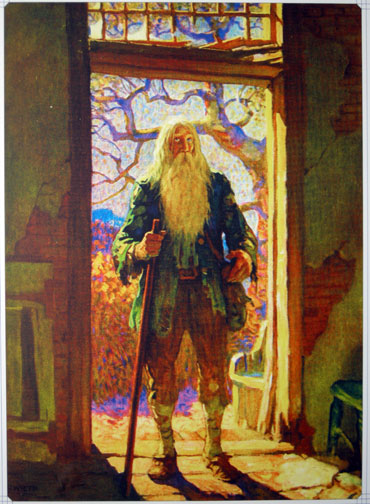 Closer view of one of the images on the wall.