One of the perks of accompanying silent films is the opportunity afforded to discover directors whose work you have heard of or seen a little of…by playing for a retrospective series of their films.
In May 2009 I accompanied several silents in a retro at MoMA of French director Julien Duvivier, and was really impressed with his work. Going on the journey of his "La Vie Miraculeuse de Therese Martin" found me floating on a beautiful tone poem of a character study, and I looked forward to the repeat show.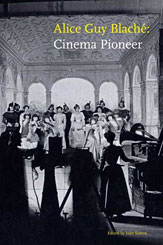 I was aware of Alice Guy Blaché (1873-1968) and her films and place in cinema. From December 2009-January 2010 I played for a number of screenings (as did David Arner and Donald Sosin) at the Whitney Museum during a two-month retrospective of Blaché's films.
Reading the essays in the book published by Yale University Presss in conjunction with the film series — Alice Guy Blaché: Cinema Pioneer — as well as watching and accompanying her films from the 1890s through the 'teens, was a real eye-opener for me. I gained great appreciation for her work as a filmmaker and pioneer in the industry.
She worked in a number of genres, and her dramas were just as well-made as her comedies, several of which explore gender roles in a way that's still funny today. I was impressed especially with her direction of exterior scenes and use of locations and camera when out-of-doors.
One of the dramatic one-reelers I was most struck by was "Falling Leaves" from 1912. In anticipation of Mme. Blaché's birthday on July 1st I decided to find one of her films to score and upload to my YouTube channel. I searched the Internet Archive and found a couple of her films in awfully dupey editions with ragtime piano slapped on, and a beautiful transfer of "Falling Leaves" with no audio.
Here is my new "release" with a piano score recorded on the occasion of Alice Guy Blaché's birthday. Enjoy!
[youtube https://www.youtube.com/watch?v=-_cYhqVblLc?rel=0]