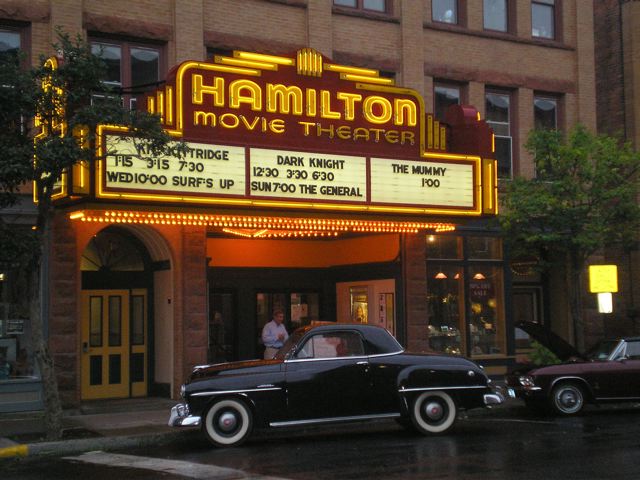 Sunday Aug 10th at 7pm – another great show at the historic Hamilton Theater. This year was Keaton's
The General
, plus
The Scarecrow
. 35mm prints came from Douris Corp. The print of
The General
looked great and is the usual print I've seen; main titles and credits replaced by a single "Rohauer presents" main title but otherwise the film was original.
The Scarecrow
had all its titles and inter-T's replaced by RR and, in spite of the print's being in rather rough shape it ran just fine and the image quality is fantastic. I love that short and hope to track down a good 16mm print of it someday to own.
The local car collector who usually parks his vintage silent era cars in front of the theater opted for less-vintage models, as there was some rain that day. Seen (above) is a 1951 Plymouth, and next to it was parked a 1965 Corvair. [My folks owned one when I was born; it was also the vehicle Kovacs was driving that fateful night in Jan '62.]
We had a great crowd, a lot of regulars and a lot of new faces. This was our sixth year, and we've shown Steamboat Bill, Seven Chances, Safety Last, Girl Shy, Sherlock Jr. and now The General. Perhaps next year another Lloyd; wil have to check how much longer the Lloyd's will be available in 35mm from Sony…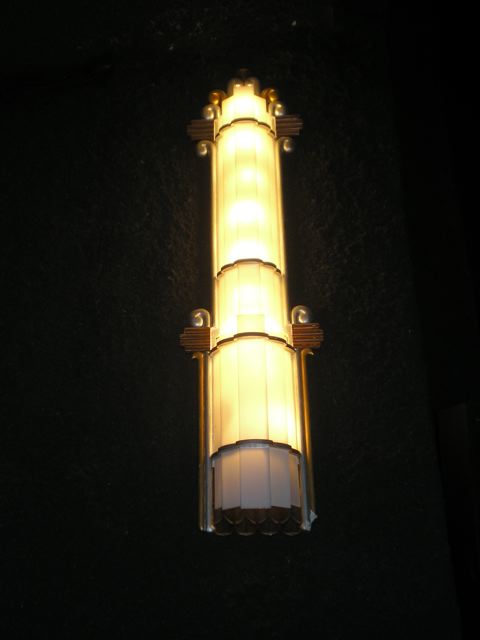 Seen at right is one of the theater's original art deco era light fixtures on a wall inside the theater. Below are Chuck Fox and myself; Chuck manages the theater and has since Colgate acquired the movie house 8 years ago or so.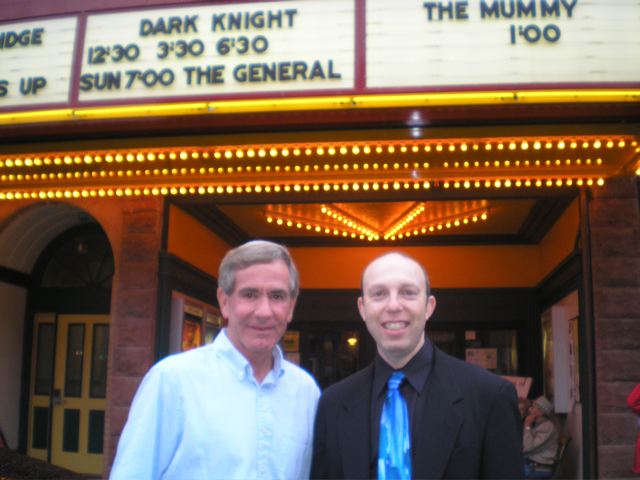 Have just double-checked my 16mm print of Steamboat Bill, Jr. for this Sunday's showing at the Village Picture Shows Theater in Manchester Center VT. Pics and report from last year's show (Grandma's Boy) are here.
I believe the podcast interview I did with Donna Hill for her series "Stolen Moments" goes live on Sunday Aug 17 as well. Click here to go to the website for it. The podcast I'm on will not be liested there till Sunday, but you'll find a link there to download/subscribe to the podcast.
See you at the silents!