My DVD label Undercrank Productions has a new release, the second in a series that showcases the identification fun we have every year at the "Mostly Lost" workshop at the Library of Congress at it's Packard Preservation Campus in Culpeper, VA.
Attendees each year receive a "swag bag" when they arrive and register on day 1. Along with that year's logo T-shirt and ID badge, luggage tags and postcards from the Culpeper Chamber of Commerce, menus of local eateries, brochures for local sites, information about the LoC's "Silent Film Project" and other goodies, there's a "Treasures of 'Mostly Lost' DVD enclosed. That disc contains a few films from the Library of Congress identified at the previous year's workshop, selected by attendees' nominations and tallied votes.
My DVD label started gathering momentum a year or two after "Mostly Lost" got going. Mostly Lost #1 was in 2012, and my Accidentally Preserved: vol 1 came out in 2013 and The Mishaps of Musty Suffer disc in 2014. Musty was also my first release in my co-branding arrangement with the Library. There'd been interest from classic film fans about what went on at "Mostly Lost" and in getting to see the films that were identified. It occurred to me that, since these "Treasures" DVDs had already been produced, a release for the general public compiling a few of the discs into one could be done.
Each year, the 3-5 films on the "Treasures" discs were scanned, and Andrew E. Simpson and Philip Carli and I recorded scores for them. The elements were already in place, the math worked out that I could fit the contents of three "Treasures" discs onto a DVD. Part of my idea was also that some of the proceeds of sales would go toward helping fund the workshop each year. I proposed the DVD idea to Rob Stone and Rachel Del Gaudio, who organize the workshop every year, and they liked it.
The DVD Found at Mostly Lost was released in March 2016, and contained nine silent and two early sound films that had been ID'ed at ML1, ML2 and ML3. I've now gathered up the films and scores from the "Treasures" discs that were in swag bags over the last three years, seen only by attendees from those workshops, and will now be available for the general public!
Found at 'Mostly Lost': Volume 2 will be released on October 30, 2018, and it contains the following rare silent films, preserved by the Library of Congress:
And the Villain Still Pursued Her; or The Author's Dream (1906) – Vitagraph – originally catalogued as "Unid. Tusler No. 1: A Writer's Dream"
The Faithful Dog; Or, True to the End (1907) – Eclipse – originally catalogued as "Blind Beggar's Friend"
The Falling Arrow (1909) – James Young Deer -originally catalogued as "The Friendly Indian"
Adolph Zink (1903?) – Thomas A. Edison Co. -originally catalogued as "Dressing Room Scenes – Adolph Zinc"
In The Tall Grass Country (1910) – Francis Ford, Edith Storey -originally catalogued as "Romantic Tale of the West"
The Noodle Nut (1921) – Billy Bletcher – underidentified film, cast now known
Fresh Fish (1922) – Bobby Bumps (animated) – originally catalogued as "Unidentified Miscellaneous No. 17"
Derby Day (1922) – Monty Banks -originally catalogued as "Unid. Monty Banks Comedy"
Do Me a Favor (1922) – Snub Pollard -originally catalogued as "U.S. Comedy: The Musical Cop, The Stroller, and the Agitated Lady"
The Sunshine Spreader (1920s) – underidentified film, cast now known, year still not definite
The films on the DVD are seen in the same "preserved as found" state in which they appeared onscreen during the "Mostly Lost" workshops and have not been restored. New piano scores for the films are by Ben Model, Andrew E. Simpson and Philip Carli.
The DVD is available for pre-ordering now at —
Links to order on Amazon's sites in Canada and Australia, which carry all my other Undercrank Prods. releases, should be coming soon. If you plan to attend a show I'm playing at, let me know if you're interested in picking up a copy at my merch table so I can make sure I have enough copies.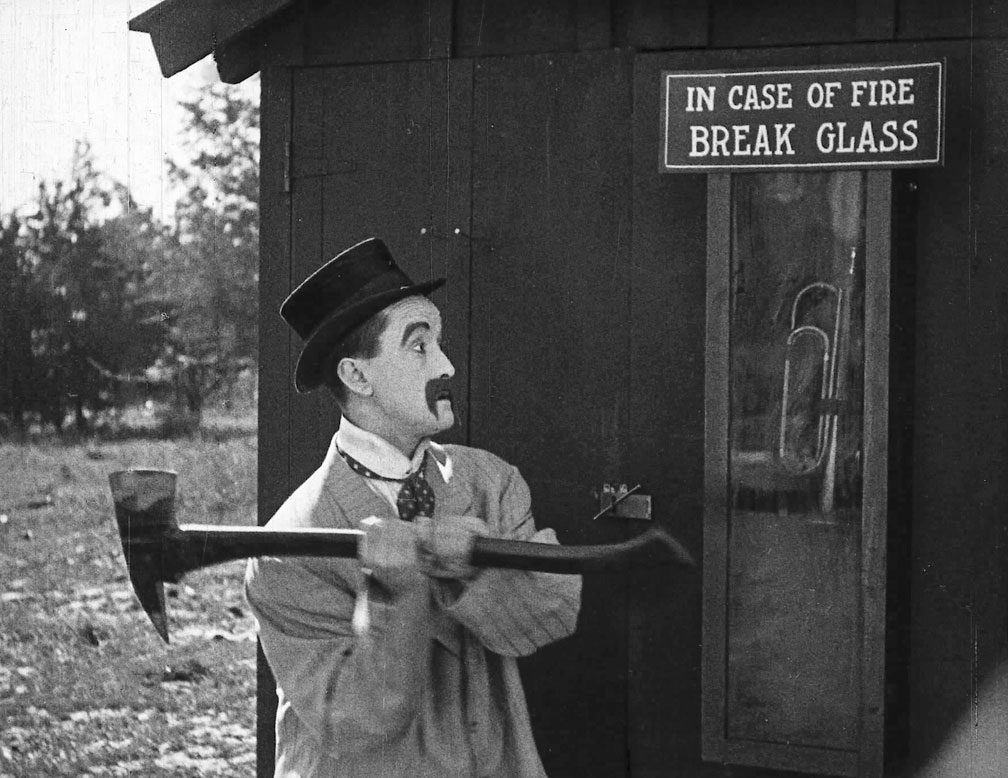 Snub Pollard gets ready to sound the alarm in the previously unidentified DO ME A FAVOR (1922)