I never have a good answer for the question I am asked the most at show Q&A's and in interviews and in social situations. I really should. I've certainly been asked it enough times. "What is your favorite film or type of film to play for?"
I don't have one. And I don't know why.
I'm for silent film. My job is to make the film I'm accompanying work for the audience that's in the theater. Regardless of which film it is, what the audience is, and what type of venue I'm at.
This was one of the things Stuart Oderman (1940-2017) were simpatico on. Stuart was a silent film pianist at MoMA and many other places for several decades. Our styles were a bit different from each other, but we were friends, and would talk shop and kibbitz by phone or in the booth at MoMA. He used to say of us, to me, "You like to make 'em laugh and I like to make 'em cry." (Stuart had a good line for just about everything.)
His own personal preference were the melodramas, and I'm a big fan of comedies myself. But work is work, and neither of us turned up our nose at or turned down a gig because we didn't care for it as much as something else. We had/have favorite films, but they weren't on a playlist of titles that we'd cycle through at various theaters.
I'm possibly paraphrasing him a little, but I recall him saying something along the lines of looking at what he did, considering himself a pianist at your neighborhood theater. Meaning, you played for the picture that was playing that week or for those few days that week.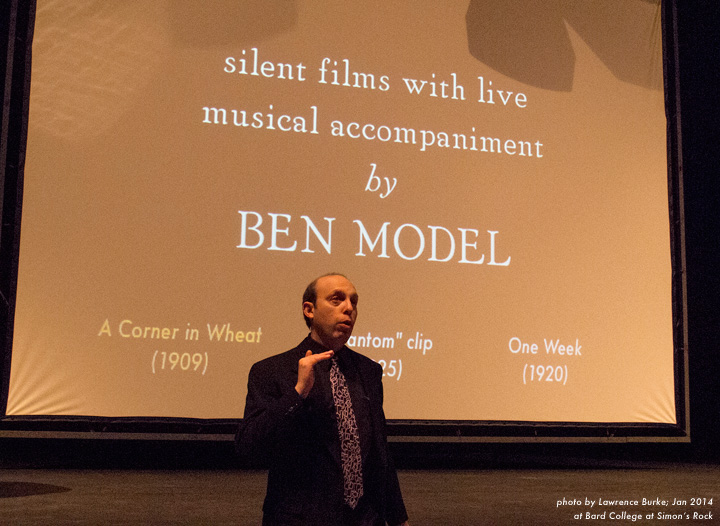 Having an infinitely flexible repertoire poses a challenge when working with a theater, sometimes, because they may not be familiar with a lot of silent films, and it's easier for them if I just rattle off three or four titles. But this is one of the things that's helped me grow as a programmer. We both want to put on a show their audiences will turn out for and enjoy. This allows me the chance to engage with the person at the theater and find out what they've shown already, what kids of things their patrons like to see, how much silent film they've already been exposed to, etc. And we always come up with something we're both happy with.
Sometimes it's less about the film and more about the audience or the venue itself. Presenting a comedy program at a senior living facility or suburban library in northern Westchester — or a group of 5th graders in NYC, in Boise, ID or in Tromsø, Norway — can be just as fulfilling as playing for a big series at MoMA or for westerns or a drama at the TCM Classic Film Festival.
Because all of these scenarios promote the medium of silent cinema, and that's my main interest. I will keep showing One Week to kids and teenagers several times a year, year after year, and I'll gladly be handed a slate of films I do or don't know by a film curator at MoMA for a series. And everything in between or beyond.
See that? I still don't have a simple, pat answer to the question. I'll keep working on it. 
---
If you've enjoyed this or gotten something out of it, I hope you'll consider joining my email list, browsing through some of my recent posts (on the right or below), or subscribing to my blog.