Back when my interest in film collecting had whittled itself down to trying to pick up silent comedy shorts in 16mm that no one was bidding on on eBay, I turned up what turned out to be a lost film. It's the most viewed video on my YouTube channel. It's not a comedy, and it's about watches.
One of the reasons I included The House of Wonders on my first DVD, Accidentally Preserved, was the thought "you just never know who might be interested". It's not a slapstick comedy or an early dramatic film and doesn't necessarily have any inherent entertainment value. It's a two-reel silent film made by and about the Elgin Watch Company, showing the making of an Elgin watch. Every single step, in detail, with explanations, over about 20 minutes.
The print is an original 16mm, and it's nice and sharp. It came from a seller in Canada, and the print itself had embossed in the first few feet of each reel the legend "passed by the Saskatchewan Board of Censors". There is no edge code printed onto the film to indicate the year it was made, and there is no copyright year on the main title. The film has no technical credits for the people who made the film.
I determined the date by sending frame grabs to Bill Strickland of Strickland Vintage Watches, someone whose business I found on a Google search. The end of the film shows a handful of shots of different lines of Elgin watches, their model names and current prices superimposed over the shot. Bill was able to give me an approximate year based on the models and prices.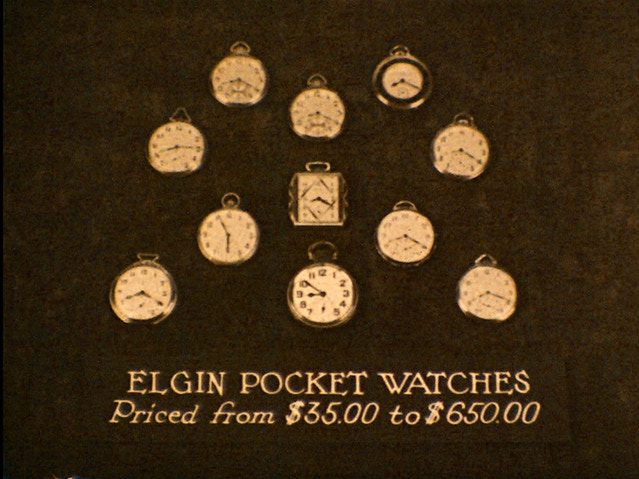 And yet, like the rare and obscure comedy shorts I'd accumulated, if this Elgin watch company documentary sat on my shelf it would still be a lost film. In the early 2010s when I began really looking into the ways to harness the internet and YouTube and social media as a new path to distribution and connection to an audience, I encountered the idea of the shift to accessibility instead of controlling scarcity as a way to get something known.
I'd begun transferring, scoring and posting some silent shorts to my YouTube channel, and when I Kickstarted and produced and released Accidentally Preserved my plan was to also post all the films on the DVD to YouTube. Because, especially in the case of the Elgin watch film, you just never know who might want to see one of these films, regardless of what I thought of it.
I posted it to my YouTube channel in September 2013 and, as of this blog post, it has logged 51,365 views. 106 comments have been posted. I've heard from watch historians, and people in Elgin or whose relatives worked at the factory. Someone who works in the museum housed in the building where the Elgin factory's telescope and observatory was wrote to ask permission to show the film on a monitor in the museum. I said, "yes", of course. 
The film, if you're interested, is embedded below, but you may be more interested in seeing all the comments from watch and Elgin fans that have been posted. You can read them on YouTube here — and I'd recommend using the sort function that displays the most recent ones first instead of just the top comments.
It's gotten harder to pick up little gems like this on eBay over the years, but I'm glad I snagged this one and shared it with anyone on the planet who has internet access.