There were two main types of feature-length comedies made during the silent era. There were the slapstick ones, which sputtered initially in the late 'teens until Chaplin figured out how to make this work, and the ones that didn't star slapstick comedians. The second kind had a run from 1915 through the end of the era thanks to two different Douglases.
Douglas Fairbanks made the leap to movies — how else would you describe the way Fairbanks would move from one thing to another? — in 1915 with The Lamb, a film adaptation of his stage success. Teamed with John Emerson and Anita Loos, as well as other soon-to-be top directors like Allan Dwan and Victor Fleming, he pioneered this form of 5- or 6-reel romp, combining situational or character driven humor with his unique whimsy and athleticism up through 1920.
In my previous post, I discussed the films of the 1920s that carried on this type of comedy feature after Fairbanks made The Mark of Zorro. Films that starred the "demiclowns" as they were labeled in Walter Kerr's book The Silent Clowns, the comedians of movies who were less silent clowny than their slapstick counterparts. One can't help wonder if Charley Parrott drew on these for inspiration when he moved back in front of the camera to become Charley Chase.
But of the main (male) stars of the second, 1920s wave of this genre got going after a 3-year gap that followed the release of Fairbanks' Zorro and his safety-net comedy The Nut. Johnny Hines and Reginald Denny made a successful series of 2-reel shorts in the early part of that decade. Hines as "Torchy", and Denny as a boxer in the "Leather Pusher" series. But there was one light comedian, also named Douglas, who picked up right where Fairbanks left off.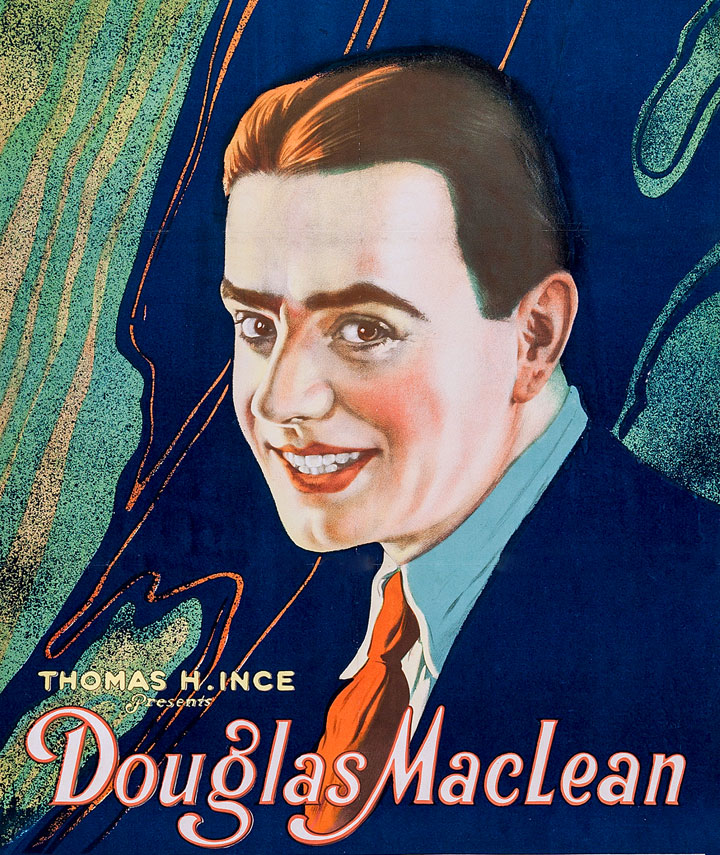 There's actually a slight overlap. Douglas MacLean moved into starring roles for Thomas Ince in 1919. Over four years, from 1919 through 1922, 11 Douglas MacLean features were made and released before Hines and Denny graduated from Torchy and boxing, respectively, and joined the party.
The MacLean features, 23 in total, do not have a great survival or accessibility rate. 9 are lost, 6 are in foreign archives (and I'm not sure how complete), and another 6 survive at the Library of Congress in incomplete form. Fortunately, there are complete copies of One a Minute (1921) and Bell Boy 13 (1923) at the Library of Congress. These two have had a couple showings in the last few years, but are otherwise unknown and unseen. Hence the question mark over your head when I mentioned Douglas MacLean at the top of this post.
Today I am launching a Kickstarter to produce, score and release a DVD of these two surviving complete features. The DVD will hopefully be released in February 2020, and Kickstarter backers will get their copy a month or so before the release to the general public. If you'd like to be part of this project to bring Douglas MacLean's name, face and films back to the public and to fans, I hope you'll consider making a pledge.
To participate in the project by making a pledge, click here to go to its Kickstarter page.