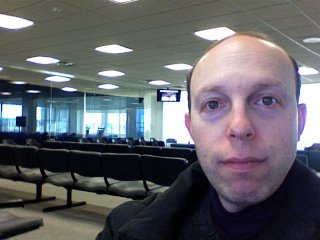 March 20-22: Syracuse, NY – I'm killing some time before my JetBlue flight outta Syr, and thought I'd post here. Just finished 3 days at the 29th annual Cinefest here in Syracuse. The festival runs 4 days, but I couldn't get here for the first day, because I had a show of
Broken Blossoms
in New Rochelle on the 19th. That show went well; audience was all seniors but we had a nice crowd (including my mom and a couple of other relatives), and the film played really well.
At Cinefest friday night, I wound up playing for a silent called
The Circle
, based on the Somerset Maugham play. A nice late '20s melodrama with one of my favorite character men in it, Creighton Hale, to keep things light. Saturday's 35mm show at the Palace Theater (hey, ma, I finally played the Palace!) was great. All silents, all but one of which were from LOC. We each played for one or two of the six features screened between 8:30 and 3:30, using Philip's Kawai digital keyboard and amp. The theater is a historic one, built in the late 1920s and is a great place to see silents and older films. It's one of the aesthetic things I enjoyed about Cinefest, and which I really like about the Cinesation in Ohio, where all the film screenings are held in the town's 1916 Lincoln Theater, originally built as a Triangle.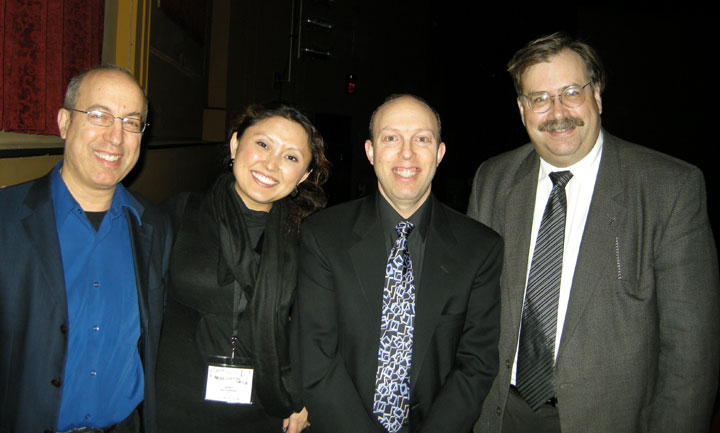 Pictured above are the four accompanists for the 2009 Cinefest: (left to right: Donald Sosin, Makia Matsumura, Ben Model and Philip Carli.
I wound up mostly seeing the silents that were screened, back at the hotel (Holiday Inn), and spent the rest of the time either napping or hanging out and schmoozing. One of the great things about Cinefest is that it was a great chance to meet a lot of people I only knew over e-mail, both classic film afficionados and archive/industry folks. I also got to chat with a lot of people who read this blog and who have downloaded my altscore scores. This was very satisfying – you put things "out there" online and there's no real way to find out who's reading this or if it's of interest to anyone. Google analytics gives you numbers, if you set up the code on your site correctly, but it's nice to meet some of my "readers". There were also a number of people from the NYC contingent who I usually only see for 10-15 minutes before and/or after a show, and this was a nice chance to hang out with them (especially since I wasn't in charge of anything here).
While there weren't any standouts among the silents for me, I think it's because they were all really good films, all slightly obscure titles (for me, anyway) that I was glad I got to see. I think I did all right on my playing. The piano at the hotel was a Yamaha Clavinova, another nice instrument with a good sound, provided by a local Yamaha dealer (thanks to Makia). I'll post photos of the Palace Theater in a separate post, so you can get a good look at the place.
Tuesday I'm playing for a press screening of the William S. Hart Wild Bill Hickok at MoMA in the morning, and then that night I'm in Huntington for Dreyer's Joan of Arc. Rest of the week will be more "office" work and other projects. Mostly, I'm looking forward to being home with Mana and Molly.
See you at the silents!