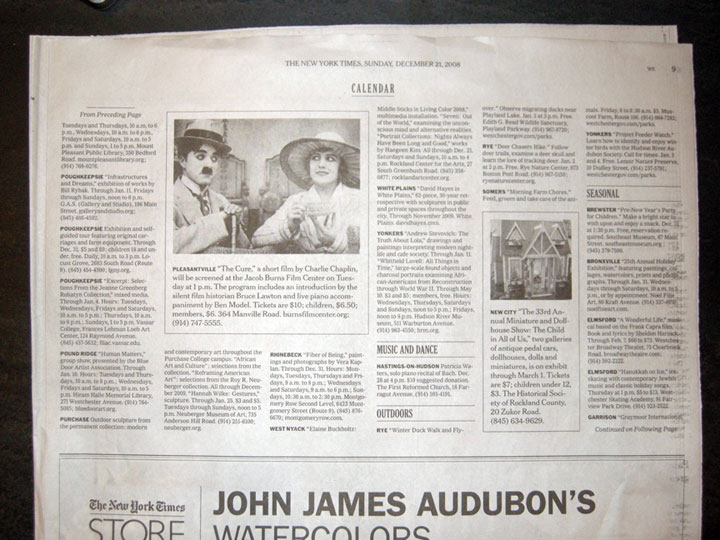 My Google alert that I've set for "Ben Model" caught this listing in the New York Times for the Chaplin s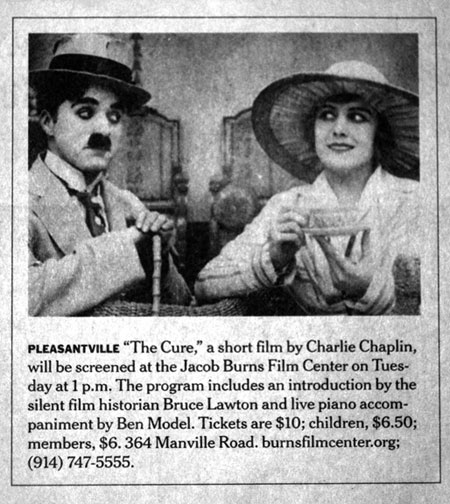 horts program Bruce Lawton and I will be doing
on Dec 30th at the Burns Film Center
. I wasn't sure if it was just online or not, but when I visited my folks this afternoon they had a copy for me. What's even nicer is that the print version is in a box and with a nice photo of Charlie and Edna in
The Cure
. A few of my parents' friends saw the piece and may be coming to the show.
I'm really looking forward to this show. There's something kinda primal for me about getting to show Chaplin films to a large audience with a lot of kids. These are the first silents I ever saw, and I was a Chaplin nut as a kid.
A shame we can't show The Gold Rush cause it'd be perfect at this time of year. The Chaplin estate insists that – if you show it with live accompaniment – you hire an orchestra to play Chaplin's score. I can't begin to imagine how many thousands of dollars that would cost (on top of their licensing fee). Still, the Mutuals are real crowd-pleasers and are old friends of mine (and Bruce's) and even they don't get shown often enough. See you in Pleasantville on the 30th!
— Ben