Today Steve Massa and I were at MoMA screening Thanhouser films with Charles Silver for a program we're working on for October. The program will help the Thanhouser Film Corp. celebrate the company's centenary;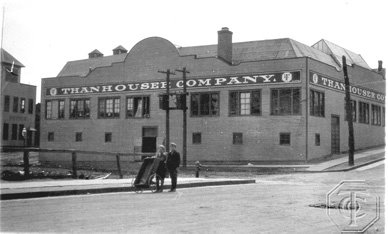 Ned Thanhouser will be doing a program with the LOC as well as at MoMA during the last weekend of October, and we were screening MoMA's holdings on Thanhouser films. Saw a few real gems, like
The Marble Heart
and
A Dog's Love
starring Shep the dog. Here's a photo of the studio, located at the intersection of Warren, Grove and Center streets in New Rochelle, from the
Thanhouser website
. The website offers 9 dvd volumes of films, and there will be more released in October.
While we were at MoMA Steve and I picked up freshly printed copies of the May members calendar, with
Cruel and Unusual Comedy
listed inside. Steve and I are putting finishing touches on our online film notes for the shows, which we are posting on a blogspot site, and will make those "live" in a couple of weeks.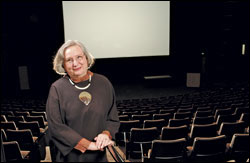 Last Thursday I accompanied Harold Lloyd's The Kid Brother at Wesleyan University. This was my fourth annual show for them, and one of the treats doing shows there is getting to see Jeanine Basinger (pronounced BAY-singer, like a vocalist fom San Francisco). She is a delight and such a big fan and proponent of silent film. I brought my 16mm print of Dog Shy with Charley Chase to open for the feature, and the film absolutely killed (no surprise) and Jeanine and I and some fans who stayed around afterward talked about how great Chase is and how his films should be seen more. Also chatted about Lloyd and his mastery. As always, I brought the Miditzer to their beautiful theater – also the first place I ever used the Miditzer for a performance – and their state of the art sound system made the instrument sound amazing.
Have been plowing through photoplay music from the collection donated to the Silent Clowns a year ago by Ted Simons, over 360 pieces of vintage silent film music in arrangements for small orchestra. A week or so ago I went through the 5 boxes of music, organized them all by series and cataloged them, and pulled the piano/conductor parts. Some of it is really great, and could stand on its own. I'm earmarking pieces I like for the Schirmers book as I go.
Had a great Silent Clowns show of Chaplin shorts on Sunday. One of our best turnouts of the season, and a great show put together by Bruce. It's also our last show at the New-York Historical Society, where we've been since 2005 (and were also there from 2000-2002). A number of our regular audience members have been coming up to me or emailing me with ideas of places to check out and its been really touching seeing all this support.
There are loads of other things brewing, shows being booked or percolated, and I'll be gearing up soon for the Julien Duvivier retrospective at MoMA that'll include a number of his silents. More info as it becomes solidified, important or cool.
Up next, it's Arbuckle/Keaton shorts in 35mm at the Cinema Arts Centre!
See you at the silents!