For those of you with weekday daytime availability, be sure to bookmark
this page on MoMA Film's website for
An Auteurist History of Film
: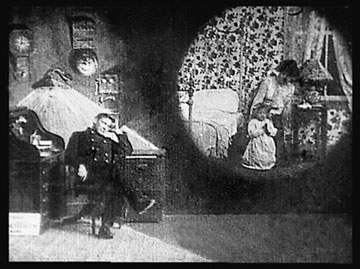 The first 6 or 7 months of this two-year film cycle at MoMA, curated by Charles Silver, is all silent film. A different program is shown each week on Weds, Thurs and Fri at 1:30 in Theater 3 (enter on W. 54th St). The cycle goes chronologically through the history of cinema, and showcases prints in MoMA's collection. Piano accompaniment by yours truly at Weds and Thurs shows (no accomp on Fri). Just $10 each show (free if you're a member, which is only $75 a year) to attend this excellent ersatz film history course.
Here are the programs scheduled so far, from Sept through Dec:
Sept 16, 17, 18 — actualities from 1890s made by Edison, Lumiere, Skladanowksky, and British Gaumont

Sept 23, 24, 25 — Edwin S. Porter doc "Before the Nickelodeon", plus (unaccompanied) Porter shorts

Sept 30, Oct 1, 2 — pre-Griffith directors: films from 1902-1908 by Ferdinand Zecca, Alice Guy, J. Stuart Blackton and Wallace McCutcheon

Oct 7, 8, 9 — George Melies and his rivals: trick films from 1902-1908 by Melies, Zecca, and Velle

Oct 14, 15, 16 — D.W. Griffith at Biograph

Oct 21, 22, 23 — The Scandinavian Connection: "The Abyss" with Asta Nielsen and "Ingeborg Holm" dir. Victor Sjöstrom

Oct 28, 29, 30 — Two Danish Innovators: "The Student of Prague" and "The Mysterious X"

Nov 4, 5, 6 — Griffith Leaves Biograph: "Judith of Bethulia" and "The Avenging Conscience"

Nov 11, 12, 13 — "Cabiria" (Italy, 1914)

Nov 18, 19, 20 — "The Birth of a Nation"

Nov 25, 26, 27 — "Intolerance"

Dec 2, 3, 4 — Griffith's Competitors: Ince and DeMille — "Custer's Last Fight" and "The Cheat"

Dec 9, 10, 11 — More Competition: Neilan and Vidor — "Amarilly of Clothesline Alley" and "The Jackknife Man"

Dec 16, 17, 18 — And More Competition: Walsh and Tourneur — "Regeneration" and "The Blue Bird"

Dec 23, 24 — Send in the Clowns: comedy shorts with Linder, Chaplin, and Arbuckle
Visit the website for the series for individual program info and film titles at
http://moma.org/visit/calendar/films/989.
* * * * *
An Auteurist History of Film
September 9, 2009–Ongoing
This two-year screening cycle is intended to serve as both an exploration of the richness of the Museum's film collection and a basic introduction to the emergence of cinema as the predominant art form of the twentieth century. The auteurist approach to film—articulated by the critics of Cahiers du Cinema in the 1950s and brought to America by Andrew Sarris—contends that, despite the collaborative nature of the medium, the director is the primary force behind the creation of a film. This exhibition takes this theory as its point of departure, charting the careers of several key figures not in order to establish a formal canon, but to develop one picture of cinematic history.
Organized by Charles Silver, Curator, Department of Film.
Yamaha Modus H1 piano generously provided through Yamaha Artist Services, New York.