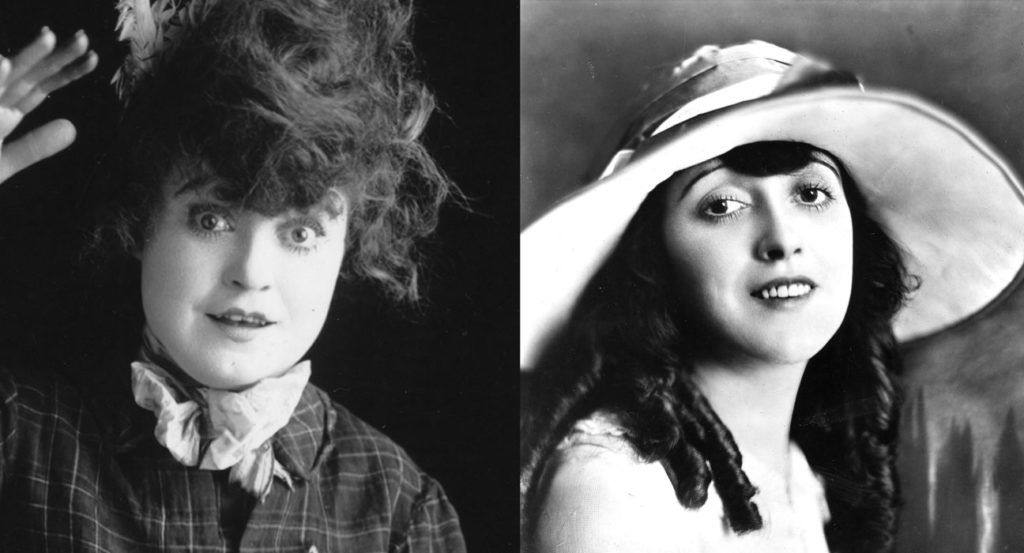 I've seen Mabel Normand referred to as being a female Chaplin, in articles from the silent era and in contemporary references. I was intrigued to find similar analogies drawn between Mr. Chaplin and Alice Howell during the silent film era, and it's appropriate for both comediennes. While neither approached Chaplin's comedic and filmmaking genius, they were both certainly the top exponents of screen comedy, as Chaplin was regarded during the silent era, and who were women…so the appellation fits. Their respective film outputs are quite different. Combined, they fill the entirety of the silent era.
Mabel Normand's slapstick comedy output primarily encompasses the years 1912-1915, and the last of those four years saw her in just three releases — the Triangle shorts Arbuckle made in Fort Lee. Two of those were released at the beginning of 1915, but were made in 1915. Mabel was then off the screen for nearly two years, making (and not making) Mickey for Sennett…which was not released until 1918.
Alice Howell's comedy shorts work takes off during 1915 at L-Ko, after overlapping with Mabel, for a year at Keystone, with Alice beginning to star in her own films in 1916. She continues non-stop through 1921, making a steady stream of 2-reel comedies for L-Ko, Century, and Reelcraft. While Mabel was making 20 features for Goldwyn from 1918-1920, which were primarily Cinderella-story plotted films that contained little or no physical comedy, Alice made 45 comedy shorts, directed by either Jack Blystone or her husband Dick Smith.
There are certainly moments that blend comedy and pathos in Alice Howell's two-reelers, and Her Lucky Day (1920) is an excellent example of this and is probably the closest to a Chaplin short of her Howell's films. Given the opportunity to move up to starring in 2-reelers instead of being part of the "Fatty and Mabel" franchise or moving up to features, it's possible Mabel might have been able to do the same.
Mabel's move into feature length was a prestige move, among other things, as slapstick comedians were still relegated to the "class-clown" 1- and 2-reel status on the movie bill at that time. It wasn't until Chaplin developed and defined the ability and formula for taking slapstick to feature-length with The Kid in 1921 that other slapstick comedians could make the move.
Oddly enough, it's at this point that both Mabel and Alice make fewer films. There's more research and information about Mabel during this time, and little or no data about Alice for it. Alice's Reelcraft series ended in 1921, as did Reelcraft, and for the next few years she appeared in small supporting roles in a few independent features, and a handful of independent shorts. It was a time just following WWI when there was a shift in the way women were depicted onscreen, a move away from action or slapstick. It's at this point that leading roles in serials become almost exclusively male, and the era of the serial queen ends.
1924-1925 finds Alice Howell in a series for Universal, teamed with Neely Edwards. She's more domesticated and with less physical knockabout to do, and with the male comic more in the driver's seat of the plot. Sort of like where Mabel had left off with comedy shorts, in a "Neely and Alice" string of films. Ms. Normand winds up at the Roach lot of fun in 1926-1927, making a couple of 2+ reel films that continued the Cinderella format but with more slapstick and a couple typical Roach 2-reelers.
In different ways, Mabel and Alice were both female Chaplins, perhaps even more-so if you combine their two film outputs into a single strand. You may already be familiar with Mabel Normand's films, and they're certainly available if you're not. The new Alice Howell Collection DVD set is a great opportunity to discover her films and screen comedy. Hopefully more of Ms. Howell's lost films will be discovered and that more of Ms. Normand's will become available to fans.
The Alice Howell Collection 2-disc DVD set from Undercrank Productions is available on Amazon, TCM Shop, DeepDiscount, Amazon UK and Amazon Canada, and for several continents outside the USA on WowHD.